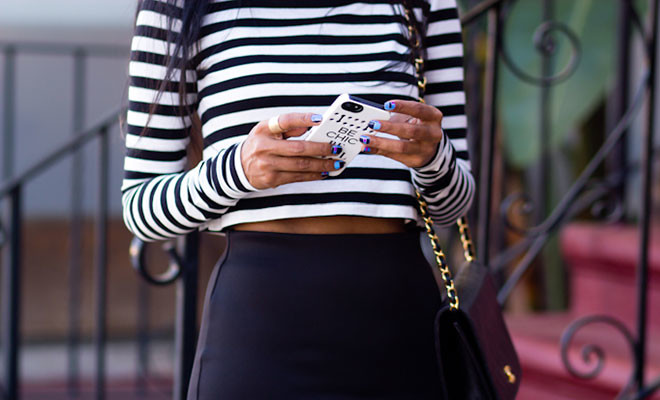 walkinwonderland.com
Fashion
15 Stylish Crop Top Outfits for Every Occassion
By
|
The '90s are back… and so are the crop tops! When styled right, crop top is chic, sophisticated, and seductive all at the same time. Crop top isn't actually as revealing as it first seems. It gives you a suitable yet sexy flash of skin.
This 90s fashion staple is the must-have top shape for the 2015. But how to actually style it? Take a cue from these 15 fashion bloggers.
1. Lace Crop Top + Nude Pencil Skirt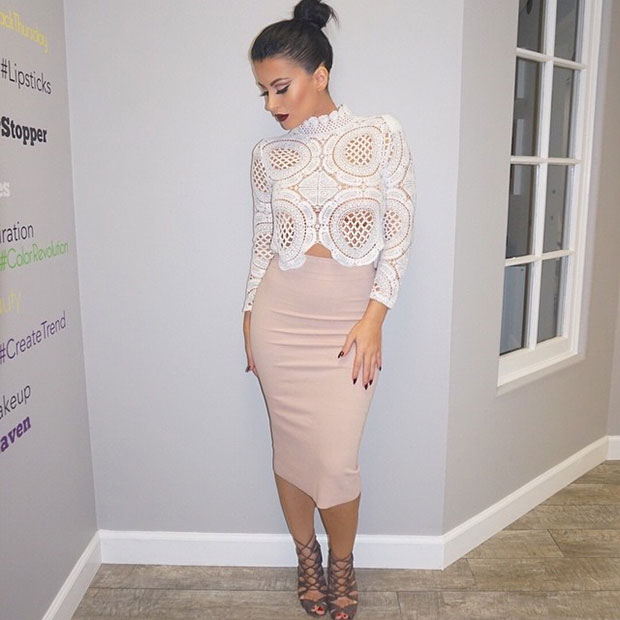 High waisted pencil skirt and crop top are a perfect combo. The key for rocking this style is all about proportion. To balance your top, wear a high waisted trousers or skirt on the bottom.  That way, only a flash of midriff will be showing and you can keep the look feeling sophisticated and sexy.
2. Black Crop Top + Black Maxi Skirt

Pair your crop top with a maxi skirt and look sexy without flaunting too much skin. You don't need to go crazy with colors and patterns, crop top is attention grabbing enough. A statement necklace is an ideal way to add a dose of color to your all black outfit.
3. Black Crop Top + Boyfriend Jeans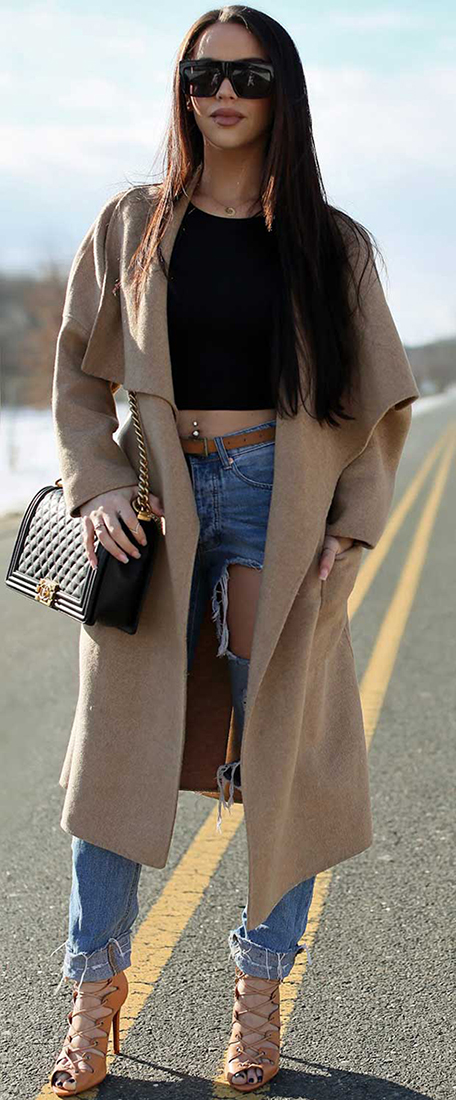 You can easily recreate this look with your favorite pair of boyfriend jeans and lace-up heels. Complete the look with a coat that's minimal in shape and finish. Layering will keep you warm and make you feel more covered up.
4. Striped Crop Top + Pencil Skirt

A striped crop top with a black midi skirt skirt is a tasteful and elegant look for any occasion. Stripes won't make you look 'wide', we guarantee it.
5. White Crop Top + Lace Pencil Skirt

If it's not warm enough for midriff-baring style, layer your top with blazer, leather jacket or faux fur. Crop top with midi skirt is definitely the season's coolest combination.
6. Crop Top Outfit for Curvy Women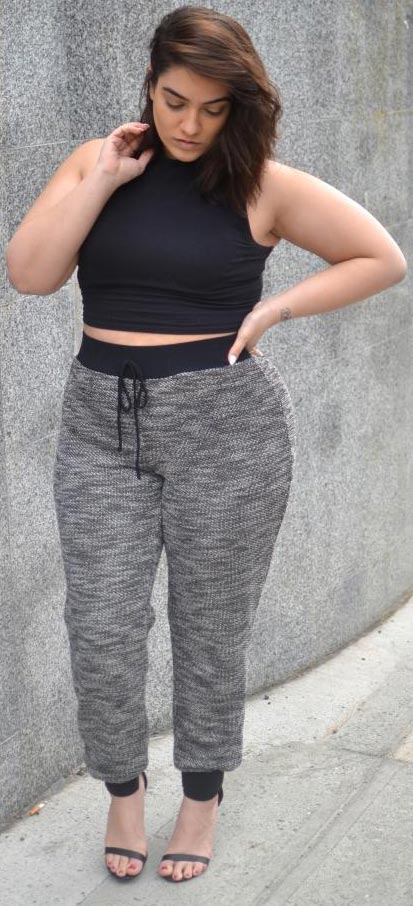 You don't need to renew your gym membership if you want to try this hot trend. Crop top trend is curvy-friendly and looks good on all bodies. This fashion blogger paired hers with comfortable, high waisted jogger pants. Wear it with confidence.
7. Black Crop Top + High Waisted Trousers

As you can see, crop tops are totally easy to wear. You can keep things simple by pairing your black crop top with high waisted black trousers, and black high heels. Finish the look with a pair of sunglasses, funky clutch and red lips.
8. Crop Top + Sneakers

This look is the perfect blend of stylish and comfortable. Pair your crop top with high waisted trousers and sneakers for a perfect casual look. So simple!
9. White Crop Top + Midi Skirt

Stylishly flaunt a sexy hint of skin in white, short-sleeved crop top and grey midi skirt. This top can be styled with pretty much anything high waisted  (trousers, jeans, shorts, cutoffs, etc.)
10. Crop Top Sweater + Neon Midi Skirt

You can get on the trend without a flash of midriff. How? Wear a cropped sweater over a cami, blouse or dress. This is an excellent option for cooler days.
11. Plaid Skirt + Crop Top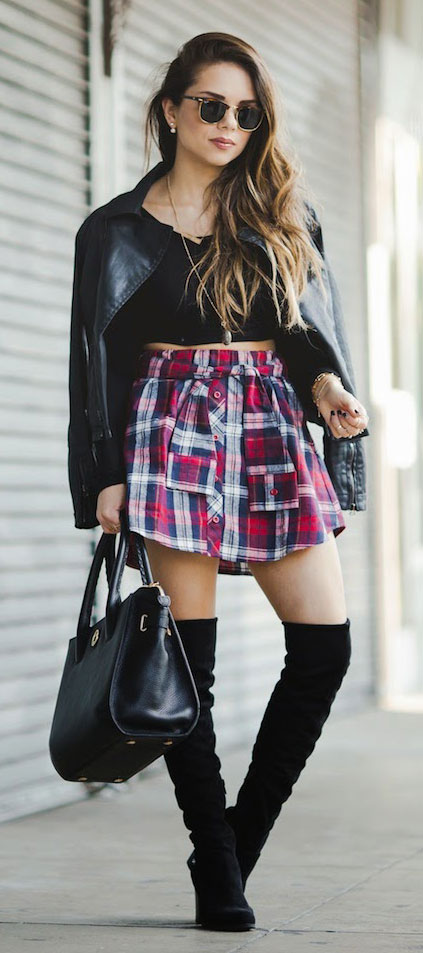 Kill two trends with one outfit by pairing crop top with plaid. Plaid shirts are a great way to play around with color and pattern. They even can be transformed into skirts, as shown above. So grunge!
12. All Red Everything

Pair a cropped sweater with a high waisted trousers to stay on trend this winter. We love everything about this outfit!
13. Black Long Sleeved Crop Top + Midi Skirt

This look is taking the red carpet, runway and street style by storm! Full midi skirt and crop top combined together make a perfect formal and chic outfit.  Don't be afraid to recreate this lovely look and show some skin in a tasteful way.
14. White Long Sleeved Crop Top + Jeans

White crop tops are so versatile, every woman can find a way to rock one. This fashion blogger paired hers with a pair of jeans, beanie and heels. For an instant glam, add a statement necklace.
15. Cropped Blouse + Boyfriend Jeans
Dress-up your ripped boyfriend jeans with a loose cropped blouse. This type of top goes best with jeans.
Do you love or hate this trend? Let us know!