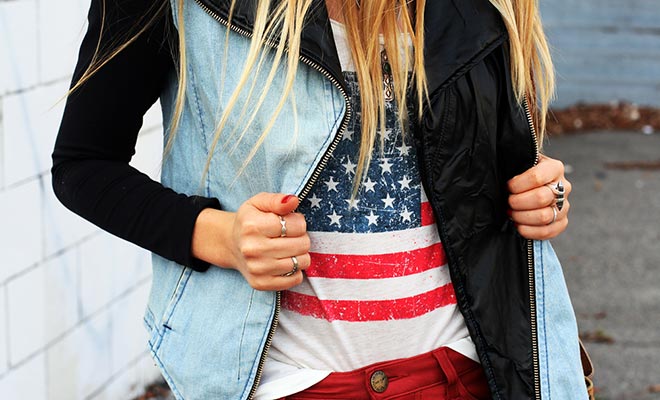 peaceloveshea.com
Fashion
15 Stunning 4th of July Outfits That You'll Love
By
|
The 4th of July is one of our favorite holidays. The typical celebration includes fireworks, barbecue and lots of patriotic colors and symbols. Let's just say, it's a relaxing day that you don't want to miss.
Whether you're planning to hang out with your family at a backyard barbecue or celebrating the holiday with your friends at a picnic, you need to have at least something in red, white or blue color. A festive outfit will make your 4th of July celebration even more fun and memorable.
To make your life easier, we've collected 15 stunning outfit ideas that you'll totally love.
1. White Dress + Red & Blue Accessories
2. Patriotic Blouse + Black Skirt + Brown Accessories
3. Red Blouse + Blue Shorts
4. Red Blouse + White & Blue Striped Skirt + Gold Details
5. Cute & Comfy Outfit
6. American Flag Blouse + Denim Shorts + Ankle Boots
7. Stars Tee + Skinny Jeans
8. White & Red Outfit + American Flag Shoes
9. Red & White Striped Midi Skirt
10. Denim + Red and White Stripes
11. Perfect Casual Outfit
12. Denim Shirt + American Flag Pants
13. White & Blue Outfit + Flag as an Accessory
14. Striped Top + Red Jacket
15. DIY American Flag Shorts + White Top