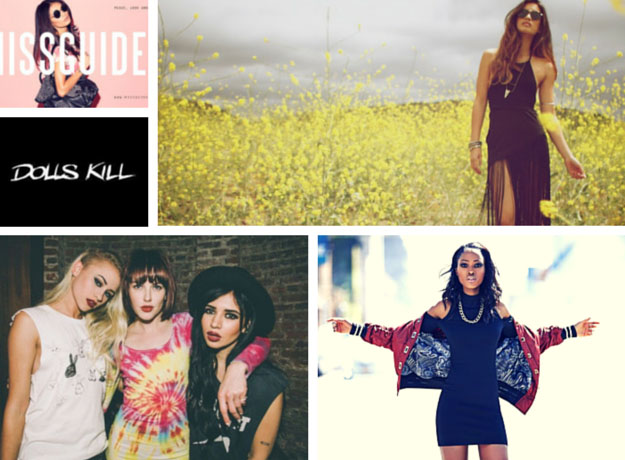 21 Edgy Clothing Stores
What 'edgy' even means? Edgy style is chic and requires confidence. It's unfussy and casual but gives off an urban vibe. Edgy dressers experiment with interesting shapes, cuts and trends.
A perfect edgy look is created by mixing basics with key pieces. It looks effortless but it usually requires some effort and creativity. Few edgy staples can turn a boring, ordinary look into something modern, mysterious and cool.
To find out where to get the best edgy pieces, check out our list of 21 edgy clothing stores:
1. Dolls Kill
This edgy online retailer enables young women to experiment with their individual style.
Dolls Kill offers cool clothing pieces that can't be found anywhere else. The brand combines a bit of goth, punk rock, Boho and hippie style. Bare midriffs, pink hair and middle fingers are commonplace from the "dolls", models who are proud members of the outsiders.
Shop here: Dolls Kill
2. Nasty Gal
A brand for the women who want to wear who they are. Nasty Gal mixes high, luxury fashion with edgy, affordable pieces. If your birthday is close, you should make your public "want list" that allows family and friends to freely search your most wanted pieces.
Recently, they opened their first retail location in L.A. Take a sneak peak on their online store and get ready for edgy shopping spree.
Shop here: Nasty Gal
3. All Saints
All Saints is an online edgy boutique for the miss legits and misfits. This brand is known for its sharp edge clothing pieces for men and women with a muted palette dominated by grays, whites, browns and blacks.
Shop here: All Saints
4. ASOS
ASOS is an online shopping destination unlike anywhere else. Whether you search for an edgy shoes, a party dress or a statement necklace, there's no way that you'll not be obsessed with this fashion-forward online store.
Shop here: ASOS
5. Urban Outfitters
Although Urban Outfitters store is considered as a hipster store, lately their collections are rich with edginess.
Shop here: Urban Outfitters
6. American Apparel
American Apparel is a fashion destination for edgy and trendy girls. Not only they are known for their edgy clothing but also for edgy advertising.
Shop here: American Apparel
7. Missguided
If you're looking for a sexy and edgy dress, Missguided might become your #1 store for hot party outfits. They recently collaborated with former Pussycat Doll, Nicole Scherzinger.
Shop here: Missguided
8. River Island
Thanks to River Island, we can enjoy pretty and unique clothes. The brand is the pioneer of the latest fashion trends. Therefore, it is not surprising they've collaborated with singer and style icon, Rihanna.
Shop here: River Island
9. Topshop
This British store needs no introduction. Their mission is to bring style to you, whether you are  in London or across the pond. Topshop is an excellent shopping destination for your edgy pieces.
Shop here: Topshop
10. Gypsy Warrior
Unleash your inner riot girl with Gypsy Warrior! This NY based brand appeals to someone with an edgy spirit.
Unfortunately, Gypsy Warrior is out of business.
11. YAYUKATA
YAYUKATA is the place to be for edgy Japanese street wear. This brand recognizes that Japanese fashion has become one of the must-haves and now offers their stylish collections all over the world. Here you will find hoodies, pants, tees and more. It is perfect for those who want to stand out from the crowd and for anyone who loves a mixture of street wear and the hottest fashion trends.
Shop here: YAYUKATA
12. Never Fully Dressed
This is a sassy and stylish store. Never Fully Dressed is a place where you will find anything to suit your mood and you will find an outfit to suit any occasion. Need a hot and unusual dress for a night out or need edgy and fierce clothes for the gym? Then you will find what you need. We love the wild prints they have to offer too!
Shop Here: Never Fully Dressed
13. Silk Fred
Silk Fred is full off unique and edgy fashion from different independent brands. Not matter what you are looking for, this store will have it. You can shop by category or you can even pick the occasion you are shopping for and it will show you the must-have outfits for that event. How amazing is that?! So, you won't have to struggle because there really is something for everyone. The dresses and jumpsuits are our favorites.
Shop Here: Silk Fred
14. Unique Vintage
Love vintage fashion? Then this store is perfect for you! Unique Vintage offers a massive collection of vintage style clothing. Simply pick a decade and see what they have to offer. This is perfect for the ladies who love unusual fashion that shows of their unique personal style. You can go for a full vintage outfit or mix and match something like a 1950's blouse with some leather trousers.
Shop Here: Unique Vintage
15. Shopstyle
Next, we have another online retailer that offers clothing from different brands all in one place. This is an amazing store to sit back, relax and shop as they have around 18 million products for you to see! Shopping is a breeze because you can view what is trending and view all different categories of clothing. From edgy boots to amazing dresses, Shopstyle has you covered.
Shop Here: Shopstyle
16. Pretty Little Thing
Like to look edgy but like to keep up with the latest trends too? Then you need to check out Pretty Little Thing if you haven't already. This brand is perfect for the free spirits who one day want to look glam in a beautiful dress but then look fierce and stylish in snake print. Whatever mood you are in, there is an outfit to express it.
Shop Here: Pretty Little Thing
17. WE KOKO
WE KOKO is an online marketplace full of trendy, edgy and fun brands. Shoppers can come here to view very unique and individual clothing created by designers. WE KOKO is for those who don't want conform with their sense of style. There are many amazing pieces of clothing on offer and it is the place to be for festival fashion.
Shop Here: WE KOKO
18. Rebellious Fashion
Be a rebel with Rebellious Fashion! This is another clothing store where you can find bright and fun pieces and darker pieces with an edge too. We love it because you can find the latest trends easily as they have a page dedicated to the must-haves. Even though these are popular styles, the pieces still have that unique and free spirited vibe. From tailored pieces, to body suits to ripped jeans – you will find it all here!
Shop Here: Rebellious Fashion
19. Zara
Zara is a stylish store that will give you a designer look without the very high price tag. This store offers dresses, tops, trousers and more. You can pick from a variety of different colors and prints and they have trendy collections that will keep you ahead of the mainstream fashion. Zara will make you stand out from the crowd in style.
Shop Here: Zara
20. Sourpuss Clothing
Love punk, vintage and unusual clothing? Then Sourpuss is the place to be. This store has so many amazing pieces such as zebra print trousers and a huge collection of awesome tees. There is something for everyone here and they even have accessories and homeware too!
Shop Here: Sourpuss
21. Boohoo
Boohoo has very stylish and edgy clothing available. They keep up to date with the trends and though they have some of the popular must-haves, all of their clothes still have an individual and free spirited vibe. You can dress however you want here, whether you want to wear boho flares or look sassy in a distressed denim skirt. So, take a look, you will find some gems!
Shop Here: Boohoo