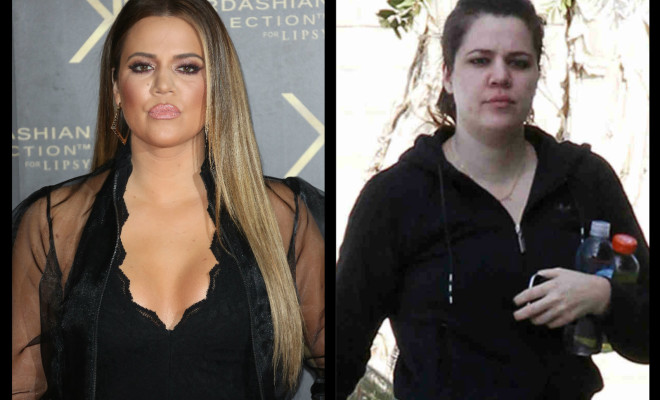 Celebrities
48 Shocking Photos of Celebrities Without Makeup
By
|
Makeup is daily routine for every woman. Most of us cannot leave the house without mascara, foundation and blush.  But sometimes every girl or woman needs a day off, right? Celebrities are also just normal people who need a break from a makeup. We don't blame them.
Some celebrities are brave enough to publish their natural looks via Social Media while others were caught by paparazzi. In any case, we love to see them as "normal" people. Check out our top list of the most beautiful celebrities without makeup and share with us who are your favorite natural beautie?
1. Mila Kunis
Mila Kunis was caught without a drop of makeup while walking with her fiance Ashton. The 29-year-old actress took a day off from makeup but we don't blame her.  It is nice to know that Ashton Kutcher's fiance is an average woman, right?
2. Kim Kardashian West
Kim is known for her long makeup routines and perfect appearance anywhere she goes. Because of that, we are very surprised that she left her house without any makeup. In one of her last interviews, Kim admitted that Kanye really likes her all-natural look. We must admit that she still looks gorgeous. Do you agree with us?
3. Rihanna
Rihanna isn't ashamed of her natural Barbadian beauty! Few days ago, she posted her makeup-free picture on Instagram. We all know that that the 25-year-old singer isn't afraid to experiment. Looking good, RiRi!
4. Beyonce
The 32-year-old singer and mommy belongs to the category of brave and beautiful ladies. As well as Rihanna, Beyonce also shared her natural beauty with her fans. She looks carefree and stunning! We all can agree that Mrs. Carter is a real natural beauty. We hope that she'll continue to post her no makeup looks.
5. Angelina Jolie
Lucky Brad Pitt! Angelina looks absolutely gorgeous without makeup. Her shiny hair, flawless skin, and amazing lips do not need any styling or makeup to look amazing. She is not just actress and mother but also a one of the biggest humanitarians. Do you love Angelina's makeup free photo? Well, we really do.
6. Jennifer Aniston
Even without makeup, Jennifer is still one of the prettiest actresses in Hollywood. She wasn't caught by paparazzi but released picture by herself on Instagram. We must admit that 44-year-old actress is very brave and good looking. Our compliments, Jennifer!
7. Jennifer Lopez
Another Jennifer without makeup! J.Lo was spotted without a makeup but she still looks like a million dollars! The 44-year-old mom of two still looks pretty hot.  She also isn't afraid to go all natural.
8. Lady Gaga
Yes, that is Lady Gaga! We were used to seeing her wearing wild makeups, crazy sunglasses and intricate wigs that we find her natural look quite refreshing and unrecognizable. So how do you feel about her new look?
9. Kate Moss
Without makeup, model Kate Moss, looks just like any other woman. With this appearance she showed that she isn't camera ready all the time. Well, we love you with or without makeup, Kate.
10. Aishwarya Rai
Her thick and straight hair, attractive lips, perfect face shape and expressive blue green eyes looks attractive and beautiful with and without makeup. Would you agree?
Aishwarya was a crowned Miss World and is the most beautiful woman in the world. She is one of the rare celebrity beauties who manage to look their best even without any makeup.
11. Khaleesi
Emilia Clarke or "Khaleesi", famous actress from Game of Thrones, really looks stunning without makeup (must be the dragon genes). It's almost unbelievable how good she's looking. Also, we must admit that she's way hotter as a brunette.
12. Snooki
Snooki is one of the reality stars who are rarely seen without makeup. We are used to see Snooki with orange and dark brown foundation so the natural look really surprised us! Refreshing, right?
She really looks classy and tasteful without makeup. She should wear natural look more often.
13. Britney Spears
Without makeup, Britney is not a stage beauty. She looks very tired and dirty. She relay look like she could use a vacation. Would you agree?
14. Pamela Anderson
The 46-year-old was spotted without a scrap of make-up. Now we are able to see Pamela's natural face without filters and makeup.
15. Marilyn Manson
Marilyn Manson is the only man on our list. Why? Well, there are not many men who use so much makeup. Makeup is his trademark, that's for sure. Without it, he is really unrecognizable.
16. Kourtney Kardashian
Kourtney was caught in rare and natural look. It was unusual look for the starlet and mom who rarely leaves the house without a drop of makeup. She is still kind of cute, right?
17. Madonna
Yikes! She is finally starting to show her age. That's not Madonna that we used to see in covers of magazines. Now we know that she's really getting older (even all those plastic surgeries didn't help).
18. Adele
Adele isn't afraid to step out without a swipe of make-up. She looks completely different without the heavy black eyeliner. Rough week, Adele?
19. Shakira
Shakira has transformed herself from singer to natural mom. We really like her look without makeup! She is one of those rare species of women and mothers that actually looks better without any drop of makeup.
20. Cameron Diaz
Without the skills of her makeup artist Cameron Diaz looks just like one of us, right? We can agree that Cameron is one of the hottest blondes on the big screen (but only with her makeup on).
21. Jessica Alba
The actress went make-up free to show her natural beauty and glow. She is adorable even when bare faced.
22. Sofia Vergara
The 42-year-old Modern Family actress was topped few times as one of the hottest woman alive. We used to see her dolled up all the time… what happened?
Hot or not? You be the judge.
23. Megan Fox
Oh, Megan! She looks like a girl from the next door, right? With the makeup, she's a bomb but without it, she looks simple and cute.
24. Demi Lovato
Demi shared her no makeup photo straight from the swimming pool. It seems she is not one of those celebrities who can't be seen without makeup. She showed her freckles and encouraged other girls to stop using filters and make-up. You go, girl!
25. Faith Hill
Faith looks way more different without her makeup! She went completely makeup free for a flight to Australia. This country superstar showed that celebrities also can have a down day or two.
26. Carrie Underwood
There are very few photos of Carrie without makeup. She rarely goes out without makeup! Carrie once admitted that she always put some makeup on, so she doesn't look bad on the photos. Too bad! She's gorgeous without makeup.
27. Kathy Griffin
WOW! Is that really Kathy Griffin? We had to do a double-take but that's how our Kathy looks without makeup and filters. The fiery redhead comedian is unrecognizable!
28. Nicki Minaj
Nicki Minaj is one of the very few celebrities who actually look way better WITHOUT heavy makeup and wig. She's barely recognizable but in the good way. Nicki should consider changing her makeup artist.
29. Selena Gomez
Disney star, Selena Gomez, rocked her natural look! She's a real cutie.
30. Miranda Kerr
With this picture, Miranda proved that she looks stunning from the moment she opens her eyes. Does she still turn heads without a drop of makeup? We think she definitely does. You?
31. Zooey Deschanel
Zooey looks completely different without her signature false lashes and smoky eye shadow. We must admit that her look is refreshing. Her picture shows how most of the images we see on TV and in magazines are based on unreal reality.
32. Tyra Banks
Without airbrushing, Photoshop and makeup, Tyra looks like a "normal" woman. We used to see her all glammed up, so the photos are a bit shocking. Well, we guess sometimes even supermodels need a day off!
33. Emma Watson
Emma still looks ravishing even without a drop of makeup. Just like Selena Gomez, Emma looks extremely cute in this non makeup look.
34. Khloe Kardashian
Kim and Kourtney are also on our list so we can't forget Khloe, too!
35. Ariana Grande
Fresh out of the water, Ariana snapped her makeup-free face and shared it with her fans on twitter. We're used to seeing her with black eyelids and red lips, but she looks cute without makeup too!
36. Oprah Winfrey
Oprah also went make up free and shared her photo on social media with her fans. She is a huge role model for many women in the world. We hope some of them will get more confidence to be make up free just like their favorite TV host.
37. Jeffree Star
Ever wondered how Jeffree Star looks without all that makeup? Well, it's your lucky day. We found some old Jeffree's pictures when he wasn't rocking heavy makeup looks.
38. Taylor Swift
Country singer, Taylor Swift, doesn't need makeup to be pretty and flawless. She has charismatic beauty and looks gorgeous with and without makeup.
39. Kesha
We never thought we'll see Kesha without all that silly makeup, glitter and body paint… but we did! And we really like it!
40. Catherine Zeta Jones
Given her age, 44-years-old actress, doesn't look bad at all!
41. Miley Cyrus
Miley sometimes overdo with her makeup. She is young and beautiful so heavy makeup looks doesn't suit her. She looks stunning and refreshed.
42. Mariah Carey
Mariah Carey just celebrated her 44th birthday, but you'd never know it  from looking at her, right? Mariah is a mother of two and she's practically glowing.
44. Adriana Lima
Most supermodels wear a lot of makeup to appear flawless. Adriana isn't one of those models, that's for sure. She is a real natural beauty with big green eyes and pretty face. She looks cute without her makeup and she is the 'bomb' with her makeup on. Luckily for some men, Adriana is single again! She just announced, that she and her husband have split.
45. Eva Longoria
Eva loves no makeup looks because she wears makeup all the time on the set. No makeup looks are refreshing for her face and appearance. She looks gorgeous!
46. Goldie Hawn
Kate Hudson's mom is almost unrecognizable without army of makeup artist! She is 67 years old so she doesn't look bad at all. Did you recognize her?
47. Kerry Washington
The 37-year-old actress was spotted without her makeup. Hot or not?
48. Kat Von D
TV star and tattoo artist, Kat Von D, always has perfectly applied makeup. Without her makeup, she is still recognized! Is it because of her tattoos?
49. Blue Man Group
Unlike other celebrities, Blue Man Group, has to wear their makeup on to be recognized! Their blue makeup is iconic and they only need 30 minutes to apply it for the show. Amazing!
These photos of celebrities without makeup proved that famous people are kinda just like us! It's nice to know that they aren't spared of pimples and wrinkles.
Our favorites are definitely Queen Bey, Khaleesi and Angelina! So, which one do you prefer?