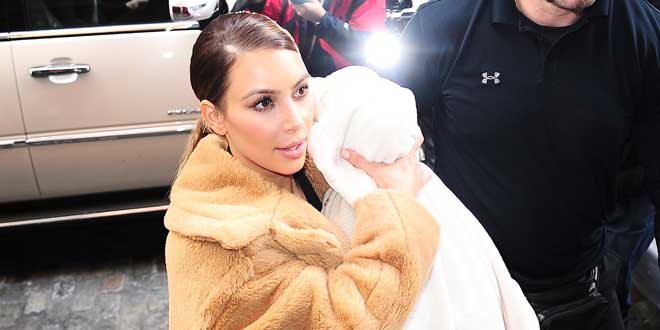 Celebrities
22 Weirdest Celebrity Baby Names
By
|
When it comes to baby names, most of celebrities want to have a unique and interesting baby name. Some turn out sweet but some… oh! We know that most of our celebrities are artists but did some of them made a mistake?
Check out our top list of most unusual celebrity baby names and let us know what you think about them!
1. Jennifer Garner + Ben Affleck = Seraphina Rose Affleck
Seraphina means 'the highest angels in heaven' and comes from the Hebrew word – seraphim. We must admit it's spirited, rhythmic, elegant and feminine.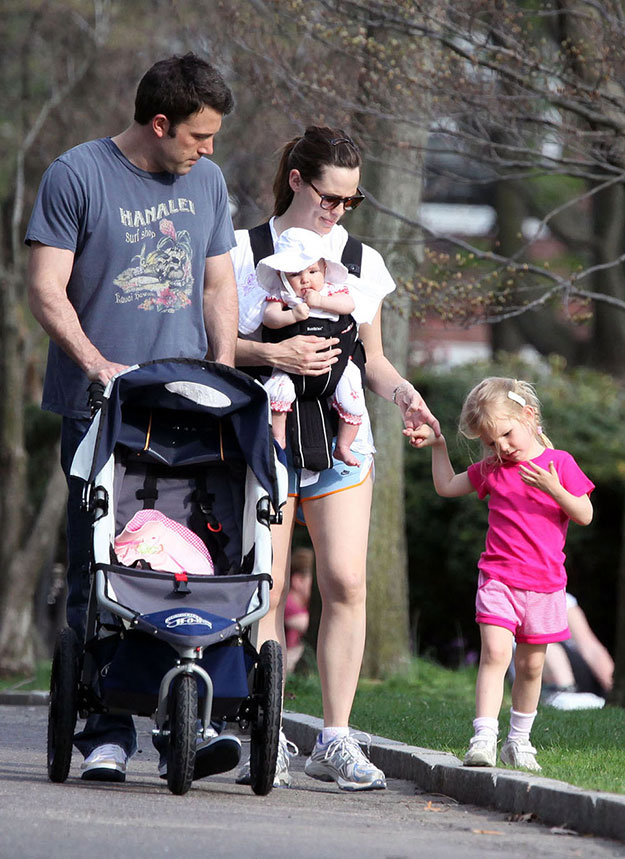 2. Courteney Cox + David Arquette = Coco Riley Arquette
Courteney shares her first name with her mothers, so the first option for baby's name was – Courteney.  David Arquette didn't agree because Jewish religion prefers children not to be named after living parents. Coco was formed by a combination of first two letters of Courteney's first and last name. Sweet, right?
Coco's middle name means 'descendant of Roghallach' and has Irish origins. Little Coco's godmother is Jennifer Aniston, Courteney's best friend and colleague.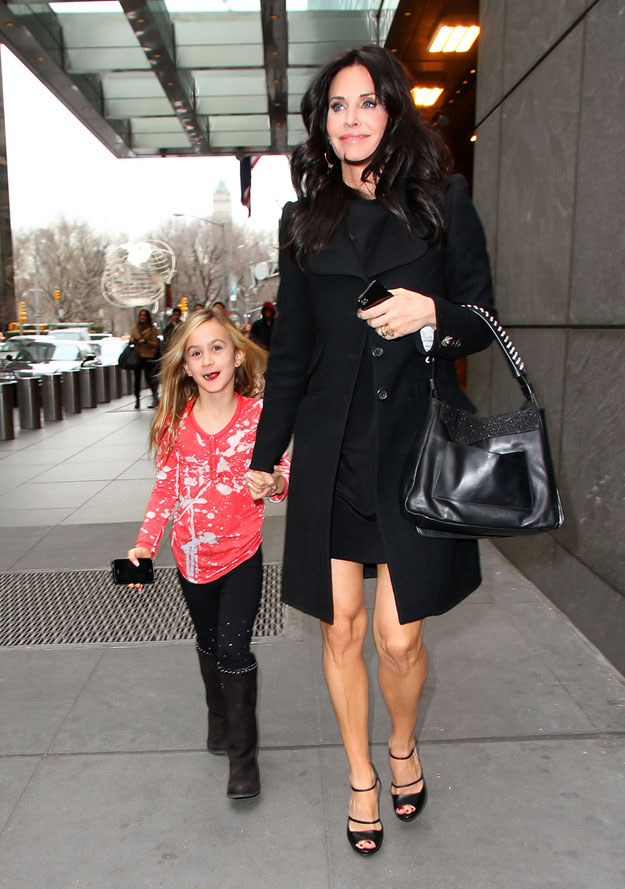 3. Victoria  + David Beckham = Harper Seven Beckham
Do you know what Victoria's favorite book is? Well, then you can't guess what is the meaning of 'Harper'.  Luckily, in one of his interviews, David said that Victoria's favorite book is – To Kill A Mockingbird. Author of this book is Harper Lee. Ta-da!
Her middle name 'Seven' was David's idea. Number seven is his lucky number but also symbolizes spiritual perfection – the seven colors of the rainbow, the Seven Wonders of the World, etc.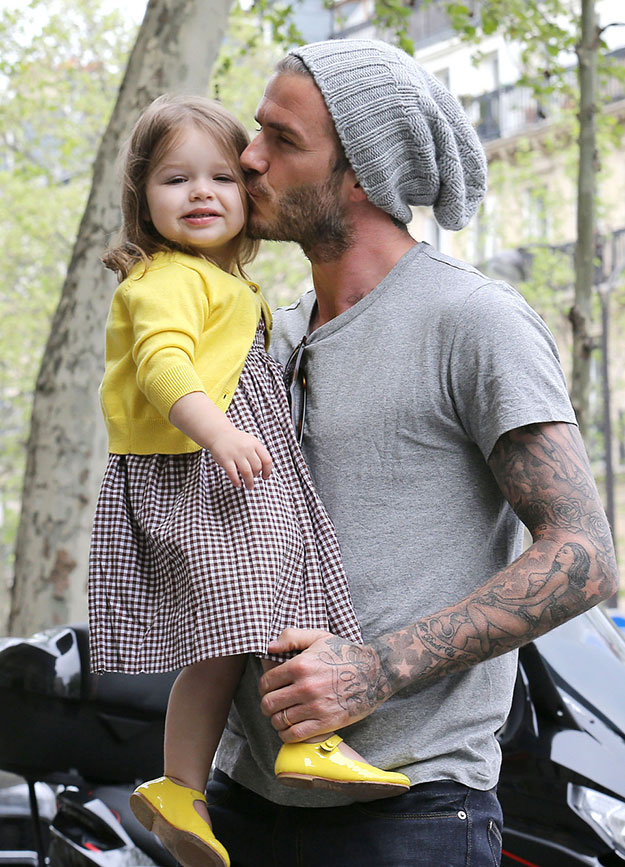 4. Sarah Jessica Parker + Matthew Broderick = Marion Loretta Elwell & Tabitha Hodge
For the names of their twins, Matthew Broderick and Sarah Jessica Parker dug into family roots. S.J.Parker said that Elwell and Tabitha are family names on Parker's side.  Besides other celebrity names, we think those two are pretty rhythm and phonetics. Girls were delivered by surrogate mother.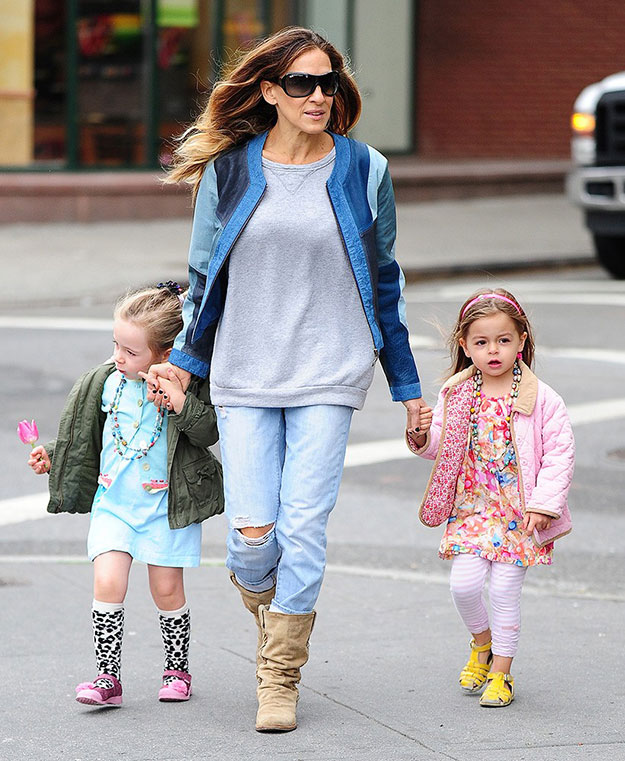 5. Nicolas Cage + Alice Kim = Kal-El Coppola Cage
If you didn't know, Kal–el is Superman's birth name. But what's the meaning of Coppola? Well, Nicolas Cage is the nephew of famous director Francis F. Coppola (The Godfather). Did he ruin his son's life?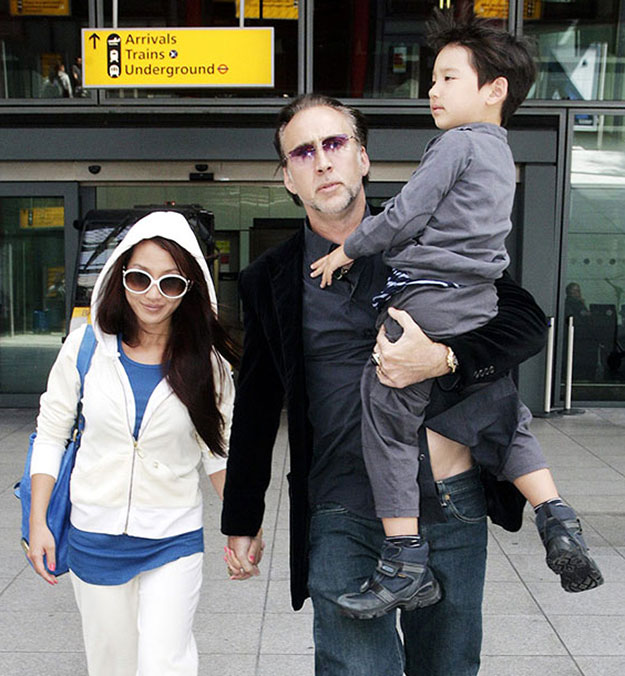 6. Mariah Carey + Nick Cannon = Moroccan Scott Cannon
Mariah and Nick admitted that their baby names have sentimental value to them. The interesting fact is that 'Moroccan' is actually name of apartment where Nick proposed to Mariah.
Scott is Nick's grandmother's maiden name and also his middle name. They also have a daughter Marilyn who was named after Marilyn Monroe.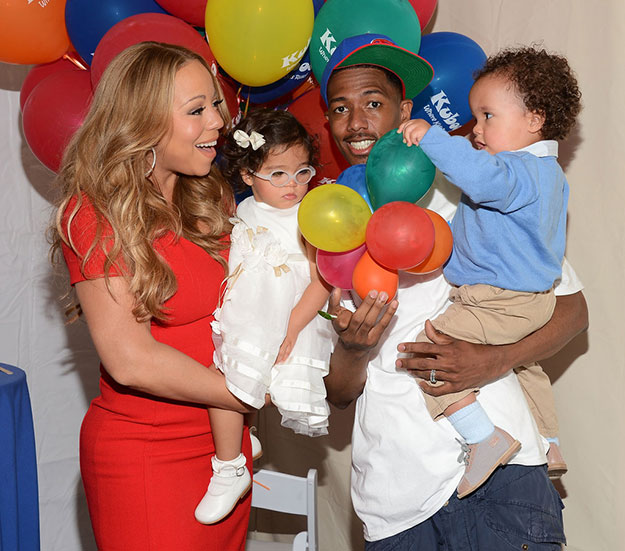 7. Kourtney Kardashian + Scott Disick = Mason Dash Disick
In one of her interviews, Kourtney explained why she and Scott named their baby boy Mason Dash. When she started looking at baby names, Mason was the only one she liked. She also talked to her aunt about this name and asked for advice. Aunt said that in Armenian 'Kardashian' means – stone worker, the same thing that Mason means in English. It's obviously it was meant to be!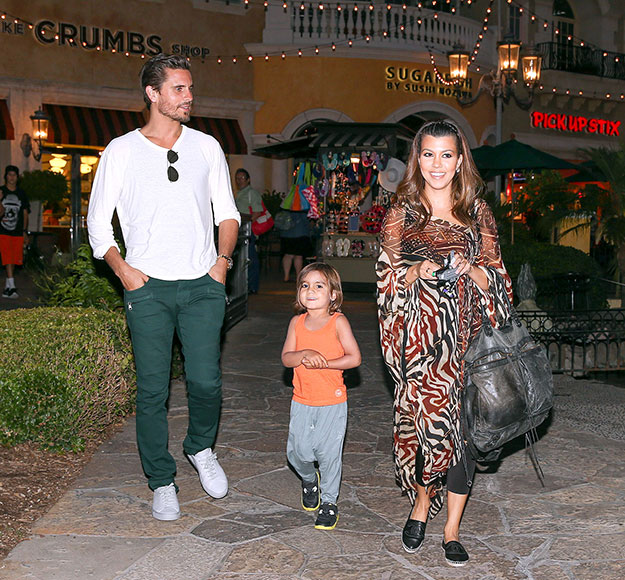 8. Bono Vox + Alison = Elijah Bob Patricius Guggi Q Hewson
The Q stands for a tribute to Quincy who was Bono's long time friend and jazz legend. Guggi comes from the Virgin Prunes band member, while Bob stand for folk legend Bob Dylan.
Oh, such a big name! Is this the weirdest name you've ever heard? For us, it's maybe weirder than Kal-El.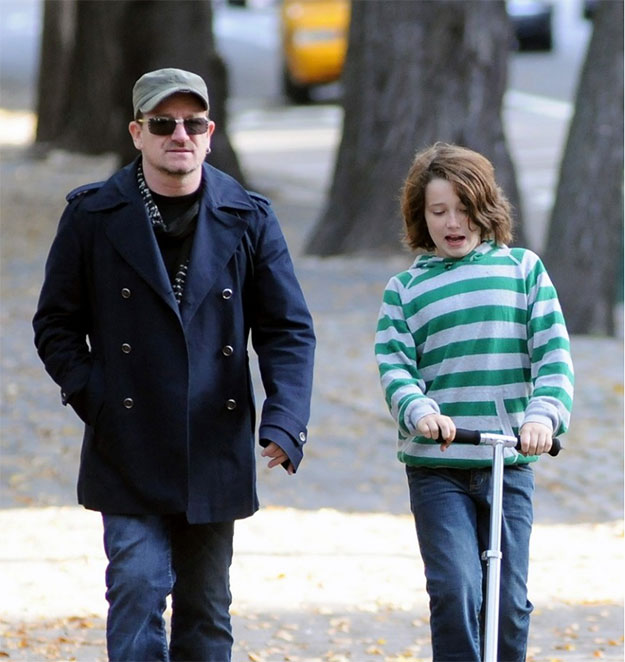 9. Michael Jackson = Paris Michael & Prince Michael Jackson & Prince Michael II.
Paris was named after the most beautiful city in France – Paris. Prince was a family name so Michael decided to honor his mother by carrying on the family name. We don't need to explain what Michael stands for, right?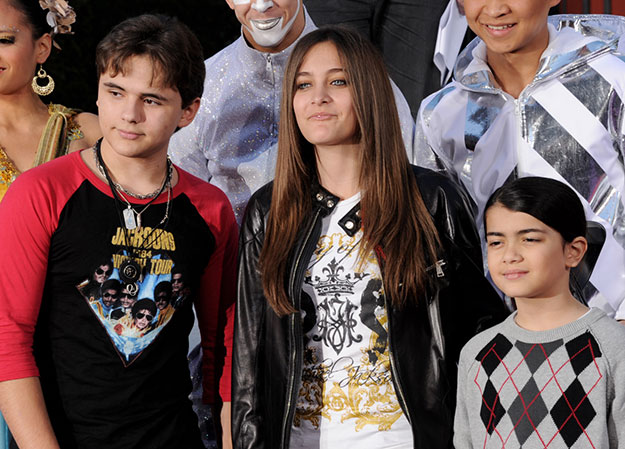 10. Angelina Jolie + Brad Pitt = Knox Leon & Maddox Chivan & Pax Thien & Shiloh & Zahara
Brangelina also looked back to their family roots for inspiration. Knox got his name after middle name of Brad's grandfather. However, Leon stands for Angelina's great-great grandfather's name.
Name Pax was Angelina's mother idea. She gave Brangelina a list of her favorite names. 'Thien' stands for 'sky' in Vietnamese. Maddox is a Celtic name which stands for 'son of Madoc'.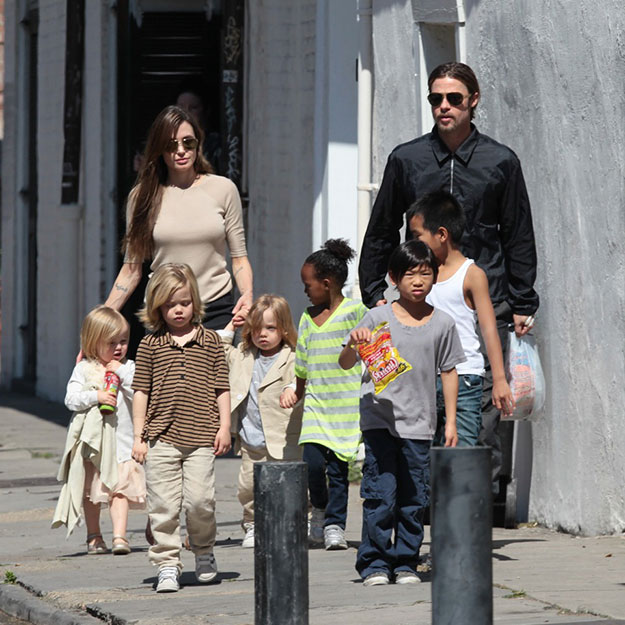 11. Heidi Klum + Seal = Lou Sulola & Henry Gunther Ademola Dashtu
Lou is a common as a nickname and also a popular boy's name. Seal was born in Nigeria and Sulola is a Nigerian name.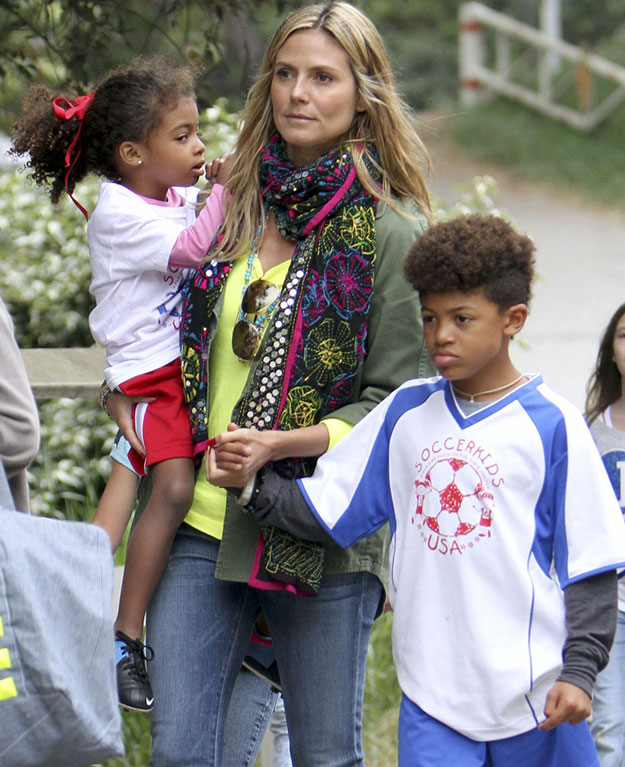 12. Gwyneth Paltrow + Chris Martin = Moses & Apple
Little Moses got his name after father's song titled 'Moses'. Chris Martin wrote that song before wedding with Gwyneth. Sweet!
Apple is very rare and unique name. Gwyneth explained Apple's name on Oprah. She said that she named her daughter after apples because they are biblical, wholesome and sweet.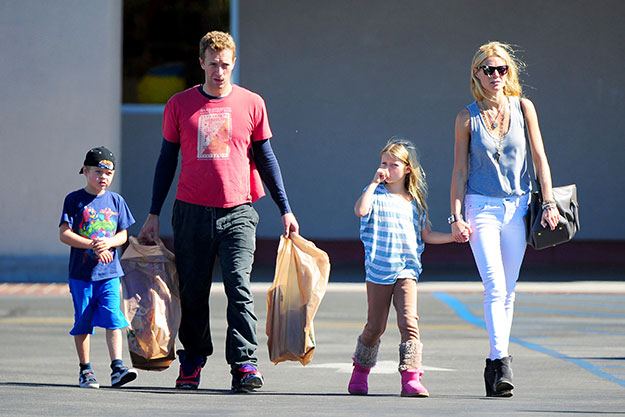 13. Adele + Simon Konecki = Angelo
The "Someone like You" singer, named her first born son Angelo because it means 'angel'. Well, the most parents liked to call their babies angels, right? This name is quite popular in USA.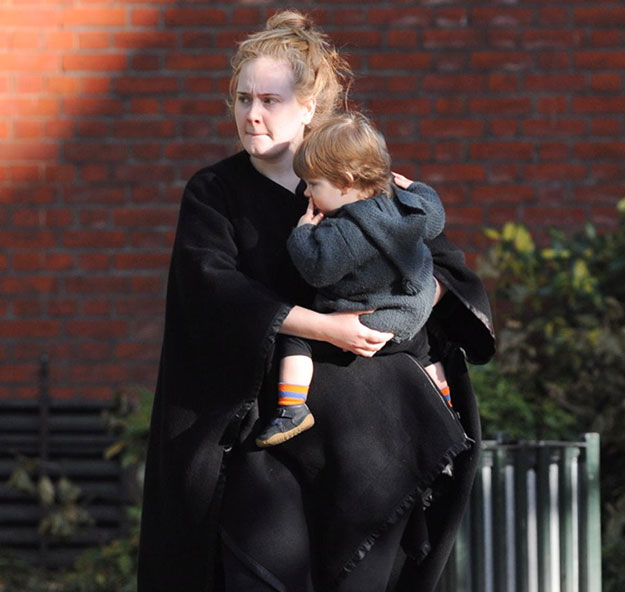 14. Beyonce + Jay-z = Blue Ivy
For this unique name, Jay-Z and Beyonce got the inspiration from a visit to Croatia. They visited Croatia 4 months before the birth of their first daughter.  While taking a walk, they saw a blue tree wrapped in ivy. Few months ago, Beyonce published a video from a trip. In it, she's standing in front of wonderful tree saying: "Name of this tree would be quite appropriate!"
Would you name your daughter after a tree?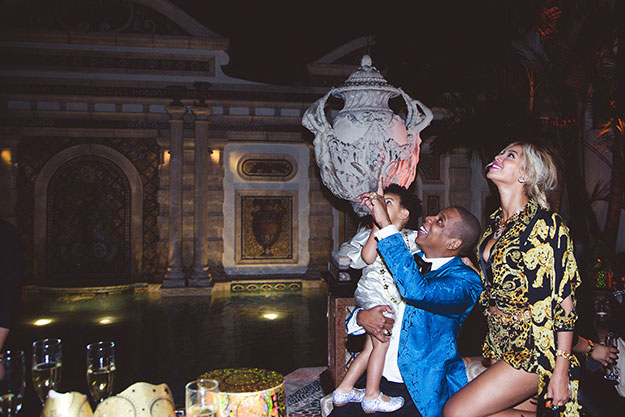 15.Tom Cruise + Katie Holmes = Suri
In one of his interviews, Tom admitted that he and Katie found name 'Suri' in a baby-naming book. They both loved it and decided that name suits perfectly. Later, they found out that in Hebrew Suri stands for 'princess' so it was just a bonus.
Oddly, name Suri never became trendy. What you think, why is that so?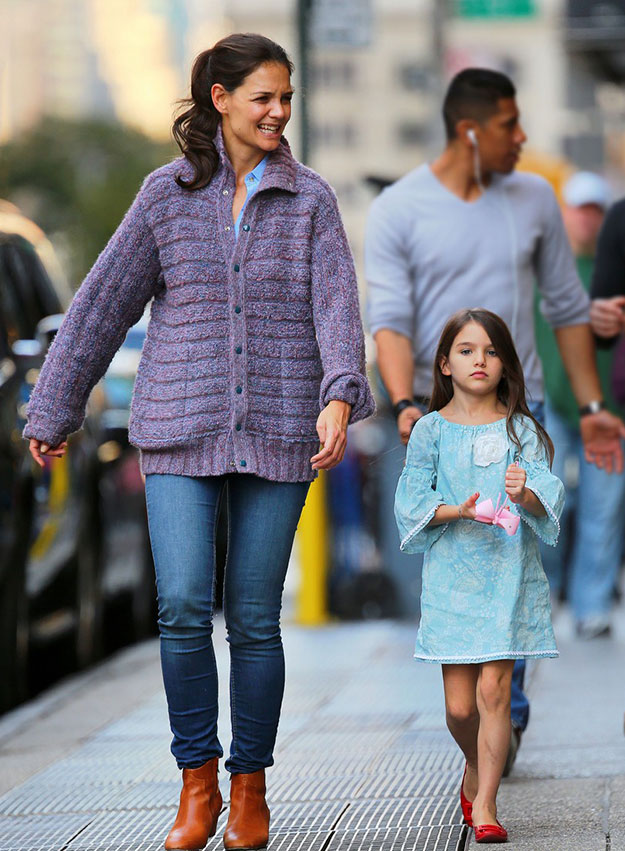 16. Milla Jovovich + Paul W.S. Anderson = Ever Gabo
Hm… Gabo? Well, Milla explained that she named her daughter Gabo after her parent's. Their names are Galina & Bogie. Gabo is a mixture of first two letters of her parent's names.
Milla's husband has Scottish roots so he chose Scottish boy's name – Ever. He wanted to give her a name that will reflect her 'Celtic' roots.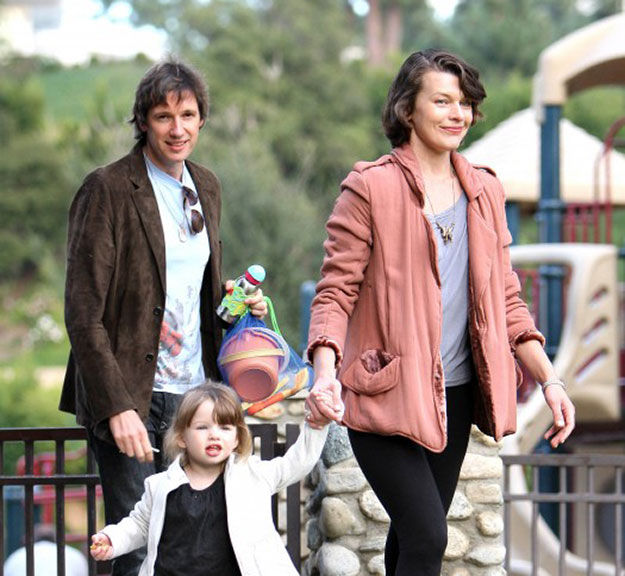 17. Kim Kardashian + Kanye West = North West
Most of us assumed they will name their first daughter with K. But we were wrong! Apparently, Kimye believes that North is their highest point together as a couple. Also, it perfectly fits to Kanye's last name West. Kanye is an artist so this unusual name didn't surprise us.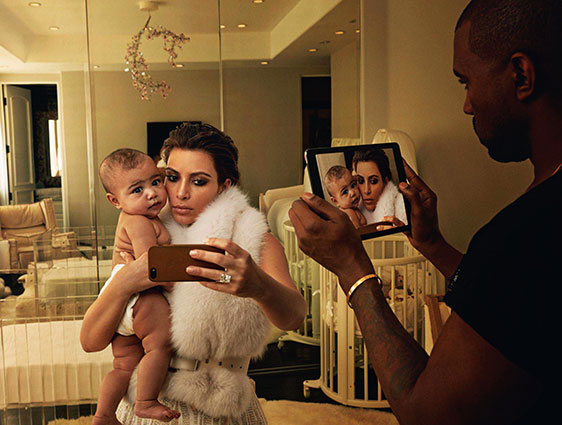 18. Alicia Keys + Swizz Beats = Egypt
It's not hard to guess what stands for Egypt. Egypt is a country in Africa that obviously changed Alicia's life. Before her pregnancy, she took a trip to Egypt. She went alone and enjoyed in view of pyramids, tombs and templates. "It was very powerful." – she said. When they found out she is pregnant, her husband suggested this name because trip to Egypt really changed Alicia's life (in positive way). Amazing story!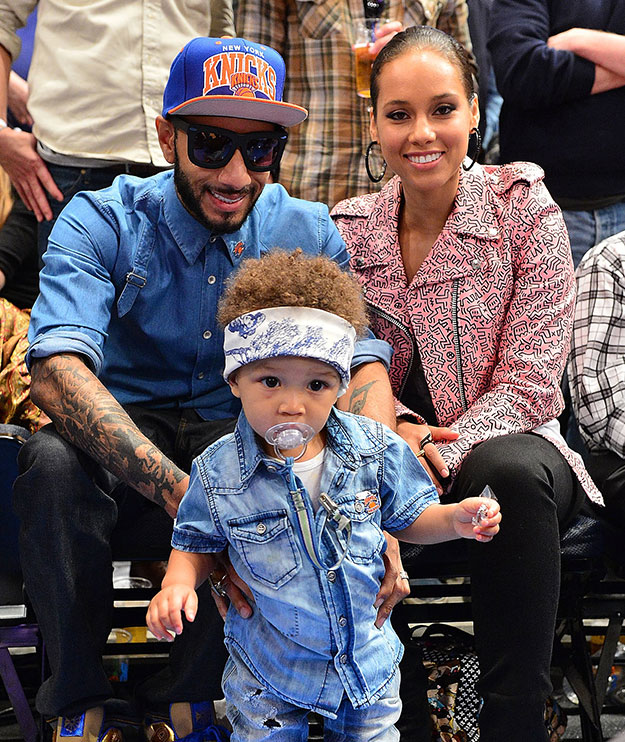 19. Fergie + Josh Duhamel = Axl Jack
We all know who Axl is, right? It seems that Fergie is a huge Guns 'N Roses fan! Who knows, maybe in few years, little Axl will be the lead singer in Guns 'N Roses?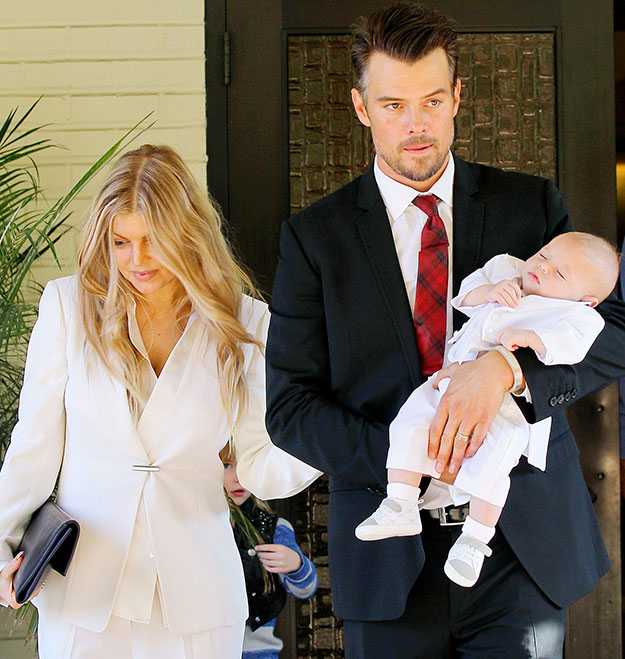 20. Shakira + Gerard Pique = Milan
The popular singer Shakira and footballer Pique named their first son – Milan. That's quite unique name on the American territory. In Slavic, Milan means gracious, loving and dear while in Roman – laborious and eager.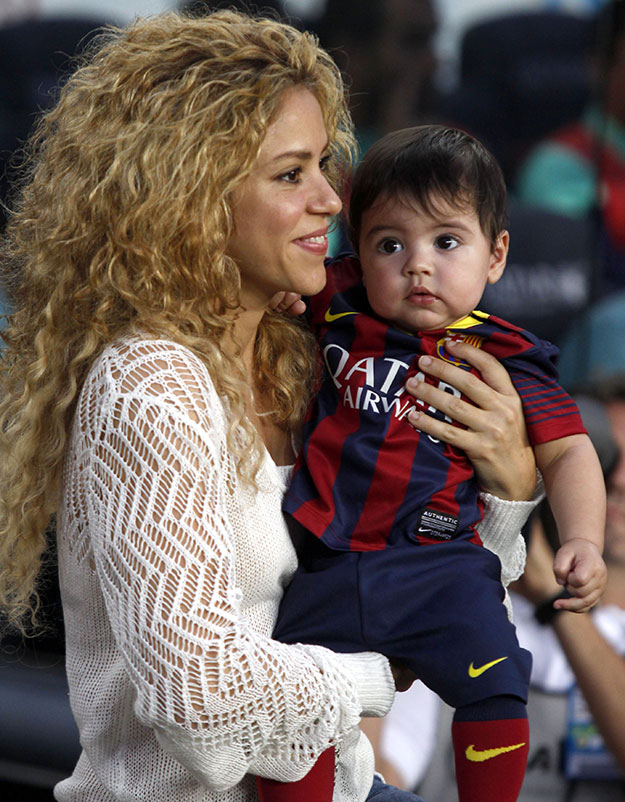 21. Uma Thurman + Arpad Busson = Rosalind Arusha Arkadina Altalune Florence
Uma really made the effort about her baby name. Baby's full name is Rosalind Arusha Arkadina Altalune Florence but family calls her – Luna. Each name carries significance meaning for both parents.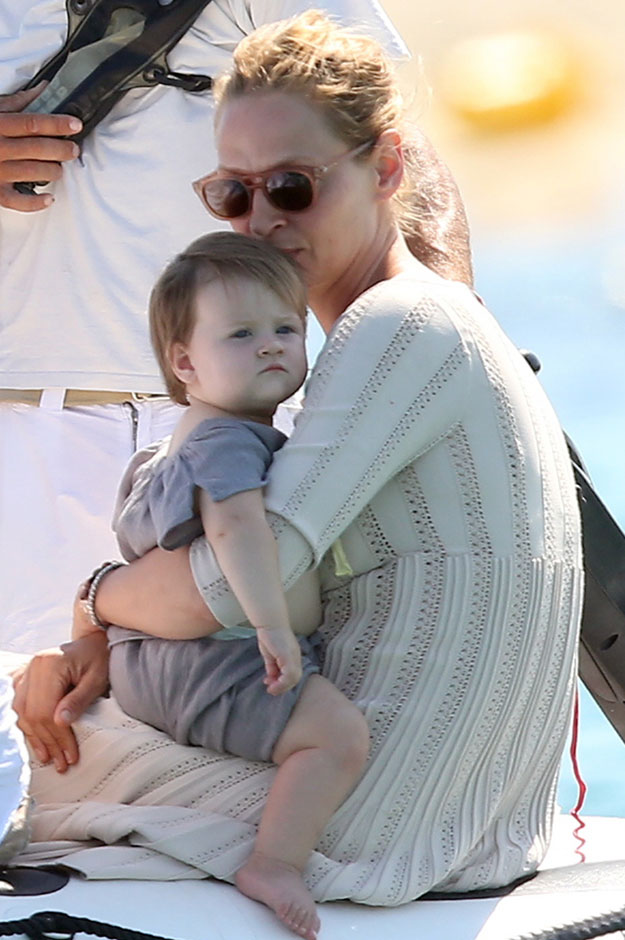 22. Julia Roberts = Hazel & Phinnaeus
Nether Julia disappointed us! She also named her babies with quite unique names – Hazel & Phinnaeus. Hazel was a very popular name in 1870s and it's a botanical name. Phinnaeus is relay a difficult name to have. Apparently, Phinnaeus is a biblical classic. Many people will have trouble with its pronouncing.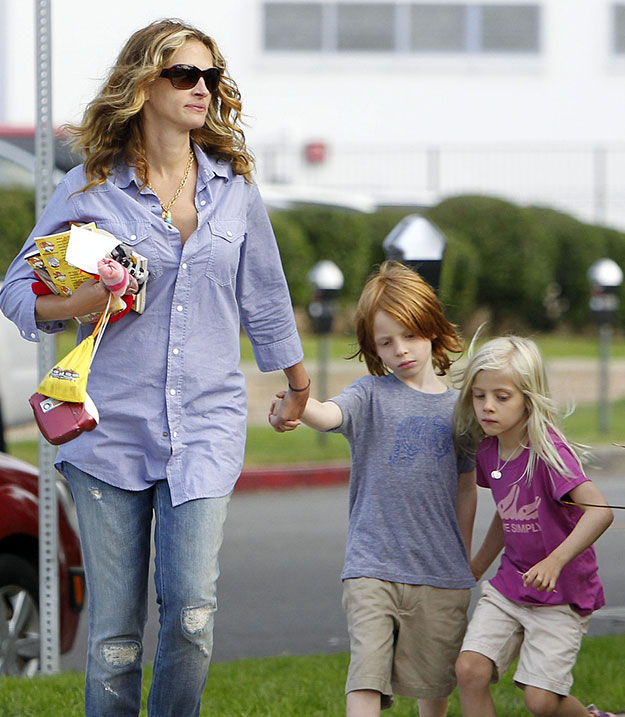 Our top list showed that our celebrities like to be artistic. We can see that celebrity baby names are often the most original, creative, and sometimes craziest around.  What's your favorite weird celebrity baby name?