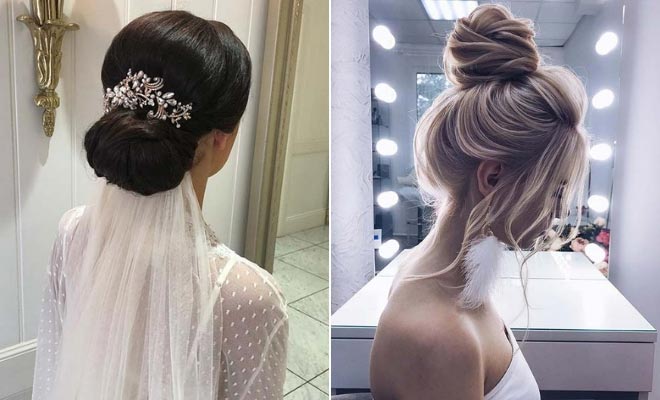 Instagram
Beauty
23 Stunning Wedding Updos for Brides and Guests
By
|
11. Glam Updo with Gems
Our next idea is a glam updo with gems. The hair has been put into a beautiful low bun with loose curls. There are also sparkling gems added to the hair. You can buy gems like these or you can be creative and use earrings. Use stud earrings and simply place them in the hair. It is a unique and stylish idea that would look gorgeous on guests and bridesmaids.
12. Elegant Bun + Tiara
Love the hairstyles with tiaras? Then this idea is for you! Here we have a classic bun with a crystal tiara. This is a beautiful bridal look that is sparkly and chic. You can recreate this bun with a similar tiara or you can choose something subtler or with more crystals!
13. Textured Wedding Updo
Next, we have another textured look. This one features a braided bun with beautiful floral accessories. A hairstyle like this would be perfect for a Bohemian theme wedding. The updo would be an amazing choice for brides and bridesmaids. If you are going to be a guest, recreate the look without the flowers or with subtler ones.
14. Low Bun with Floral Accessory
You can try something elegant and floral like this if all the gems and tiaras are not your thing,. Here we have a stunning braided bun with a gorgeous floral accessory. This would be the perfect bridal or bridesmaid hair idea. You can have a braided bun like featured or a sleek bun.
15. Elegant Ponytail
Earlier we featured a ponytail and if you loved that, you may like this one too. This ponytail is simple but very elegant. The hair has volume at the top and the ponytail is wavy. This is super glam and will look stunning at any wedding. Recreate the waves or try a straight ponytail – that would look pretty too!
16. Loose Bun with Gold Leaves
Next, we have another high bun. This one is accessorized with beautiful gold leaves. You can buy gold hair accessories online or in bridal shops. As we said before, you can also use jewelry to accessorize. This is a stunning look that will suit anyone.
17. Braided Wedding Updo
Our next idea is an elegant braided updo. The hairstyle features a loose crown braid with twists and curls. This is a gorgeous look that will make you feel like a beautiful princess on the special day. A tiara would finish off hair like this very nicely.
18. Classic Chignon
Another classic updo for weddings is a chignon. A chignon is a low bun just like this one. It is a stunning style that would suit the brides, bridesmaids and guests. As it is versatile, you can leave it simple or accessorize with flowers, pearls, gems or a tiara.
19. Pretty Low Bun Updo
If you like to wear a low bun then this hairstyle is for you. This one features a low bun but the hair is loose, romantic and delicately curled. It is the perfect updo for a bridesmaid. For a bridal look, add more flowers or a veil and if you are a guest, leave the flowers and just have the bun.
20. Loose, Elegant Boho Braided Bun
Next, we have another idea that would be perfect for a bohemian wedding. This updo features a loose and curled style with twists and a stunning hair accessory. You can recreate an updo like this with any hair accessory, you could even clip a necklace into the hair to create a similar effect.
21. Glam High Updo
Looking for a glam updo? Then this is for you! The hair is styled into a high curled bun with a beautiful, sparkling hair accessory. You can just recreate this look or you can add other accessories like a bridal veil. For a bridesmaid hairstyle, you could use different flowers.
22. Pull Through Braid Updo
Our next idea is creative and unique. Here we have a pull through braid that is styled into an updo. Pull through braids are quite simple to do and you can find tutorials on how to create them online. By using the braid for an updo, you get a formal but super stylish look. You can add gems to hair like this to make it extra glam.
23. High Accessorized Ponytail
The last wedding updo we have to share with you is this stunning ponytail. The ponytail is styled quite high with volume at the top. It is delicately curled and has gorgeous white flowers. Hair like this would be perfect for a summer or beach wedding. For bridesmaids recreate the ponytail but choose different flowers. If you are a guest, wear the ponytail without the flowers for an elegant look.
We hope you have found a beautiful wedding updo to try!