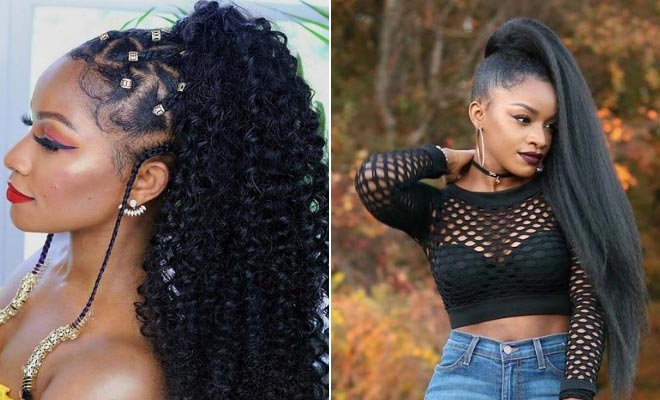 Instagram
Beauty
23 New Ways to Wear a Weave Ponytail
By
|
11. Curly, High Side Ponytail
Next, we have another sky-high weave ponytail. This one is again styled to the side but the actual ponytail is curly. It is a glam ponytail that would be the perfect hairstyle for special events, nights out, date nights and more. A ponytail like this is versatile and can be dressed up or down. Try a long ponytail or you can try a shorter length too.
12. Trendy Bubble Ponytail
Love the bubble ponytails like the one we featured earlier? Then you need to check out this next look. For this hairstyle there is a bubble ponytail but this one uses thicker hair and the sections of hair are larger. The top of the hair is also sleek instead of braided. This is another stylish way to wear a bubble ponytail. We love this idea!
13. Curly Ponytail with Braids
Need a glam hairstyle for a special occasion? Then this idea is for you! Here we have a ponytail that sits high on the head with wavy hair and side braids. What we really love about this hairstyle is the braids around the start of the ponytail. It is little touches like these that make your  hair super chic. You can recreate a ponytail like this with straight hair too.
14. Long & Sleek Weave Ponytail
The next ponytail we have to show you is just wow! This ponytail is super sleek and long. We love everything about this hairstyle! It is the perfect ponytail for the ladies who want to look trendy. The look will give everyone hair envy! You can recreate this long style or try a shorter ponytail, either way, it look gorgeous. You can check out the hair used on the stylist's page featured below.
15. Trendy Weave Ponytail Style
Next, we have a weave ponytail that features funky triangle connects. The ponytail itself is long and slightly waved while the hair on the head has thick and thin braids in the center with triangular connects on the sides. This is a unique and super stylish ponytail idea that will look amazing on anyone!
16. Braids into a High Weave Ponytail
Braids and ponytails are very stylish combination. We love it because the possible hairstyles you can create are endless. Here is a cute ponytail idea that you need to see. This one features a center braid with two braids on either side. The braids create a trendy and unique design. The look is finished off with a pretty, wavy ponytail. Recreate this look or try straight hair. You can even experiment with different braid patterns too.
17. Sleek Ponytail with Waves
Love sleek hair and ponytails? Then this idea is for you. With this hairstyle you kind of get the best of both worlds. The hair starts off very neat and then when the ponytail starts the hair becomes wavy. So, you get the stylish sleek look with beautiful waves too. Hair like this would be perfect for any occasion where you want to look and feel glam.
18. Curly, Low Side Ponytail
Next, we have a gorgeous low weave ponytail. The hair starts with two braids that meet at the start of the ponytail. Then the ponytail has stunning curly hair. We love this ponytail because it is stylish, unique and trendy. You can recreate this look or try a shorter ponytail, maybe even with straight hair too. Keep the braids the same for a chic hairstyle.
19. Curly Ponytail with Braids
Want lots of braids but want a ponytail too? Then this hairstyle could be perfect. The head is covered in a combination of thick and thin braids. Then the hair turns into a curly ponytail. This is such a trendy look that gives you the funky braids and a cool ponytail. Create this look or try a different braid design.
20. Long, Straight Weave Ponytail
Looking for a trendy ponytail? Then this is for you. This look features a sky-high ponytail that is styled to the side and the hair is straight and super long. Hair like this is stunning and demands attention. You can take inspiration from this and create a similar ponytail or try a ponytail like this in a funky color like burgundy.
21. Low Ponytail with Curly Weave
Make your ponytail unique by adding accessories! Here is a cute example. The ponytail is a curly bubble ponytail with gold hair ties while the hair on the head has been accessorized with vibrant yellow bobby pins. Try a look like this one or experiment with your own colors, hair ties and bobby pins. The ideas are endless!
22. Big Curly Low Ponytail
The next weave ponytail is one of our favorites! This ponytail starts of sleek and shiny and then when the hairstyle begins, the hair turns super curly with volume. It is a stunning hairstyle that would look amazing for special occasions. This is the perfect style for when you want to feel glam and steal the limelight!
23. Very High Ponytail with Braids
Last on our list of top picks is this high ponytail with braids. The ponytail is sleek, straight and sky-high with beautiful braids wrapped around the top. There is also a braided design on the head. This is a trendy ponytail idea that will suit everyone, it would look amazing with curly hair too.
We hope you have found a trendy weave ponytail to try!