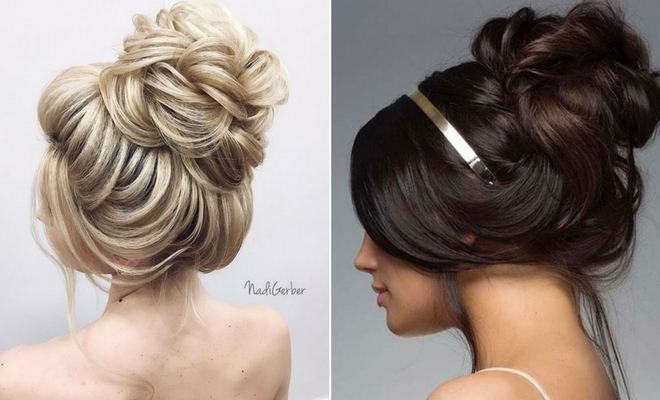 Beauty
21 Updo Prom Styles Perfect for the Big Night
By
|
11. Fishtail Bun
Fishtails are versatile braids so can be styled in endless ways. Our next style features a stunning side braid that blends into a bun. This updo has everything drama, style and beauty. With something like this you are sure to turn heads!
12. Accessorized Loose Bun
We have been talking about adding accessories to hair and here is another beautiful example of how to do it. This simple curled bun has had an elegant finishing touch with pearls. You could change the pearls and add some sparkles, flowers or chains. The possibilities are endless but wrapping a bun will be a stunning choice.
13. Vintage Vibe Ponytail
Add some vintage glamour to your prom dress with a bouffant ponytail. Bouffant styles are elegant and will give your prom outfit a 60's vibe. Perfect if you're a fan of fashions gone by. The curled ponytail finishes it off nicely. You could wear an updo like this with any dress.
14. Side Braids
Here is another way to add braids to your hair. The braids don't have to big and bold you could go for something thinner and subtle like these. You could re-create this style or add the smaller side braids to almost any updo.
15. Loose High Bun
If you want to add some drama to your prom outfit then check out this updo. This style features a high loose bun with wisps of hair draping down. A style like this looks fit for a prom queen. You will be the style envy of every girl with a hairstyle like this.
16. Funky Upside Down Braid
If you're looking for something a bit unique then check out this style. This is for the girls that want to stand out from the crowd. The traditional braid has been turned upside down and the bun is on top of the head. We love this topsy turvy hairstyle!
17. Beautiful Bun
Here is another style that has a hint of vintage glamour. This one features a bouffant bun. It isn't as dramatic as some of the other bouffant styles but this creates a fresh and updated look perfect for prom. A style like this will compliment any dress and makeup.
18. Long Braid
An updo doesn't have to be a bun you could have a long beautiful braid like this one. This style looks like it belongs in a fairy tale which is perfect for making you feel like a princess on your big night. The loose braid style is stunning and can be kept as it is or accessorized with sparkles or flowers.
19. Sleek Prom Hair
Looking for something sleek and sophisticated? Then you are going to love this! This style is swept back into a chic bun style. An updo like this will be the perfect finishing touch to any prom dress. To jazz it up wear with a statement pair of earrings. A hairstyle like this will show off your jewelry at its best.
20. Braided Updo
An intricate updo like this one will wow. It looks like a work of art and will get everyone's attention. The way the braids weave together create a stunning style. You could wear with this any dress for a stunning prom look.
21. Fishtail Updo
Our last updo features a beautiful fishtail braid. The thing that makes this braid stand out from others is the way it sits on the back of the head. A hairstyle like this is unique and will make a statement with any dress.
We hope you are feeling inspired and have found the perfect hairstyle!