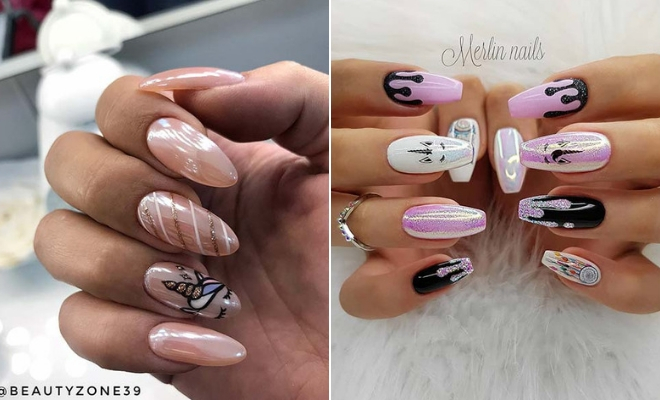 Instagram
Beauty
43 Magical Unicorn Nails That Are Taking Over Instagram
By
|
21. Cute Unicorn Nail Art Idea
Our next idea features cute unicorn art. The nails are light pink ombre with a unicorn accent nail. There are also snowflakes on the nails too. Create the snowflake look for the holiday season and without it for the rest of the year. It is a pretty look that will suit anyone.
22. My Little Pony Unicorn Inspired Nails
Next, we have a pretty unicorn idea that looks straight from My Little Pony. The nails are a dark pink with two unicorn accent nails. We love this idea because the accent nails are not different, both of them make up the image of the unicorn. You can use any unicorn for a design like this.
23. Purple Unicorn Chrome Nails
Last on our list are these iridescent chrome nails. The colors used on these nails are beautiful, enchanting and magical. Nails that use chrome like this can be left simple and stylish like featured, or you can add some sparkly rhinestones. Glitter would also look stunning!
24. Magical Unicorn Nail Idea
Next, we have a magical unicorn nail idea. For this look, the nails are sparkly purple and most of them feature different nail art. Two nails have dangling star charms, one has a magic wand with a star and the other nail features a pink and white unicorn. It is a fun and pretty nail design that will suit everyone. Recreate the whole look or just the unicorn nail.
25. Colorful Holographic Nails
Colorful nails are perfect for the summer and this next idea shows how to wear a bright manicure in style! Each nail is painted a different vibrant color and each one has a holographic effect. One nail also has a unicorn horn design too. It is a very unique nail idea and you can recreate a similar look with any colors and with or without the holographic effect.
26. Unicorn and a Star
The next nail idea we have to show you is cute, bright and stylish. These nails have light blue and pink stripes with different accent designs. Two nails are colorful, one has a shooting star and the last nail features a unicorn head. It is a vibrant nail design and we love the pastel shades. You can create something similar with more vivid shades.
27. Rainbow Unicorn Nails
If you prefer shorter nails, then this next nail idea is perfect for you. Most of the nails are rainbow design and one accent nail has a cute unicorn design. A manicure like this is easy to wear and will look amazing on everyone. You can, of course, try the design on longer nails too. A unicorn like this can be hand-painted or you can try a different unicorn design and use a stencil.
28. Pink Unicorn Nail Design
This next manicure is one of our favorites! Each nail is a different color and has a different design. One nail is painted white and looks like a unicorn horn. It is such a glam and statement making nail idea. Recreate something similar or you can have the unicorn horn with just one of the designs. Either way, your unicorn nails will look amazing.
29. Intergalactic Unicorn Nails
Like your nails to stand out? Then this could be just the nail design that you are looking for. These nails have been painted in different colors and silver glitter has been used too. The look has been described as "Intergalactic Unicorn" which is so unique and stylish, we love it it! Nails like these will look gorgeous on anyone and a similar look can be created on any nail length and shape.
30. Sparkly Purple Nails with a Unicorn Horn
Next, we have a beautiful nail idea with lots of sparkle! Each nail has a different design which includes glitter, a unicorn and a unicorn horn. Most of them are a shade of purple too. This is a gorgeous design that captures the magic of unicorns. You can recreate the whole look or try just one or two of the designs.