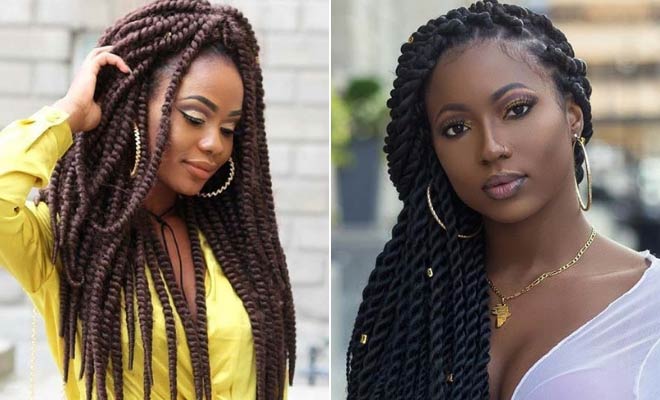 Instagram
Beauty
43 Eye-Catching Twist Braids Hairstyles for Black Hair
By
|
21. Jumbo Twist Crochet Braids
Here is another jumbo twist idea. For this look, partial crochet braids have been used. It is simply stunning. Hair like this is perfect for the ladies who want an elegant and classy hairstyle that will wow. Recreate long braids like featured, or try shorter ones. Whatever suits you, as both will look beautiful.
22. Trendy Medium Twists With Gold Hair Cuffs
Looking for a trendy new hairstyle? Then this could be it! Here we have twist braids that start off chunky and then gradually get thinner. The twists has also been accessorized with gold hair cuffs. We love how the braids subtly get smaller, it gives the hair a stylish finished look. Twists like these would look amazing in red, too!
23. Thin Twists Bun
The next hairstyle we would like to show you is this bun with thin twist braids. For this one, the bun has been styled quite low and has some loose braids too. This is a cute and stylish hair idea that will suit everyone. It can also be dressed up or down, so it will suit any occasion.
24. Beautiful Jumbo Twist Braids
Next, we have beautiful jumbo twists. For this look, the twists are long with box parts. The color of the twists is a combination of black and a dark caramel blonde. We love the color and the size of the twists because they create a bold and chic hairstyle. You can recreate these twists or try a different shade of blonde.
25. Twist Braids and Curls
Glam up your look with twists like these! This hair idea features long twists with loose and curly hair. The twists are also accessorized with stylish gold cuffs, cords and more. This is a statement making style that will steal the spotlight. We love the curls because you get the best of both worlds as you can wear twists and gorgeous curls together. This look is perfect for summer vacations. Hair used: Zury Water Wave (3 single packs).
YouTube tutorial:
26. Large Side Twists
This next hair idea is chic and super stylish. Here we have large and chunky twists. The twists have a side part which creates a beautiful side swept style. Hair like this will suit everyone and it can be glammed up or down to suit any occasion. You can try a similar style with thinner twists too.
27. Super Long Twists with Curly Ends
We love this next hair idea! This look features long boho twists that have been styled into a half up ponytail. The hair is also decorated with shells and gold rings. It is so trendy and cute. The shells would be perfect for the summer and vacations. This 30 inch knotless twist hairstyle was created  with 4 packs of X-pression hair and 3 packs of beach curls by Free Tress.
28. Stunning Purple and Pink Twists
If you love bold hair colors, then take a look at this! This hairstyle features long twists that start black then the color changes to a bright purple and then to a pastel pink. The pink and purple color combo is so pretty and cute! You can recreate this look or use more vivid purple and pink tones. Either way, your hair will look fabulous! We think these colors would look great with a bob too.
29. Trendy Twist Ponytail
Next, we have a trendy ponytail to show you. The hair is styled into Marley twists and it is styled quite high on the head. There is a also a stylish pattern at the front of the head too. This hairstyle looks effortlessly amazing and it will suit everyone. A ponytail can be dressed up or down to suit any occasion.
30. Pretty Passion Twists
Looking for a stylish but easy to wear hair idea? If so, this is for you. Here we have long and chunky passion twists. The hair is simply styled with a side part. Twists like these will suit all ages and they can be recreated in any length. You could even jazz up the twists with accessories or different hair colors if you feel like trying a bolder style.