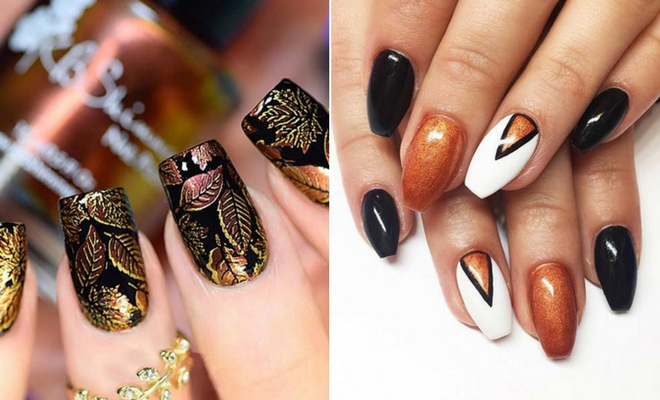 Instagram
Beauty
41 Trendy Fall Nail Design Ideas for 2019
By
|
11. Sparkly Fall Nail Idea
Want a manicure that has plenty of sparkle? Then our next pick is for you. These nails feature a dark red polish with two accent nails. One accent nail has gold all over glitter and the other has shimmering gems. Nails like these would be perfect for a night out. You could pick just one of these accent nails or wear both.
12. Fall Abstract Nail Art
Our next fall nail design idea is creative and unique. It is called abstract nail art. All you need for this is a few nail colors and you can choose any. The shades used on the nail art featured are perfect for the fall. Then all you will need to do is create a brush stroke design. There are many tutorials available online to help you achieve the brush stroke look.
13. Gold Fall Nail Designs
Next, we have a fall nail design idea that uses soft colors. The subtler shades are a nice change from the dark colors that are usually used in the fall. These nails use purple, pink and green. There are also three nails with gold designs over the top. You could get stamps to create the gold design and you could choose any pattern. We love this cute nail look.
14. Glitter and Lace Nails
Lace is not just for pretty clothes, you can also have a lace pattern on your nails. These nails have used a burgundy, black glitter and lace pattern. This combination creates a very glamorous look. There are a few ways to create a lace but an easy way is to get lace nail stickers. You can easily recreate nails like these at home.
15. Fall Chrome Nails
Jazz up your nails with chrome nail polish. You can have any color but your nails will instantly look trendy with the shiny effect. This example of chrome nails is perfect for the fall. It was a warm brown coppery color. Nails like these will suit everyone with any nail length.
16. Funky Fall Nail Idea
Looking for nail art that is unique and funky? Then this next idea may be for you. Each nail is different. One is glittery, two have matte polish and one has a creative design. When every nail is different it creates a statement making manicure. You can recreate this with any color and with any designs. The nails featured are a great source of inspiration for stylish fall nails.
17. Burgundy and Bling
Burgundy is a must have nail color for the fall. You can make your manicure different from all the other burgundy ones by using gems like the ones featured. Any design can be created with gems. These nails use a different amount on each nail. Gems are easy to apply and are low-cost to buy. If you need help with nail gems there are lots of tutorials online to help you out.
18. Embellished Matte Fall Nails
Orange is a very popular color for this time of year. The great thing about orange is that it works so well with other colors. As you can see from this stylish manicure, orange compliments white and grey beautifully. This manicure would look great as it is, but these have added gems. The gems give the nails a glam look. Nail art like this is simple to recreate and will look trendy all fall.
19. Cranberry Swirl Nail Art
Next, we have a trendy swirl nail art idea. Nail swirls create a textured look and can be recreated at home. There a few ways to create the swirl look ranging from using water to toothpicks and brushes. You can find tutorials on this design so just experiment. You can create the swirls in any color but a color like this is perfect for the fall.
20. Fall Copper Accent Nail
Coppery metallic colors are a trendy choice for this time of year. This kind of color can be worn as it is or you can wear it with other colors like the nails featured. It is a good idea to have a polish like this in your collection as it gives you a stylish fall look instantly.