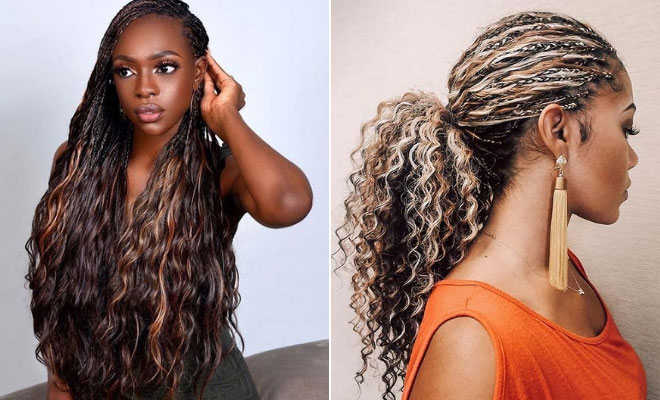 Instagram
Beauty
21 Beautiful Ways to Wear Tree Braids This Season
By
|
Tree braids are a popular protective style. This braiding style involves braiding the extensions onto the root then the rest of the hair is left loose and unbraided. The braided length can be as long or short as you like. So, think of it like a tree with roots and then the loose hair is like the branches. It is a beautiful braided style that you can have done at a hair salon or you can learn how to do it yourself. We know you will love this braided look if you don't already, so we have found 21 beautiful versions of the style. We have updos, long hair ideas, short styles and more. Any of these will look amazing on anyone.
1. Simple and Stylish Tree Braids
The first hair idea that we have to show you is simple and so stylish. The style features long twists with a side part. It is such an easy to wear look that will suit everyone. Recreate this hairstyle or you can try a shorter or longer length. This look was created with VirtueKinks hair in their signature style VirtureTwists and the hair is available on the Instagram page below in all different colors.
2. Tree Braid Ponytail
This next hairstyle is one of our favorites! Here we have a beautiful tree braid ponytail and the hair is multi tone. Different colors have been used from black to blonde. We love everything about this style from the chic and classic updo to the bold colors. Hair like this will wow and it is perfect for those who like to make a statement. If you're interested in getting these braids, make sure to contact the stylist on her Instagram page to book your appointment. She is located in Atlanta.
3. Summery Hairstyles
Summer is coming so now it is time to bring out the more fun hairstyles and accessories. These hairstyles are just perfect. Both have long curls with the braids at the root. One has a half up bun that is adorned with flowers while the other is wearing a floral headband. Both styles are stunning and they are perfect for the summer, festivals and vacations.
4. Half Up Tree Braids
Next, we have a cute braided hair idea to show you. For this look we have long tree braids with loose curls. Half of the hair is styled up. The half up style is so pretty and you can recreate this relaxed bun or try a ponytail. We love the color of the hair. Bright shades like this are great for the spring and summer.
5. Gorgeous Blonde Hair Idea
Looking for a glam and trendy hairstyle? If so, this could be perfect for you. For this look, the hair features a side braid pattern with long and beautiful curls. The hair also starts with a bright blonde shade which then changes to a darker tone. Hair like this is perfect for those who like their hair to impress. You can recreate this look or use a different blonde shade but the hair will look gorgeous in any color.
6. Chic and Trendy Braids
The next hair idea is another chic and trendy one. This time the hair is mid length and features tree braids with micro passion twists. It is a beautiful and easy to wear look that will suit all ages. Keep it simple like this or you can add other colors to the hair. You could even glam it up with some hair accessories.
7. Bold Tree Braid Updo
We love this next hair idea! The style has tree braids with tight curls and the hair is also multi tone. A few different shades have been used including black, burgundy and red. All of the curls are styled up into a short ponytail with short bangs. This is a fun and statement making hair idea and it is another style that is great for the summer. Recreate this or try the updo in any color.
8. Stunning Braided Hairstyle
If you are looking for a new hairstyle that will wow, then you need to see this. Here we have a stunning tree braid style. The hair features very thin braids which then change to long and very loose curls. Hair like this is so versatile as it will suit any occasion and it will look glam or relaxed depending on how you wear it. This style is perfect for the times where you want to dress to impress.
9. Shorter Hair Idea
Looking for a shorter hairstyle? If so, you need to check this out. Here we have tree braids that just hit the shoulders in length. It is a cute, curly and beautiful look. The hair used in this style is called Kima Braid in Ripple Weave.
You can also see a video tutorial on how these intricate braids were created on the link below:
10. Blonde and Brown Tree Braids
Next, we have another multi tone look. This style features long tree braids and tight curls. The hair is also a mix of colors from dark brown to bright blonde. It is an edgy, bold and statement making look. You can recreate this style or you can try different shades of blonde and the other colors. Hair like this will look amazing in an updo as well.