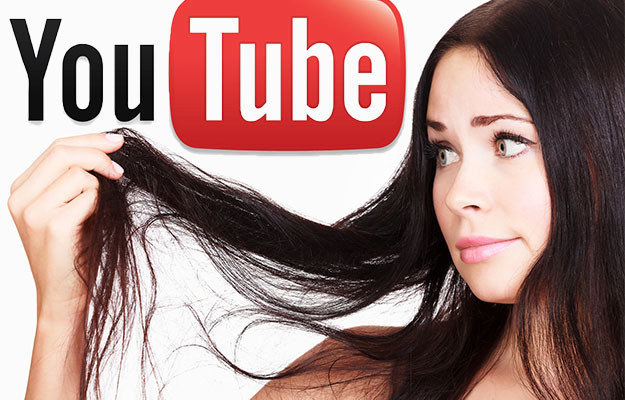 Beauty
Top 8 Home Hair Treatment YouTube Videos (No. 4 is My Favorite)
By
|
Yes, it's possible! You can make various hair treatments at home from ingredients in your kitchen! Hair home treatments are a popular method of improving and maintaining hair health. Depending on the ingredients, these treatments can help retain and add moisture, improve health growth, strengthen the hair, make the scalp healthier, and increase shine and softness. They are made from natural ingredients so they are free of chemicals.
We prepared top 8 YouTube videos with some easy and quick hair treatments so you can pick the best ones for you and your hair.
For this hair mask, you'll need two ingredients – yogurt and olive oil. Mask should be applied on clean and dry hair. Whole process will took around 30 minutes.
Yogurt is always known as healthy ingredient. It contains calcium, high quality protein and is an excellent source of zinc, magnesium, phosphorous, potassium and vitamins B2, B3, B6 and B12. For centuries, olive oil has been used to give sheen to hair and soothe the drying effects of wind and sun. Olive oil is effective conditioner – it nourishes and strengthens hair. These mixed ingredients are a winning combination for every hair type.
2. Dry and Damaged Hair Strengthening Mask

Weather, blow dryers and hair style products can easily damage your hair. Unfortunately, we've all been there. You don't need to spend lots of money to have a pretty and healthy hair. This mask will repair and moisturize it in 40 minutes. Ingredients you'll need are – coconut oil and egg.
Researches showed that coconut oil, compared to mineral and sunflower oils, really can prevent hair damage. It has an ability to deeply penetrate into hair shaft because of its straight linear chain and low molecular weight [1]. Coconut oil is more expensive, smellier and greasier than other oils but it's worth it.
We love Summer but our hair hates it. Salt water, chlorine, air conditioners, wind and sun are hair enemies.  Summer makes our hair brassy, dull, dry and unhealthy. If you need quick hair fix, check this hair mask tutorial. Be sure to have mango, banana, yogurt and coconut oil near you!
Banana contains a moderate amount of amino acids common to the keratin structure of our hair, so may help condition, volumize and strengthen the hair by filling in broken parts of the cuticle. Also, it is rich in vitamins B and C which both help hair growth.
Avocado is "awesome" fruit. It is rich in fiber, vitamins and minerals [2]. Also, (Hass) avocado provides potassium, sodium, magnesium, vitamins A, C, E and K1. Studies showed that avocado consumption helps support cardiovascular health, they may support healthy aging and weight management [3].
Avocado has moisturizing properties, so it will leave your hair looking shiny and feeling soft. It contains biotin (5.40 mcg/150 g) which is often recommended for hair strengthening.
Hair grows half an inch per month [4] but we lose up to 100 hairs every day! [5] Crazy! If you're tired of waiting for your hair to grow, you can speed up the process with this hair mask.
Rosemary has been used for centuries by many cultures as a hair growth stimulator. It was used in one study of 84 people with hair loss problem. People who massaged their scalps with rosemary oils experienced significant hair regrowth. Another study showed that caffeine also can be used for hair growth stimulation.
6. Hair Mask For African American Hair

Apple cider vinegar is much more than a salad dressing! You can use it for your house, skin and hair. Add it to your hair mask to boost your hair's shine and body.
For this hair treatment you'll need 1-4 eggs. Amount of eggs depends on the length and thickness of you hair. Process is easy and quick. You'll need 5-10 minutes to apply eggs on your hair and they should be rinsed off after 15-20 minutes.
Egg yolk is a rich source of biotin [6]. It can be used as a treatment for strengthen and volumize the hair.
Mayonnaise? Yes, you read it correctly. Mayo is made out of eggs, oil, and lemon juice or vinegar. We already mentioned health benefits of these individual ingredients so it isn't strange our hair likes mayonnaise.