Top 50 Funky Hairstyles for Women
They say redheads are wild, brunettes are the smartest, and blonds have the most fun, but what about purple-, pink-, blue-, and green-heads? The trend for crazy coloured hair is getting bigger and better.
Few years ago, crazy colored hair was pretty unique type of thing that wasn't worn by many women. Today, it's a lot more common to see someone with the whole hair dyed in blue, pink or green color.  Just like any other color of hair, it has to go with the person. However, nontraditional hair colors can be high maintenance. They rinse out really quickly so you can expect to visit your hair salon every few weeks. Be prepared if you decide to dye your hair in blue, pink, green or red.
If you love "crazy" hair, your gonna love our funky hairstyles below. Enjoy!
1. Long Ombre Blue Hairstyle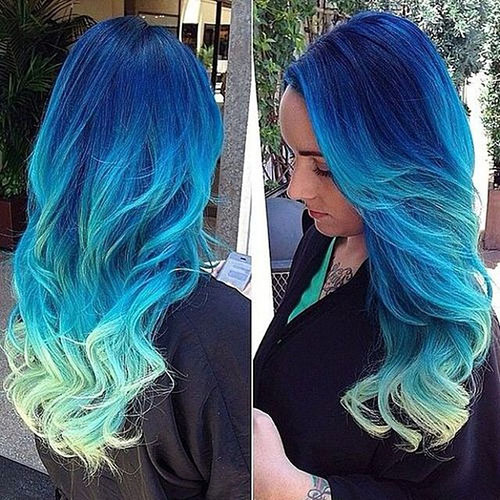 One way to express your creativity can be through your hair. This woman decided to rock ombre blue hair and she looks amazing! It's a real attention grabber.
2. 'Cruella de Vil' Hairstyle
When we first saw this hairstyle on Scarlett Johansson, it immediately reminded us on Cruella de Vil from The Hundred and One Dalmatians. This hairstyle is perfect for women who don't want to have a boring hairstyle.
3. Medium Length Light Pink Hairstyle
Light pink hair looks good because it stands out and it is a total showstopper. With these big curls, it looks pretty sexy, too. Pink hair, don't care!
4. Long White & Blue Hairstyle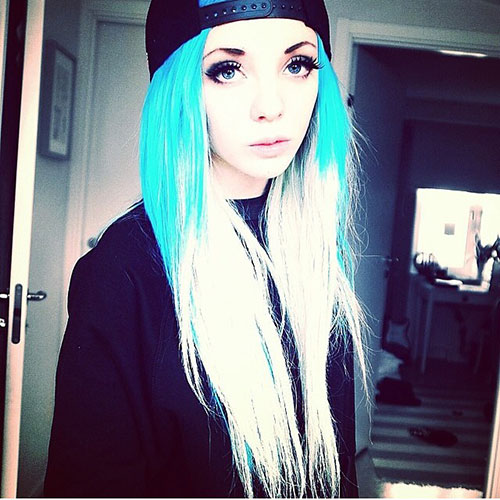 This hairstyle is for cool girls only!
5. Long Pastel Blue Hairstyle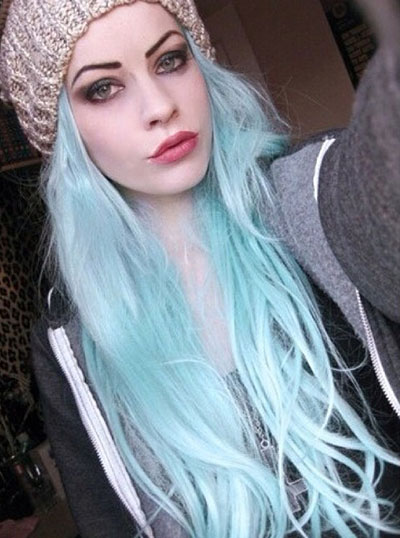 With the right attitude, on the right person, light blue hair can be really striking. This girl knows how to wear her crazy hair color. It suits her well!
6. Curly Medium Pink Hairstyle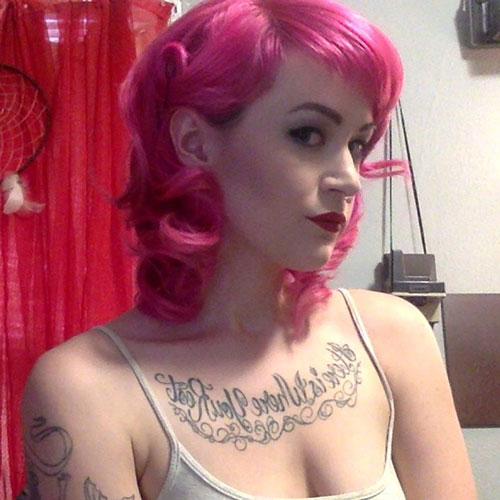 With this hair color, you can't have a bad hair day.
7. Medium Light Red Hairstyle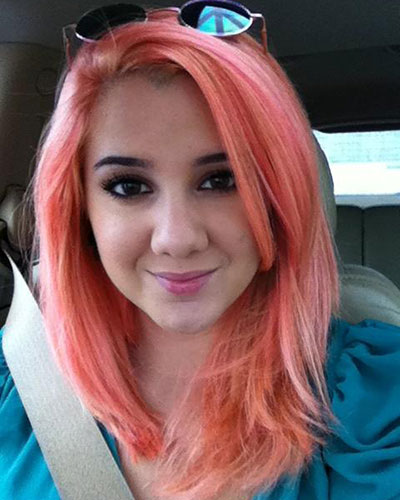 Gorgeous color! It's perfect if you're looking for a softer color for your hair.
8. Purple & Blue Updo Hairstyle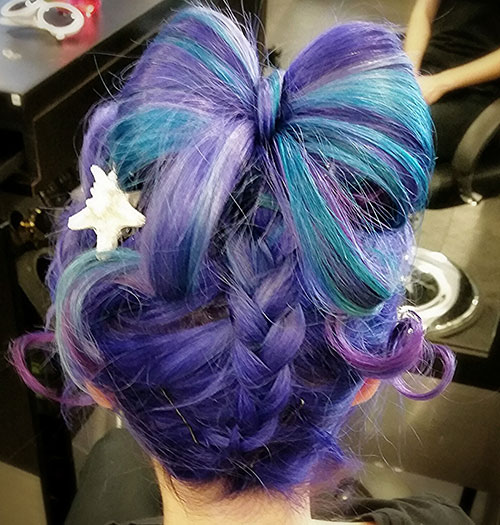 With this up-do, you don't need jewelry or accessories – your hair is a statement piece. Would you agree?
9. Long Ombre Funky Hairstyle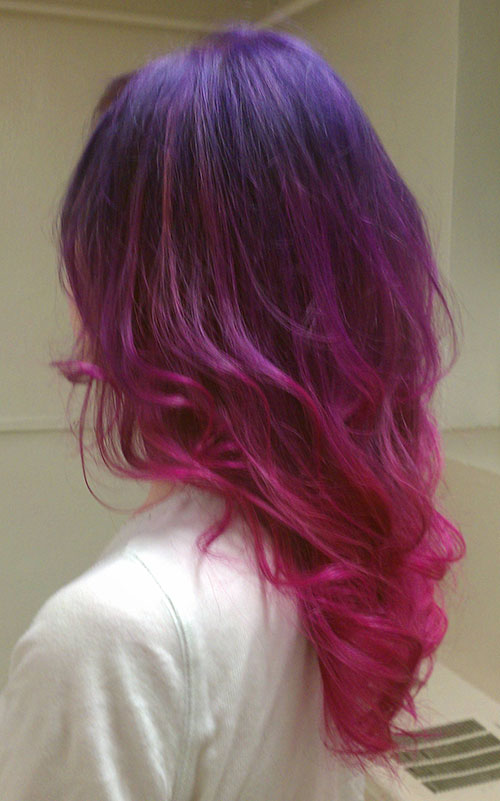 When you see these pretty colors, you instantly want to rock this hairstyle.
10. Long Hot Pink Hair with Rainbow Braid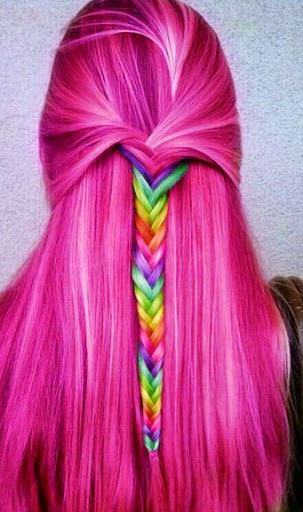 With this hairstyle and color you can't be ordinary or boring. This hair color and rainbow braid will make you stand out from the boring crowd.
11. Long Dark Green Hairstyle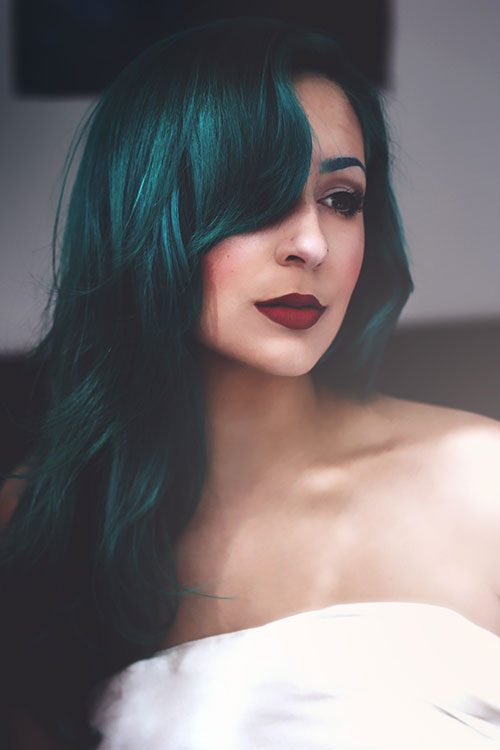 This girl pull it off quite well. With green eyebrows and red lips, she looks like a mermaid!
12. Long Brown Hair with Colorful Tips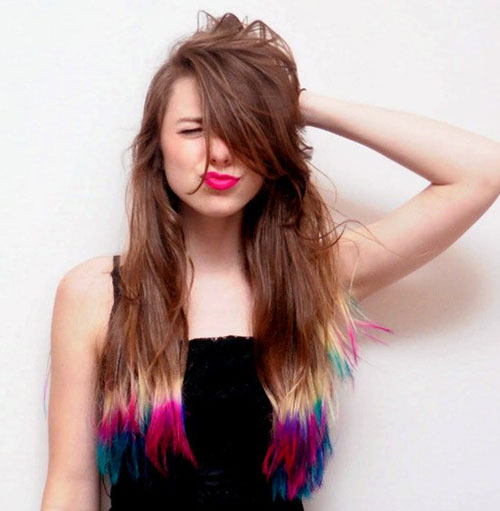 Coloured tips are the new hair trend! You don't need to dye your whole hair – if you don't like it, you can easily trim your tips. It really looks cool!
13. Long Blonde Hair with Pink Tips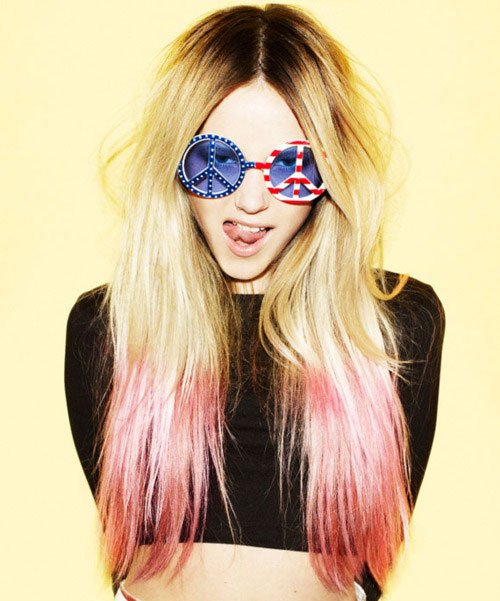 If you still aren't brave enough to dye your whole hair in light pink color (or any other crazy color), you can start with just dying your tips. It looks pretty cool, too!
14. Medium Light Pink Curly Hairstyle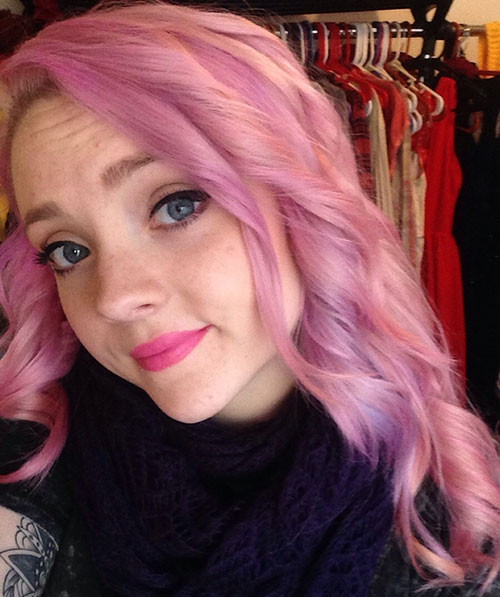 This hair color and soft curls are so romantic. Don't be afraid to match your hair with your lips for that extra 'wow' effect.
15. Light Green Highlights & Curly Hair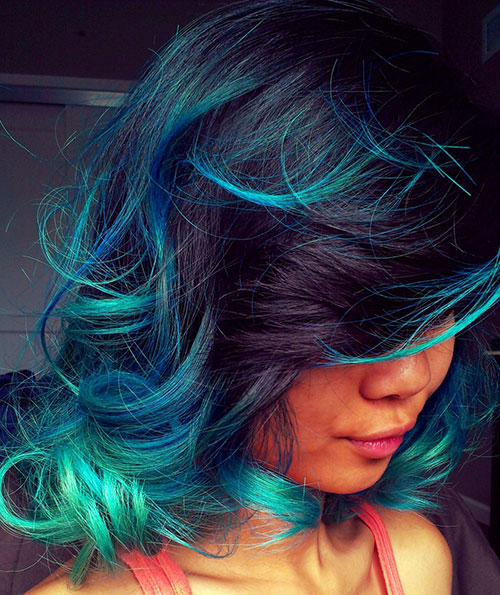 These highlights are amazing and they look perfect on darker hair. Something similar wore Kylie Jenner few months ago. Cool hairstyle for cool girls!
16. Long Light Pink Hairstyle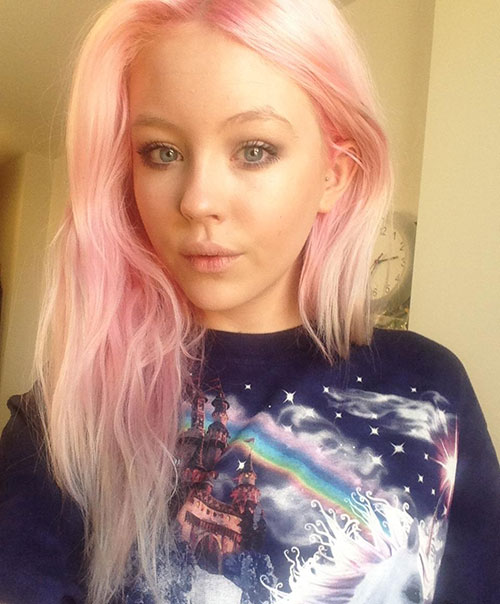 Perfect cotton candy pink hair! It's a stylish, bold way to showcase your individuality.
17. Colorful Short Hairstyle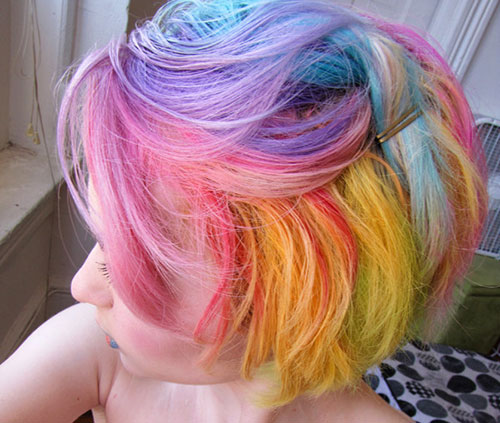 Many of us consider ourselves rebellious when it comes to our hair but are we brave enough to color our hair in rainbow colors? This girl surely is. These colors can brighten up a rainy day!
18. Purple Hair with Blue Tips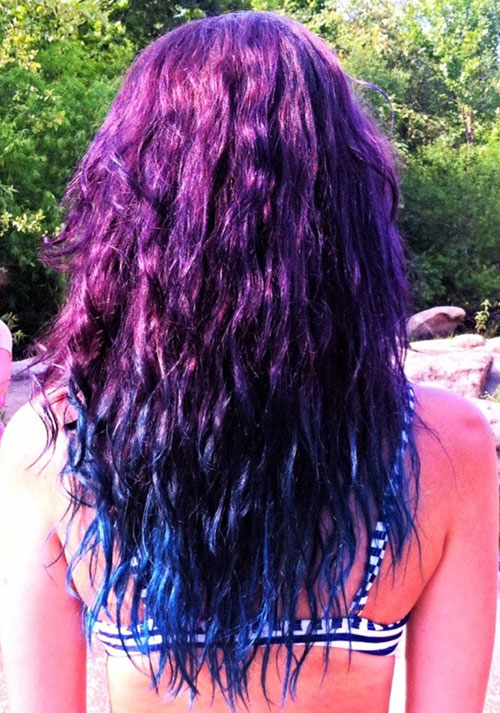 If you want to dye your hair in some vibrant, unusual color, purple can be a good starter color. Also, some black colors come with a purple or violet tint if you want see how purple would suit you.
19. Long Hot Pink Hairstyle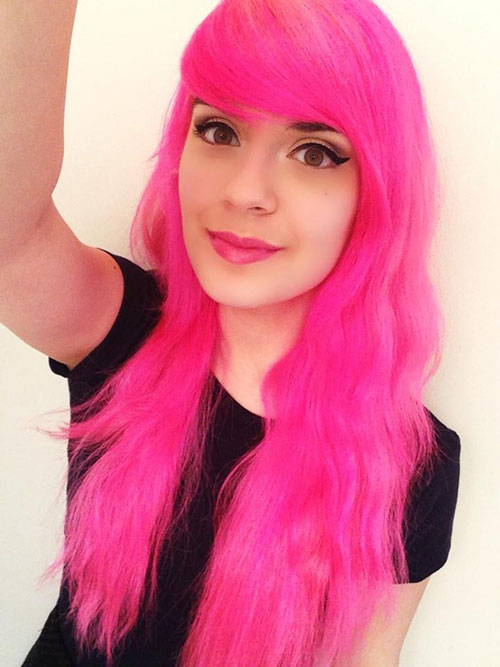 With this hot pink hairstyle, you can't be unnoticed in the crowd.
20. Short Light Purple Hairstyle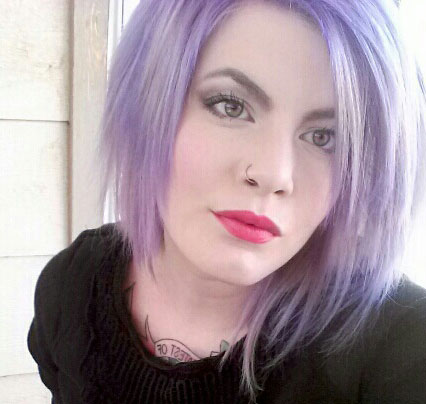 Umm, can we have this cut and color right now?
21. Light Blue & Grey Ponytail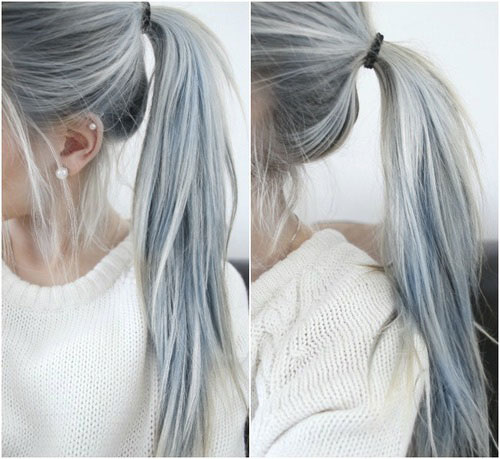 One day, we will all start growing in grey hair. However, some women rock the grey color even before it starts growing on its own. This woman combined her grey color with blue and it looks pretty amazing!
22. Long Light Pink Curly Hair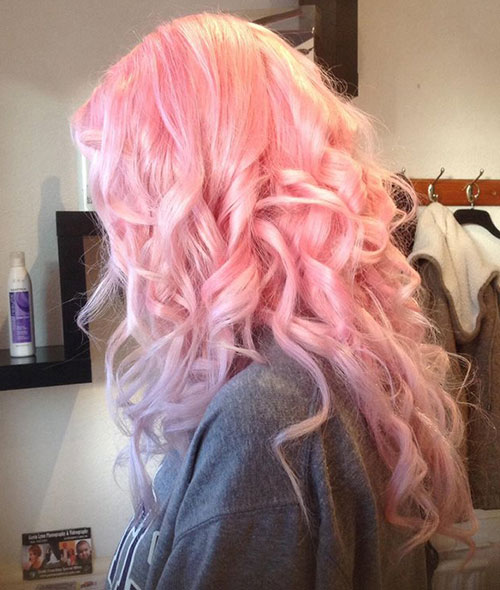 Hairdo that you want to eat! Yummy!
23. Long Bright Red Hairstyle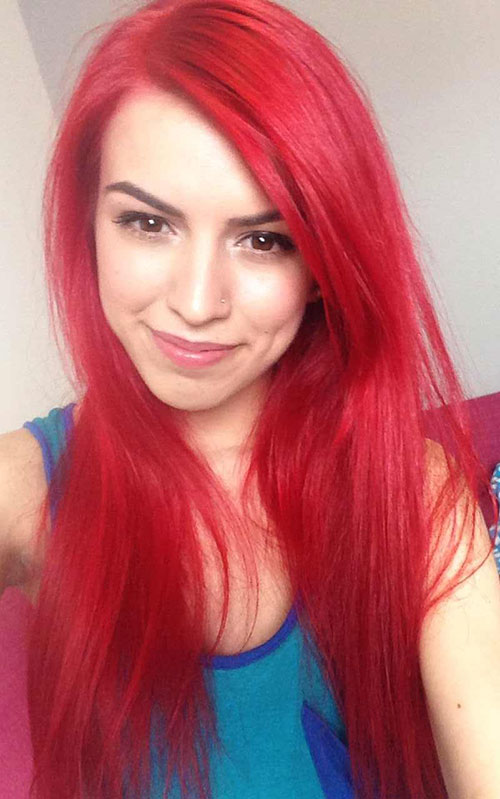 Having red hair isn't just for freckled women. You can also wear this energetic and vibrant color. This bright red look was pioneered by Rihanna, few years ago. Don't forget to match your hair with your red lips.
24. Short Light Pink Curly Hairstyle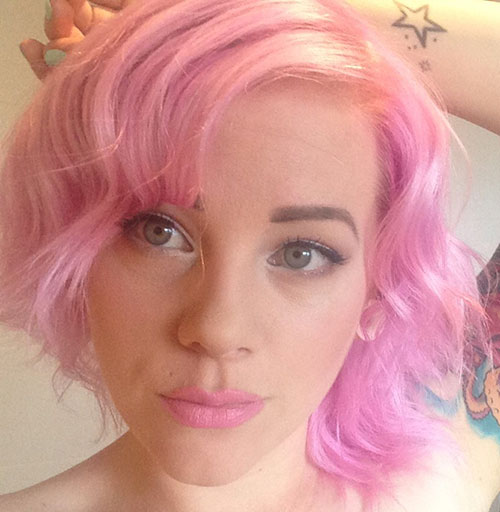 Short baby pink hair will give you a cute and girlish look. It goes nicely with blue eyes.
25. Light Purple Bob Hairstyle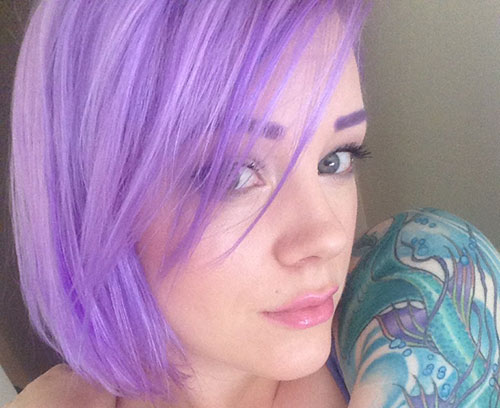 Light purple color is a fun way to step outside of the box when updating your look, especially if you rock purple brows, too.
26. Long Funky Hairstyle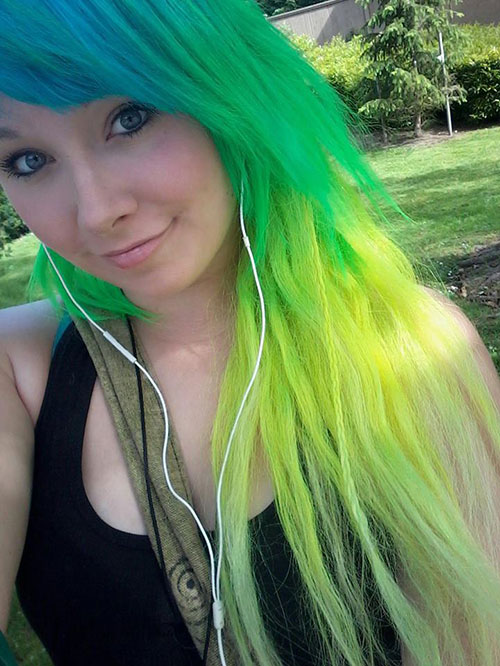 This hairstyle screams fun!
27. Medium Blonde Hair with Colored Tips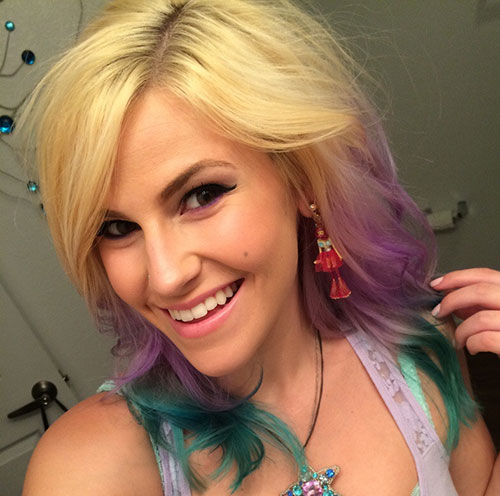 Experiment with rainbow hair colors by dying just the ends of your locks. It's fun and subtle!
28. Colorful Braid Hairstyle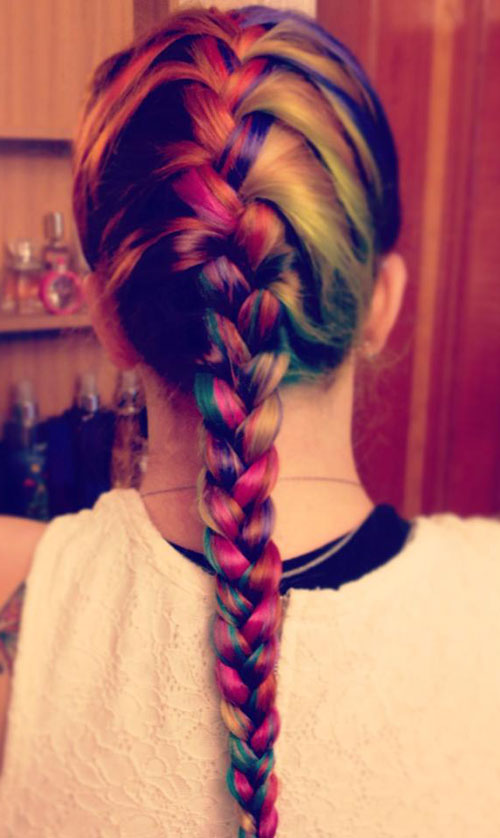 Rainbow hair looks great worked into a topknot or braid or just worn down.
29. Pink & Orange Hairstyle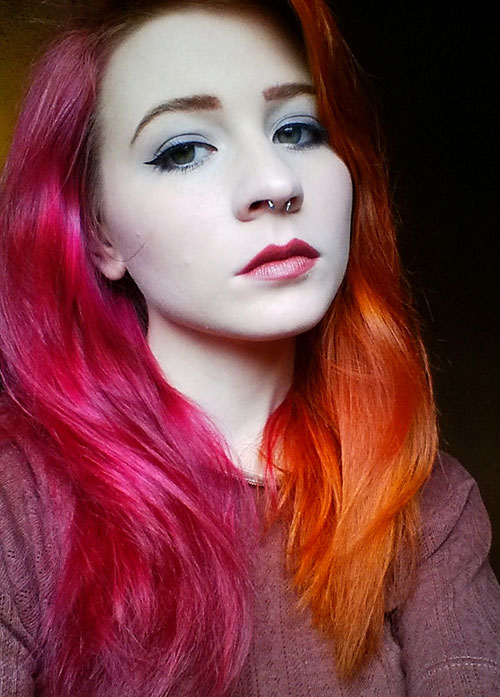 If you can't decide between pink and orange, why not get both? This girl obviously had that problem and solved it successfully.
30. Colorful Braid for Medium Hair Length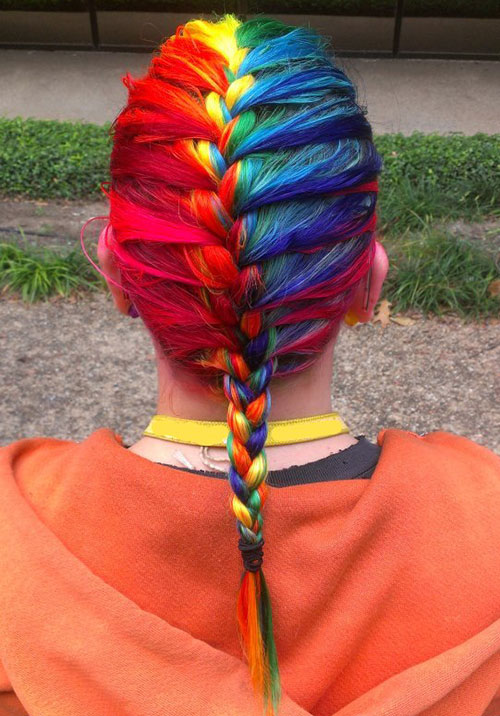 Yay or nay?
31. Colorful Hairstyle for Curly Hair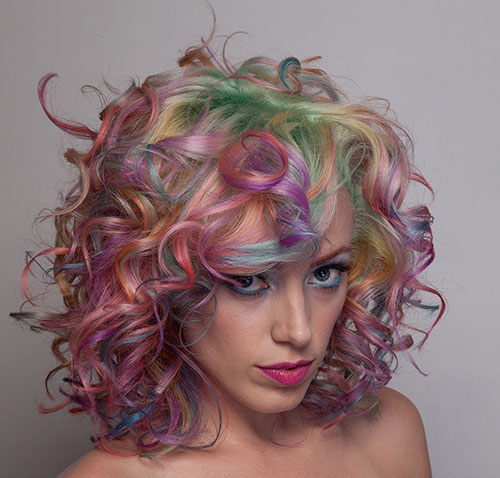 Pastel colors are so pretty! Because of its powdery color and candy-like essence, some people refer to this hairdo as cotton candy hair.
32. Dark Purple Hairstyle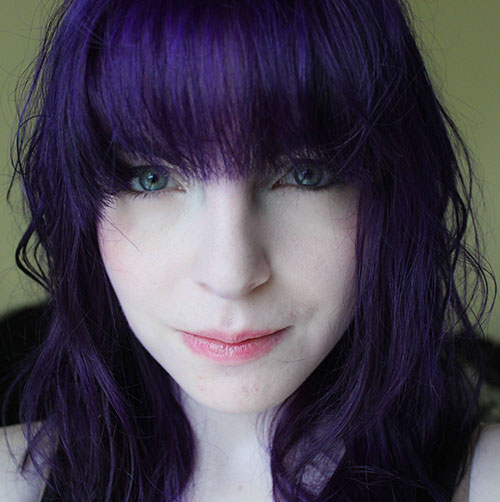 Powerful yet girly hue.
33. Long Brown Hair with Colored Tips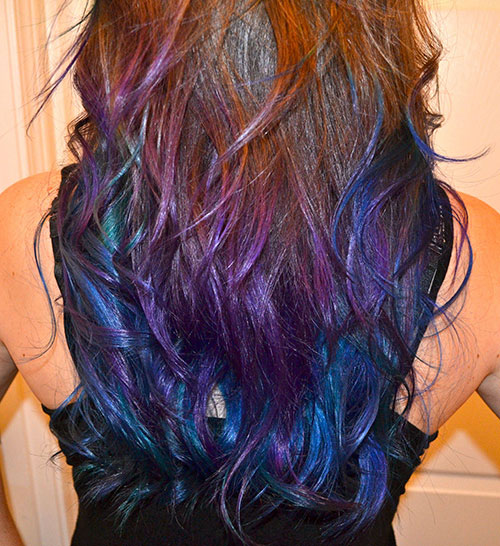 These purple and blue highlights look gorgeous in brown hair. It's the perfect solution for anyone with not-so-trendy boss, school or parents.
34. Green Updo Hairstyle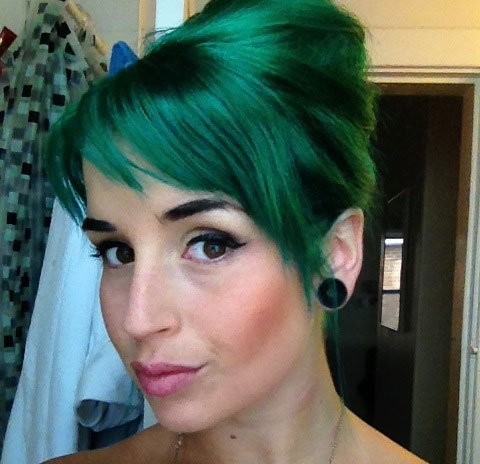 Her hair looks amazing but hard to maintain!
35. Light Pink Hairstyle on African American Woman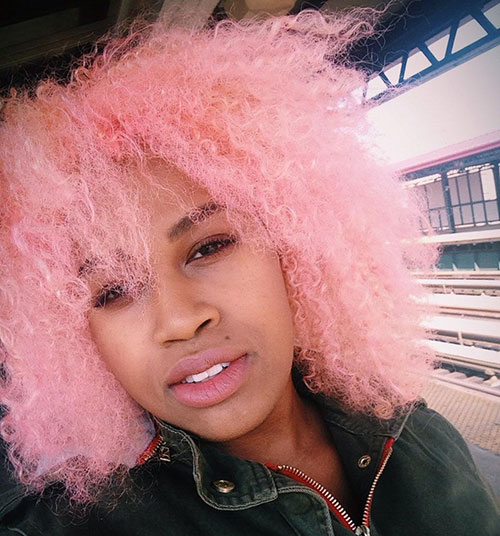 Light pink is the new black? This color looks amazing on this African American woman!
36. Long Light Green Hairstyle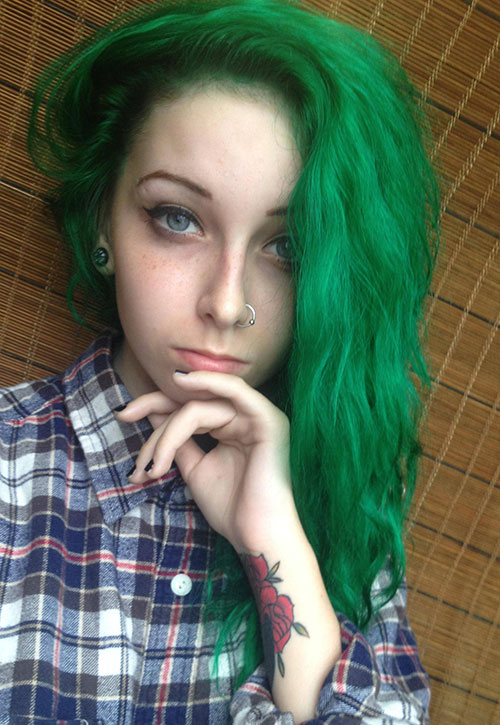 Green hair? Heck yes!
37. Orange Fish Braid Hairstyle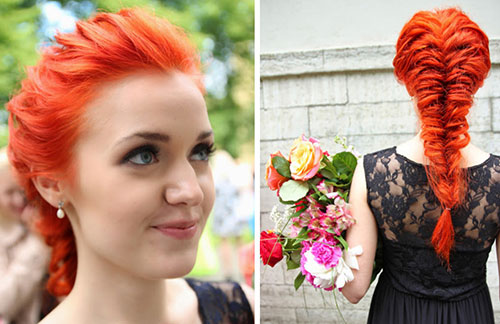 We can't stop staring at this photo! Ever thought about dying your hair in orange? Well, after this photo, you're probably thinking about it.
38. Black & Purple Medium Hairstyle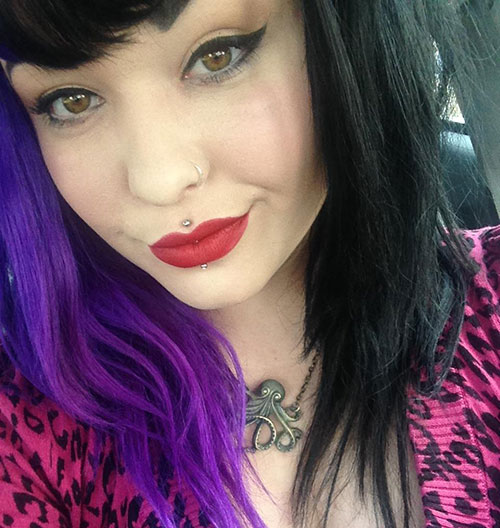 This hairstyle will make you grab the hair dye.
39. Purple & Red Highlights on Long Hair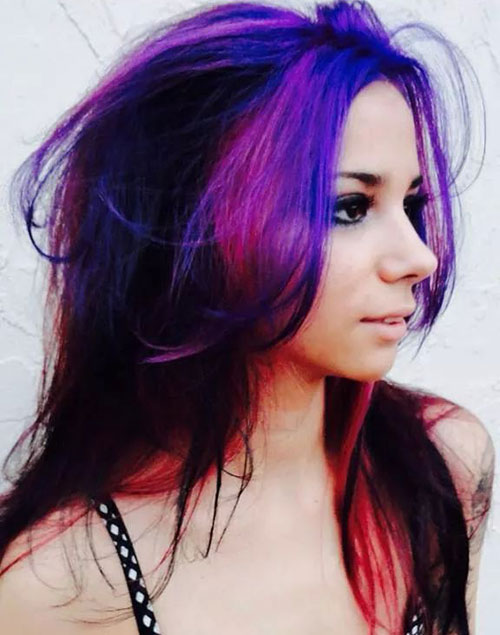 Colorful highlights are easy way to refresh your long hair.
40. Emerald Green Hair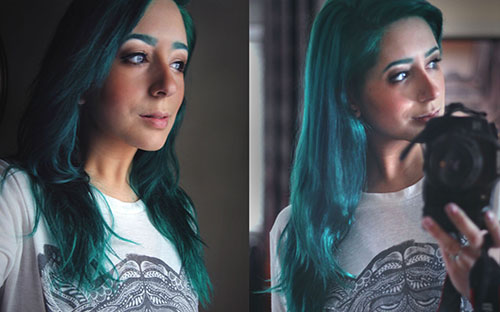 Emerald green hair is fierce! So eyecatching hairstyle.
41. Pink Highlights Curly Updo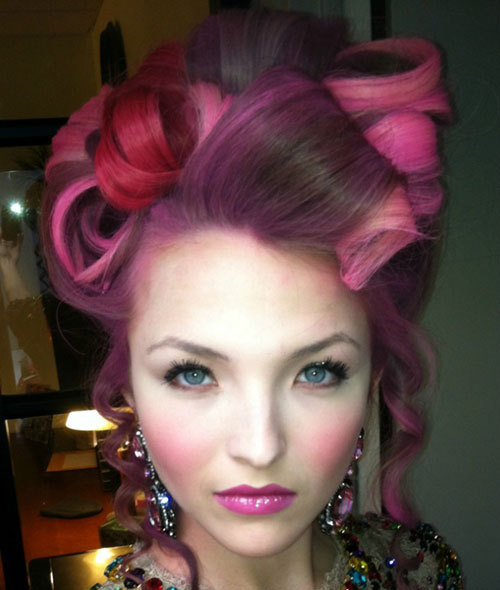 Just like red heads, blondes, and brunettes get highlights to enhance their color, the same can be done with unique colors like pink.
42. Colorful Long Hairstyle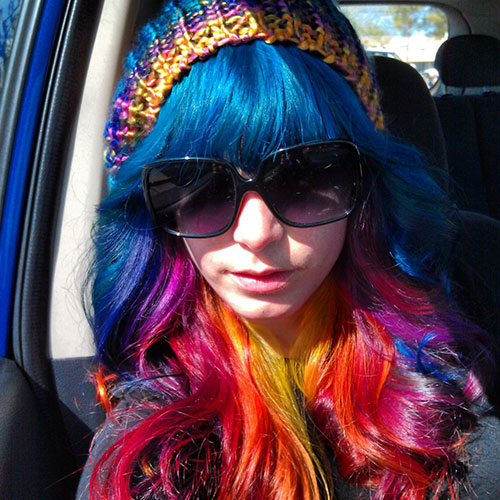 Do you dare to dye your hair in rainbow colors?
43. Short Green & Blue Hairstyle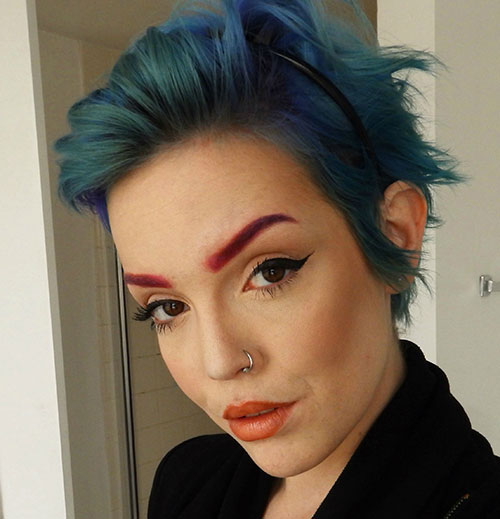 If last year was all about ombré, this year is all about crazy coloured hairstyles. Blue hair and red eyebrows? Why not! Unusual color will always be a trend.
44. Long Purple Hair with Bangs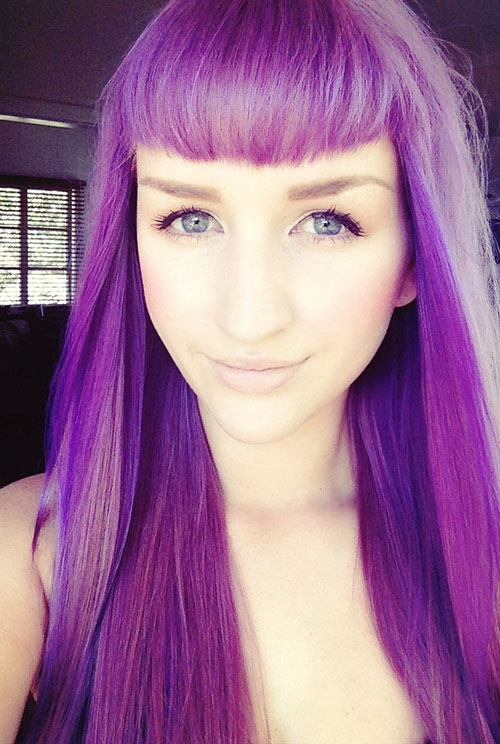 If you don't want your hair to be all in one color, you can use your lighter color as highlights, just like this girl above. Her hair is in dark purple color (which is gorgeous and suits her blue eyes) with light purple highlights.
45. Funky Long Hairstyle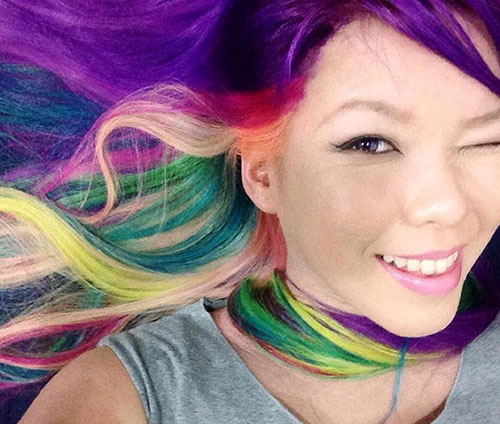 We can all use more rainbows in life, right?
46. Long Light Blue Hairstyle with Purple Highlights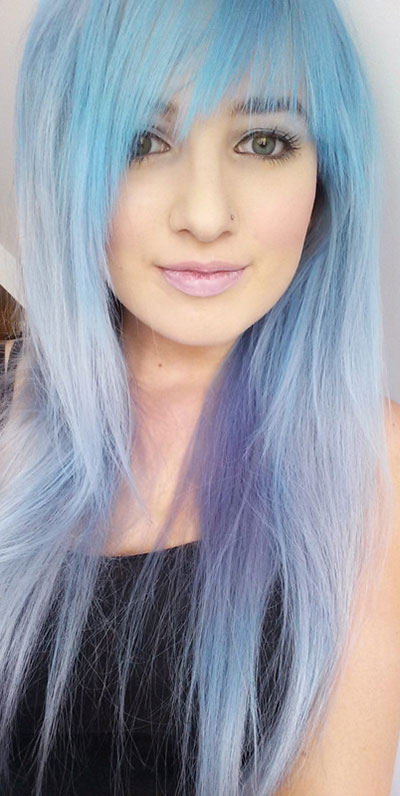 It may be grey and dull outside right now but this girl is making her own ray of sunshine by dying her hair in light blue color.
47. Colorful Pin Up Hairstyle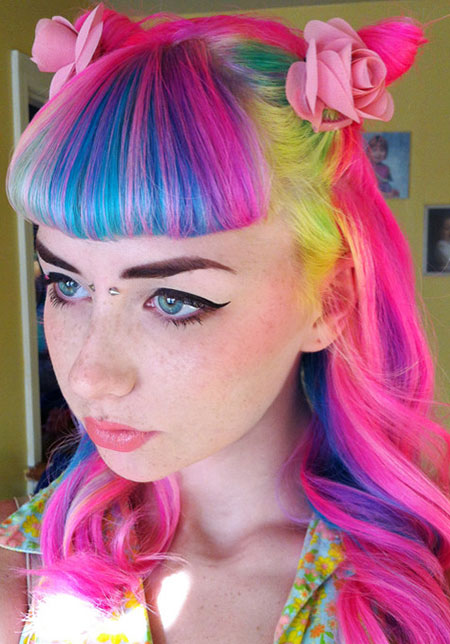 Achieve the retro and fun look by dying your hair in rainbow colors. If you can pull it off, rainbow hairstyle can look fabulous for any occasion.
48. Long Brown Curly Hair with Colored Tips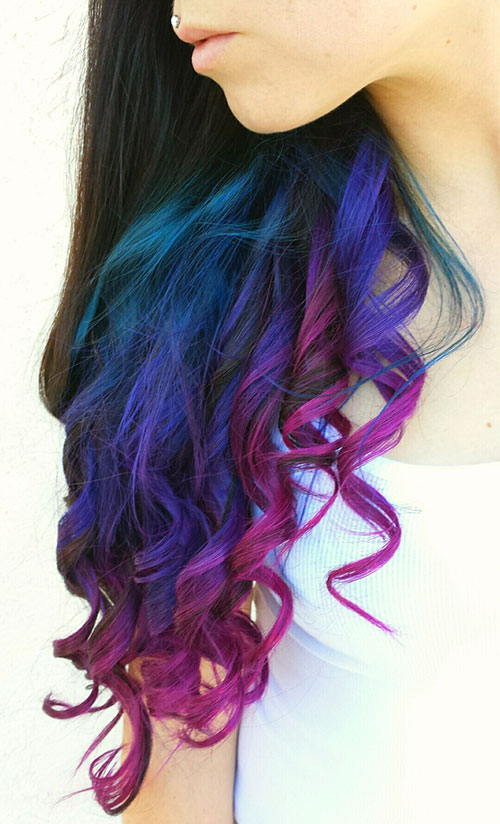 This is what you get when you combine ombre and crazy hair colors. We absolutely love this  hairstyle!
49. Curly Dark Purple Hair with Highlights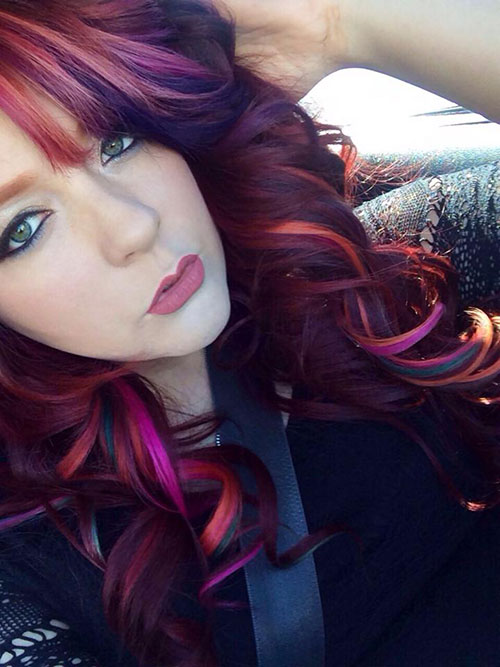 Bright, bold hair color – straight from the rainbow! Love it!
50. Neon Green Short Hairstyle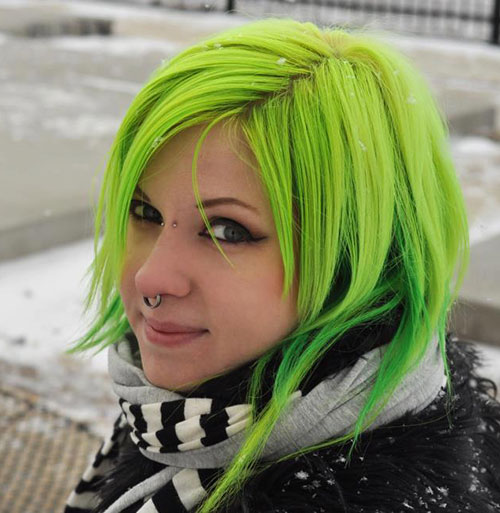 Be a rave girl 24/7 with this green neon hair color. Unfortunately, neon colors are one of the hardest to keep vibrant and bright.