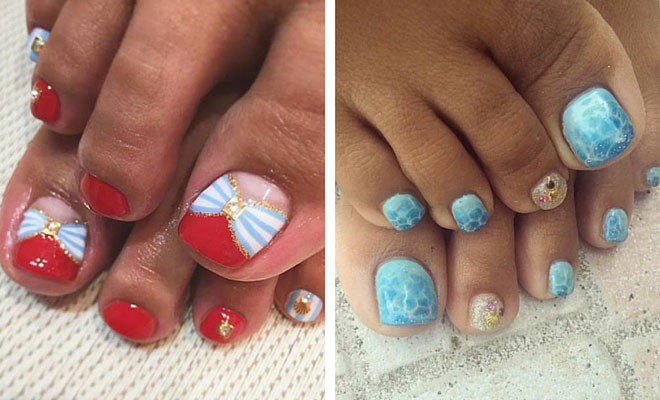 Instagram
Beauty
25 Toe Nail Designs that Scream Summer
By
|
11. Watermelon Toes
If you are no good with nail art, maybe nail stickers will work for you. Nail prints and stickers are widely available in many stores.  You don't have to miss out on the trending nails if you buy a variety of stickers.  Look how good these watermelon nails look.  The big toenail has the watermelon theme and the other toenails are painted a bright colour but keeping to the theme.  Greens and pink look so good together.
12. Ombre Green Toes with Rhinestones
If you want something different, ombre is always a good idea. Many people haven't even seen ombre nails so if you start the trend where you are, I'm sure lots will follow.  Mix your ombre green nails with rhinestones to add to the effect.
13. Pastel Toe Nail Design
Pastel colours are always trending in summer. They are light, fun and always look feminine.  They go with any outfit and these patterns shown in the photo, look amazing.
14. French Tip Toe Nail Design
Maybe just paint your nail tips? To make your toes stand out, maybe you could think about this style.  Painting just the tips of your toenails, will instantly draw attention, especially if you paint them a bright pink like the photo above.
15. Stripes + Pineapples
Stripes and pineapples look good. The stripes complement the pineapple design and make that nail a focal point.  If you do try this design, make sure you choose solid colours for the others nails.  All the attention must be on the big toes.
16. Bright Toes with a Pop of Gold
Gold is a favourite colour to add in summer. When the sun shines on your toes, the gold will shine.  Teaming gold with bright colours is fun and vibrant.
17. Blue Glitter Beach Design
You will be the talk of the beach with these nails! When you think of summer, you will probably think of a beach.  Inspiration can come from everywhere and anywhere.  Beach inspired themes are quite popular and they look beautiful.  Of course, start with a blue base on your nails, add glitter and beach rhinestones.
18. Easy Pink Pedicure with Rhinestones
Rhinestones can make add your style and character to your nails. These pink painted toes look amazing with rhinestones and we feel the girly and cute vibe.
19. Blue & Gold Flower Design
Deciding that you want a design painted on your toenails is a great idea. If you want a flower design like the photo above, may take a few tries to get it right.  Remember that practice makes perfect so don't give up when you can't do it.  It may take some time to master but when you do, it will be worth it because the end result looks fab!  When you are practicing, you don't have to practice on all toenails, keep it to one nail to make it simple for you.  You can then paint the other toes a different solid colour.
20. Colourful Cheetah Print Toes
Cheetah prints are so colourful and bright. They have been around for a while now and they always look great.  Whatever colour you choose to have, mix it up a little by adding solid colours too.  Having a multi-coloured cheetah print toes, will make you look striking and fierce.
21. Colourful Design with Gold Details
This has all the colours of the rainbow. Show off your nails with pride with this design.  This is a fab design for your toenails.  It is fun, vibrant and definitely is screaming summer.  It is almost like a candy bar and when looking at these nails, you instantly feel the summer vibe.  This style is perfect for the sunny weather.
22. Pink and White Flower Design
Floral designs are always a great idea for summer. Summer is about flowers, colours and having fun.  With these nails, you will be ticking all of these boxes!  Again, this design may need a little practice but be patient and you will become a pro!  All your friends will be queuing up waiting for you to paint their nails like this!  It is too cute not to love.
23. Pink and Blue Neon Design
You have to love the neon colours for summer. Summer always needs bright, neon colours and these look amazing.  You can see the neon pink and neon blue work so well together.  The colours are incorporated on the accent nail too to keep with the theme.
24. Water Marble Toe Nail Design
Create this gorgeous water marble design on your toenails. It is cross between a marble design and magic eye. This is a print so you don't need to paint on your nails.  All you have to do is drop a few drips of your chosen nail polish into a bowl of water, play around with the design and when you are happy, let it dry.  You can add more than one colour to the bowl of water.  While the nail polish(es) are drying, apply a base or top coat to your nails and then take the watercolour design out of the water, cut the shape you require to fit your nail and stick it on.  Apply a top coat to your nail again and you are done!
25. Blue and Yellow Design
These are two colours you don't see together often. We are not sure why because they look amazing.  Blue and yellow create the perfect summer vibe.  Adding a few nail gems such as fruits and sea themed items will give a unique style.