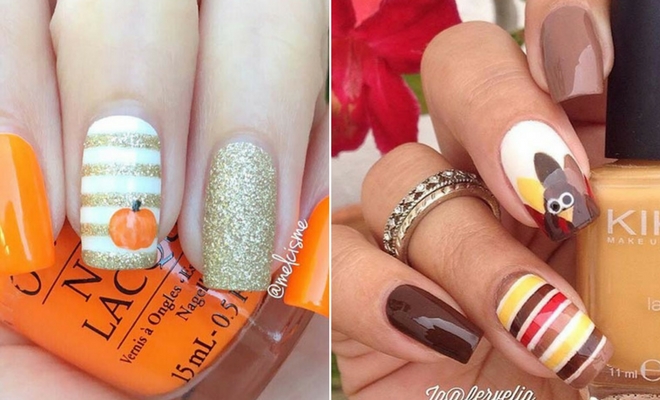 Instagram
Beauty
41 Cute Thanksgiving Nail Ideas for 2019
By
|
21. Autumn Tree Nail Design
Next on our list is this autumnal tree design. We love this design as it has used inspiration from the season that thanksgiving falls in. Nail art like this will take some practice but it will be worth it. The glitter adds a touch of glam to the finished result.
Products used: Revlon 'Bare Bones' (base), OPI 'A-Taupe The Space Needle' (branches), OPI 'Uh, Oh Roll Down the Window' (grass), OPI 'Orange you Fantastic' (glitter).
22. Sparkly Thanksgiving Nails
Next, we have a sparkly nail idea for Thanksgiving. Each nail has a different design that uses copper, brown and teal colors. Some nails are glittery and some are decorated with rhinestones. The colors are so trendy and the sparkle is perfect for the celebrations. Nails like these are great for Thanksgiving and they will suit special occasions after too.
23. Cute Turkey Nail Idea
If you are looking for a cute nail design, then this is perfect for you. Here we have turkey nail art. One nail features the turkey's face, the two nails on either side have wings and the last nail is red and sparkly. We assume the thumb is red too. It is a fun and festive idea. You can find tutorials for turkey nail art online.
24. Brown Nails with Glitter Ombre Accent Nails
Brown shades are perfect to wear on your nails during the fall, winter and Thanksgiving. This is because the warm and earthy tones suit this time of year beautifully. This next nail design shows how to wear brown in style. Most of the nails are a coffee brown shade and the other nails are nude with brown glitter ombre. As you can see, it is a chic and stylish idea. We love the glitter because it really jazzes up the color.
25. Chic Thanksgiving Nail Design with Silver Leaves
The next nail idea is so chic and beautiful. For this look, the nails are a dark brown tone with added sparkle and the design is finished off with metallic leaf art. It is a very pretty and seasonal look. You can view the products used to create this mani on the page below. Nail art like this will look amazing on any nail length and shape.
26. Matte and Glossy Burgundy Nails
Burgundy is another must-have color for the fall and next we have a trendy way to wear the color. There are different shades that you can try but we would recommend dark tones like the ones used here. This mani features long coffin nails that are a dark and rich burgundy shade. Some nails are also matte and some are glossy which creates such a unique and stylish design. You can recreate the look with matte burgundy polish or with glossy burgundy polish and a matte top coat.
27. Stylish Sunflower Nail Art
One of the favorite flowers of Thanksgiving are sunflowers. So, why not add them to your nails? You could create something like this! For this look, some nails are a vibrant yellow shade and some are nude with stunning 3D sunflowers. Each nail is also decorated with rhinestones too. It is a beautiful look that is perfect for the season. Recreate a similar mani to this or you can use sunflower nail stickers.
28. Cute Orange Pumpkin Nails
It wouldn't be Thanksgiving without pumpkins and next we have a gorgeous pumpkin nail design. Two nails are a bright orange shade, the next two nails are sparkly orange and the last nail is nude with a cute pumpkin. It is a fun and festive design that can be worn throughout the fall. You can view what products were used to create this look on the page below. The pumpkin was hand-painted and you can view tutorials for pumpkin nail art online.
29. Glitzy Dark Thanksgiving Nails
This next nail idea is one of our favorites! Three nails are simply painted in a dark purple shade and the other two nails are purple with glitter and leaves. It is a stunning design that uses the dark purple which is a must-have and the leaves suit the season perfectly too. A nail design like this is glitzy and it would be great for a party.
30. Glitter and Fall Leaves
Next, we have another nail idea that uses fall inspired leaves. For this look, each nail is different and the designs include glitter, gold stripes and autumnal colored leaves too. It is a beautiful and glamorous look and it is perfect for the occasion. A mani like this will really jazz up your Thanksgiving outfit!