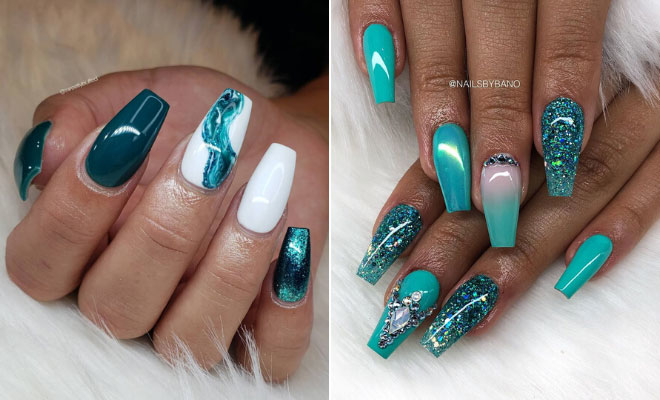 Instagram
Beauty
21 Teal Nail Designs We Can't Wait to Try
By
|
11. Bold and Colorful Nails
This next nail idea is one of our favorites! The nails are long and are a sharp stiletto shape. Three different nail colors have been used to create this simple yet eye-catching design. There is a bright pink, dark purple and metallic teal. We love this color combo because is is striking, stylish and gorgeous! These fun nails are perfect for all seasons and any occasion.
12. Matte Teal Nails with Rhinestones
Love rhinestones and bling? If so, check this out! Here we have matte teal nails. Two of the nails are also covered in rhinestones. The brighter teal looks stunning and those rhinestones really make a statement. Recreate this or have one rhinestone nail for a subtler look. Gold rhinestones would look amazing too.
13. Glitter Dark Teal Nails
Next, we have a trendy and stunning nail idea to show you. Here we have coffin nails. Three are a dark teal shade with subtle sparkle. There are also two accent nails. One nail features teal and gold glitter ombre while the other is nude with a sparkly tip. The nail art is trendy and beautiful while the color combo is stunning. Try the whole look or use one of the accent designs instead of both.
14. Teal Nails with Glam Nail Art
The next nail idea is very glam and stylish. For this look we have long coffin nails that are a beautiful matte blue shade. Two of the nails on each hand also feature white marble art with green leafy patterns. This is a unique and stunning mani that will suit all nail lengths and shapes.
15. Coffin Nail Design
If you like to wear bold nail art, then you need to see this next idea. This mani features long coffin nails and most of them have a different design. Some nails have teal ombre, some are sparkly, two nails are block color and the last nail has glittery ombre. The colors are stunning and the art is very trendy. We love this and it is perfect for those who like to make a statement.
16. Cute Nail Design
Maybe you are looking for something more unique? If so, check out this mani. For this look the nails are short and nude. A mix of blue and teal shades have then been added onto the nail in a paint stroke style. Cute polka dots and glam gold has been added to the design as well. It is a fun, artistic and quirky idea and it is great if you want to try something different.
17. Purple and Teal with Sequins
This next mani is fun, vibrant and sparkly. One hand features teal and nude ombre nails with brightly colored sequins and the other hand is the same but the nails are purple. We love the color combo and the two different nail colors. This is a quirky and fun mani that is perfect for the summer. Colorful sequins can be bought online. Recreate this or have all teal nails.
18. Teal Nails with a Glitter Accent Nail
We love this next nail idea! Here we have stunning dark teal nails. There is also one accent nail that is sparkly teal. This is another one of our favorites because it is bold and trendy but in a chic and elegant way. Nails like these will suit everyone and look amazing for any occasion. Pure Nails Teal & Mistletoe were used to create this look.
19. Glam Leopard Print Mani
Earlier in the post we featured a trendy leopard print idea. If you loved that, then take a look at this one too. Here we have another glam way to wear leopard print. One nail on each hand has the wild leopard pattern, two are teal and one nail is glittery. On the other hand there is also a simple gold nail. We love the colors and glitzy art, this mani is perfect for a party.
20. Geometric Nail Art
You don't have to go all out with the teal, you can use it more subtly. Maybe try something like this. This mani features nude nails and each one has a stylish geometric pattern. The different shapes are different shades including teal, orange and more. It is a fun and modern look. You can create a geometric pattern like this with nail tape.
21. Stunning Teal Nail Design
The last nail idea is glitzy and gorgeous! Most of the nails are different and feature glitter, ombre, rhinestones and more. It is a fun, bright and glam idea. A mani like this perfect for the summer, vacations, festivals and parties. Recreate the whole look or try one or two designs on all nails.
We hope you have found a trendy teal nail design to try!