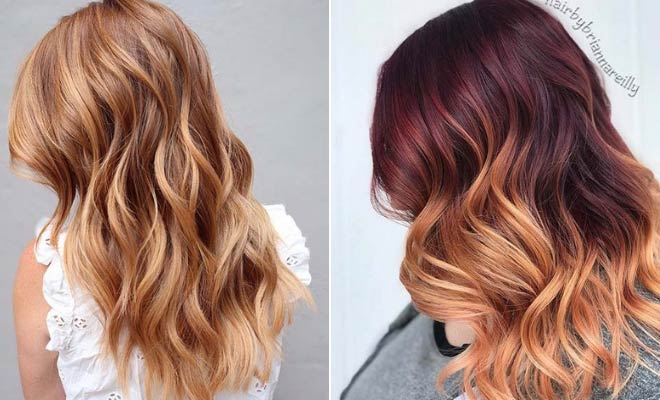 Instagram
Beauty
43 Most Beautiful Strawberry Blonde Hair Color Ideas
By
|
Strawberry blonde is a gorgeous hair color. It is a beautiful blend of blonde with red tones. Celebrities like Jessica Chastain, Blake Lively, Nicole Kidman and more have rocked this hair color and have put it into the style spotlight. We have 43 hair ideas to show you, so you can get this A-list look for yourself. You will find pastel shades, warm copper tones and vibrant strawberry hair. There is a way to wear this trend for everyone!
1. Light Strawberry Blonde Hair
The first hair idea we have to share with you is light strawberry blonde. For this look, the hair starts off dark and then blends into a lighter, honey blonde tone. This is a beautiful blend and it would suit anyone. Recreate this exact look or add different blonde tones to the hair – a bright blonde at the tips would look stylish.
2. Dark Strawberry Blonde Lob
Strawberry blonde does not have to be very light, like you might think. You can have darker color melt just like this. The hair is very dark at the root and blends into a warm strawberry shade. Hair like this will look stunning on all hair lengths and it will work with brunettes and the ladies who have darker hair.
3. Burgundy to Strawberry Blonde Ombre
Next, we have a beautiful hair idea that will look especially stylish during the fall and winter. The hair starts off in a dark burgundy shade and then blends into a bright strawberry blonde. These two tones are stunning together and it creates a warm blend. This look is perfect for our bold ladies who love to be in the spotlight.
4. Pastel Strawberry Blonde Hair
Our next hair color recommendation is this gorgeous, pastel tone strawberry blonde. The hair does look lighter at the roots and slightly darker at the tips. You can recreate the look and have all over color, or wear a similar tone with your natural hair to create an ombre or balayage look. This hair color is perfect for natural blondes.
5. Strawberry Blonde to Rose Gold
Pink colors like rose are always in style. Here we have a blonde hair idea that has a blend of strawberry and rose gold. As you can see, this blend has a slightly pink tone which creates a trendy and pretty finished look. Have a similar style to this, or opt for lighter root color.
6. Soft Strawberry Blonde Hair
Our next idea is a soft strawberry blonde. The hair starts off bright and then is a little darker towards the end of the hair. Recreate a blend like this or you can just choose the light top color. Either way, you will have a beautiful hair idea that will be in style all year round.
7. Summery Blonde
Next, we have a summery blonde idea. This is the perfect hairstyle for the spring and summer to give you a fresh, light look, but also for the fall and winter to brighten up your look during the darker, colder months. The roots start dark and blend into warm and light blonde with a hint of strawberry. We love this!
8. Copper Tone Strawberry Blonde
Strawberry blonde has a red tone to it, so it works beautifully with other red shades like copper. Here we have a gorgeous example. As you can see, the hair is a darker red at the top and then blends into a strawberry tone with coppery tones throughout. Recreate this warm look or add cooler tones like light blonde at the tips.
9. Messy Strawberry Blonde
If you are looking for a trendy new hairstyle that will totally transform your appearance, this next idea is for you. The root color has a coppery tone and then blends into a light strawberry blonde. We love the colors in this hair idea, but also how the hair is styled. The blend looks amazing with the curled, messy hair. This style will give everyone hair envy!
10. Strawberry Blonde Highlights for Dark Hair
Our next idea is another hairstyle for the ladies with dark hair. In this one, the hair has more of a highlighted look and the strawberry blonde is warmer with hints of light blonde. We really love this hair idea because it shows how beautiful warm blondes can look with very dark hair. This look proves that strawberry hair isn't only for the blondes.