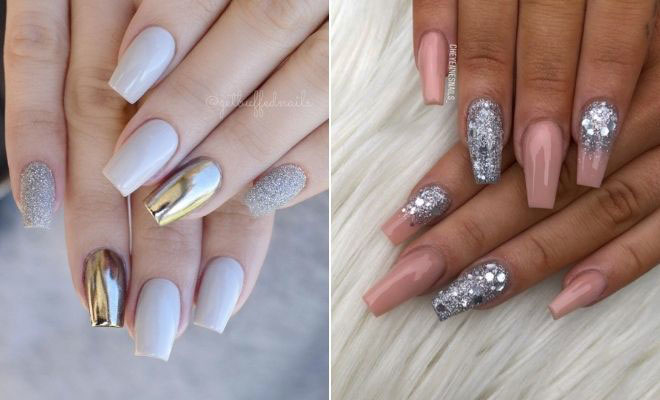 Instagram
Beauty
23 Stunning Silver Nails to Try in 2021
By
|
Whether in fashion, makeup or nails, silver is one of the most stylish colors that you can wear. It is such a versatile color and it can look trendy, edgy or even elegant. So, it suits everyone and any occasion. With that said, we think it is the perfect color to add to your nail polish collection and a great color to try on your nails the next time you can visit the nail salon. To give you some silver nail inspiration, we have 23 of the best silver nails. You will find glitter, butterflies, hearts and even some subtle manicures. Take a look to get inspired! You can even try some of these yourself for your next DIY nail art project.
1. Grey and Silver Nails
The first nail idea is simple and super cute. Here we have short nails. Two nails are metallic silver while the others are light grey. There is also an accent nail in glitter silver. The grey and silver color combo is so stylish and easy to wear. You can recreate this look with any grey shade. This design will look amazing on longer nails as well.
2. Metallic Silver Nails
If you want to make a statement in silver, then this nail idea is for you. This mani features long nails that are all painted in a trendy metallic silver chrome. It is such a bold but easy to create design. You can buy nail polishes like this online. Keep it simple like this or you can jazz it up with glitter or rhinestones.
3. Beautiful Butterfly Nails
This next nail idea is one of our favorites! These nails have a magical silver butterfly design. So, two nails have textured wave art and the other three nails are frosted with a silver butterfly wing design. It is a stunning mani and the wings look ethereal. You can hand-paint the wings and there are tutorials for all different wing designs online. Full silver sequin butterflies are available online.
4. Nude Nails with Silver Foil Tips
Next, we have a stunning and chic way to wear silver. For this look, the nails are nude and each one has a silver holographic tip. There is also white stripe down the center of each nail. This is a trendy way to wear silver and it is quite low-key. This is great for those who like to try new nail art but don't like anything too bold. This design looks like it was created with nail foils and those can be bought online.
5. Pink Marble and Glitter Nails
Like to wear cute and bright nail art? If so, take a look at this. Three of the nails have pink and white marble art and one nail is covered in silver glitter. Two different shades of pink have been used and all of the colors compliment the silver perfectly. This is a fun and vibrant nail idea that will be perfect for the spring and summer.
6. French Ombre and Silver Sparkle
Silver is so versatile so one day it can be edgy and trendy and the next it can be soft and elegant. This mani is very chic. Some of the nails feature French ombre. French ombre is like a French mani with the classic pink and white colors but they are blended to create ombre. While the others are decorated with silver glitter. This is a glam and pretty nail idea. It will suit everyone and it will be great for occasions like weddings.
7. Silver Hearts Nail Design
The next silver nail idea is so pretty and cute! For this look, the nails start white and then turn clear towards the tips. The clear sections are also decorated with silver sequin hearts. We love the hearts because they are stylish and sweet. You can recreate this look or just buy silver hearts online and stick them on any block color base. You could paint your whole nail white or maybe pink and then decorated with the hearts.
8. Silver Glitter Coffin Nails
Love glitter? If so, take a look at this mani. Two nails are completely covered in silver glitter while the others are white with silver glitter towards the tips. The colors are stunning and the glitter is so glitzy and glam. This is another elegant mani that would be great for weddings and parties. Nail art like this would look amazing with a long stiletto shape as well.
9. Nude and Silver Glitter Nails
Next, we have another chic and easy to wear nail idea. The nails are a coffin shape. Three are painted nude and the others are silver and sparkly. One nail on each hand is also adorned with a rhinestone. It is a stunning and stylish mani. The nude color tones down the silver glitter so it is perfect for those who like glam but more low-key nails.
10. Glam and Glittery Mani
This next nail idea is another glitzy and glam one. Here we have long nails that are completely covered in glitter. The base of the nail is light silver glitter while the tips of the nails are darker with larger glitter particles. We love this mani and think the two glitter types look amazing together.