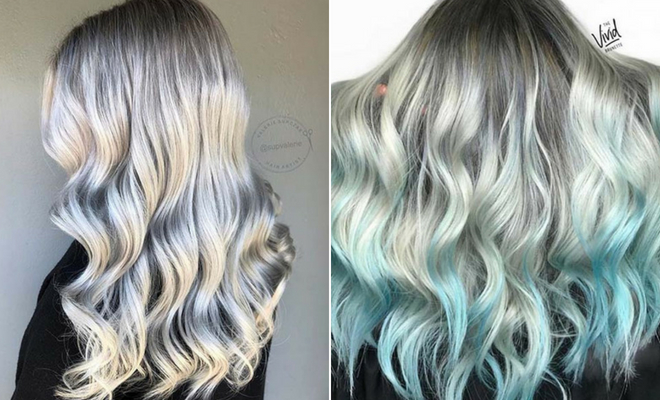 Instagram
Beauty
23 Silver Hair Color Ideas & Trends for 2018
By
|
Silver has been a must-have hair color for a while. It has become very popular because trendsetting celebrities like Kim Kardashian and Lady Gaga have been seen rocking the look. We love silver hair and think you will too so, we have found 23 trendy silver hair color ideas that you need to try! There is a hairstyle for everyone, from metallic tones to silver with vibrant highlights. Take a look, you won't be able to decide which idea to try.
1. Icy Silver and Blue
First up we have this silver and blue hair color idea. The hair starts off dark at the top, then blends into silver and then finally turns blue at the ends. We love the bright silver and light blue combination as it gives the hair an icy look. You can recreate the silver and blue or choose a different color like pink or darker blue.
2. Metallic Silver Hair Color Idea
Next, we have a stunning silver hair color idea that looks metallic. As the silver has a metallic tone, it makes the hair look shimmery and bright. This is a beautiful silver shade and it is perfect for the ladies who want to make a statement.
3. Blonde and Subtle Silver Highlights
Love the silver trend but don't want the dramatic change to your hair? Then this next idea could be for you. Here we have blonde and silver hair. The hair starts off blonde and then gradually turns silver. By combining the two colors, you get a subtler silver look.
4. Trendy Light Silver Hair
Our next idea features a light silver. As with any other color, silver has different shades. Earlier we featured a metallic silver, this one is more of a grey silver. The color is slightly darker which gives the hair a grey tone. A hair color like this is perfect for the ladies who follow the trends and want a super stylish look.
5. Grey to Silver Ombre Hair
You don't have to choose one color, you can have multi tones like this next hair idea. The hair starts off as a dark grey and then gradually turns into a very light silver. You can choose similar colors to the ones featured or you can go lighter or darker.
6. Light Silvery Blonde
If the darker silver shades are not for you, this next idea could be just what you are looking for. The hair is a light silvery blonde. With this hair color, you get the best of both worlds, you get the bright blonde with silver tones. Hair like this is perfect for the summer.
7.  Silver with Subtle Pink Highlights
Pink and silver compliment each other beautifully. Don't just take our word for it, check out our next hair idea. Here we have very light silver with subtle pink running through it. You can choose a similar look to this one or if it is too subtle, then choose a darker pink.
8. Light Brown to Silver Ombre Bob
Earlier we featured blonde hair that blended into silver. Next, we have similar idea but for brown hair instead. The hair starts off as a light brown and then turns into a dark silver. The darker silver looks beautiful with brown hair as it blends better. You can go for a lighter silver if you want more of an ombre look.
9. Silver Color Melt Lob
Next, we have a silver color melt idea. If you haven't heard of color melting, it is a technique that blends the colors together so well that you won't see a clear line like you will on other techniques like ombre. As you can see, color melting looks amazing on this grey to silver look. Hair like this is so trendy and will give everyone hair envy. Here's the stylist breakdown – She brightened her midshaft and ends using BlondMe, 7 volume and Olaplex on wet hair for faster application and more control in lifting. Root Melt: Schwarzkopf Igora Vibrance 10g 5-1 ;10g 6-12 ;1 drop 0-22. Pull through color: 20g 9-1 ;20g 9,5-21; 1 drop 0-22 ; 1 drop 0-11 with 1.9%/6 volume gel developer.
10. Dark Silver Ombre Hair
Our next idea features a dark silver. We love dark silver because it looks edgy and stylish. You can choose just dark silver or you can have even darker tones added to the hair like the image below. It is a great color choice for the ladies who love the silver trend but do not want bright hair.