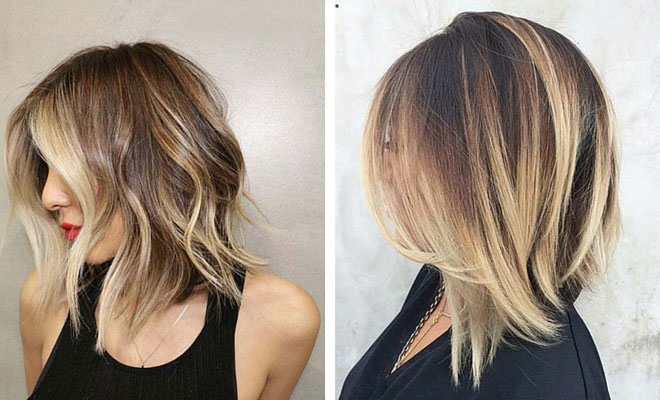 Instagram
Beauty
31 Best Shoulder Length Bob Hairstyles
By
|
11. Choppy Bob
Move over classic bob, the choppy bob is heading for gold. This newly popular bob has restyled the classic bob but added a modern twist. Choppy ends, conflicting textiles and lines make this a stylish bob. With the choppy ends comes a raw look. The textured lines will lift and volumise your hair creating a versatile look.
12. Copper Bob Style
This awesome copper bob will give off a warm glow and instantly stands out. It's full of life, vibrant as well as being chic. The copper shades include tones such as soft auburn, ginger and orange. When the light catches these shades, they are breathtaking. If you're undecided on the copper tone you'd like, ask your hairdresser what would suit you. Make sure the colour is a rich and not cheap looking.
13. Wavy Bronde Bob Haircut
Unsure of what bronde is? It's the new term for something in between brown and blonde hair. Who would have thought someone would invent a word describing this. It's the new fashion in the hair world for 2016. The best tip for this style is to keep a natural base colour showing in between. Add a wave to finish the look.
14. Curly Bob
Naturally, curly hair looks stunning as a bob. It shows healthy, bouncy and lively hair so don't tame your curls, let them live! Remember that if you were to straighten your hair, it will be a lot longer than your curly bob. You could always switch between the two styles.
15. Ice Blonde Bob with Face-Framing Layers
Are you bored with the soft natural looking blonde tones? Try ice blonde. It's a lighter shade of blonde and looks incredible with face-framing layers. You could almost say it's verging on the grey side.
16. Silver Gray Ombre Bob
Silver gray tones have completely gripped the international hair world. It's not unusual to see someone with either gray or silver hair colour on the High Street or walking down the catwalk. Are you feeling the silver gray vibe? Go for this ombre style to show off your style and character.
17. Choppy Layered Blonde Bob Haircut
Often, people wait until they see their dream haircut before they take the plunge. This could be the one for you. If you love layers and the choppy look, go for this haircut. It's an assortment of all the best things you could think off – choppy layers, highlights and a long bob! It looks elegant and sophisticated.
18. Messy, Auburn and Orange Bob
Infuse your inner and outer glow with this messy, auburn and orange bob. To achieve this fiery shade, make sure you choose a blend of auburn and light orange tones. Let your creative side show and go for this haircut and style.
19. Caramel Balayage Bob
This soft and delicate caramel balayage bob looks classy and dashing. Still keeping the fashionista side with the balayage, this classic shoulder length bob looks perfect and smooth. You can either go for a sleek look or you can mess it up a little, like a rock chick.
20. Classy & Elegant Bob Cut
Keep it simple with a classy and elegant bob cut. This is the classic shape bob, that all the other trending bobs are based on, so go for the original while everyone chooses the other styles.