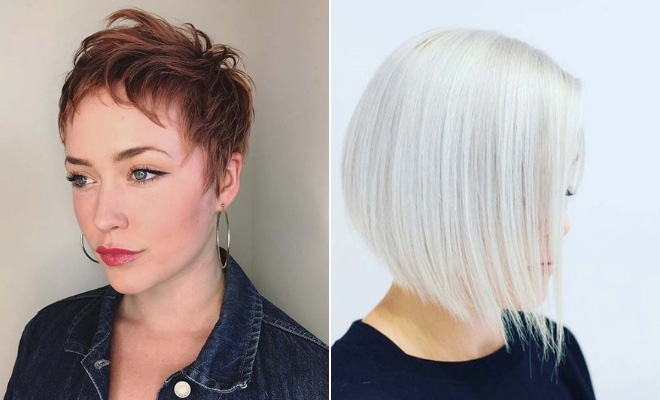 Instagram
Beauty
23 Best Short Hairstyles for Women with Fine Hair
By
|
11. Cute Short Hair Idea with Bangs
Looking for a cute hairstyle? Then check out this next hair idea. The longest length of the hair is just above the chin and the hair is choppy and layered. There are also straight across bangs and the hair is a gorgeous blonde color. This a pretty hairstyle that has a rock chic vibe.
12. Pink Blunt Cut Bob
Next, we have blunt cut bob. As you can see, the hair looks fine and this really adds to the sleekness of the hair. We think the finer hair makes the angle and bluntness of the cut stand out too. This is a modern and trendy hairstyle. For a bold look, recreate the pink hair or try the bob in any color of your choice.
13. Short Hair with an Asymmetric Cut
The next hairstyle we have to show you features another pixie cut. This one is so trendy because it is asymmetric which means the hair is longer on one side than the other. As it is only the front section of the hair, it creates side swept bangs too. This is a cute and easy to wear hairstyle that will suit everyone.
14. Accessorized Short Hairstyle
Make your hair look unique by adding accessories just like these! Here we have a short bob that has some amazing hair clips. Hair accessories like this are so on trend and are perfect for the summer. These are great for thinner hair because they will jazz up any style and you won't need to add volume or texture.
15. Short Haircut with Bangs for Fine Hair
Like the inverted cuts? Then check this out. Here we have a dark brown hairstyle that is longer at the front and shorter at the back. This is such a cool and modern hair idea that suits thinner hair. Recreate the look with or without the bangs.
16. Layered Bob with Highliights
If you want a simpler cut that is classic, chic and easy to wear, then this could be just what you are looking for. Here we have a short bob with subtle waves and light brown highlights. It is a beautiful hairstyle that will look great with thinner hair. A bob like this will suit every face shape. It will be easy to style and will look pretty for any occasion.
17. Textured Pixie Cut
Show off your edgier style with a pixie cut like this. This pixie is short and it is textured. The hair is styled in different directions and it has the trendy messy vibe. You can find tutorials online that will show you how to easily create the textured hair. Recreate this or you can try the pixie in any color.
18. Pastel Pink Short Hairstyle
Our next hair idea is another one with a bold color! Here we have a short bob with relaxed waves. The hair is colored in a pretty pink pastel shade. We love the color because it is so vibrant and fun. It would be perfect for the spring and summer. This cut and color is perfect for the ladies who have been bored with their hair and want to try a stylish and statement making new look.
19. Chic Blonde Pixie Cut
Next, we have another chic hair idea to show you. This hairstyle features a light blonde pixie cut. The icy blonde color looks amazing with the short hair and it would be the perfect way to brighten up your hair and take it from drab to fab. A cut like this will look amazing in any color though, if the blonde is not for you.
20. Half Updo for Short and Fine Hair
Just because your hair is fine and short it does not mean that you can't try cute half updos like this one. Here we have a short bob where half of the hair is left loose and the other half is tied up in a messy bun. The bun is loose and relaxed which makes it perfect for every day wear. Hair like this is quite simple to create and you can find tutorials online. A bun like this will also work on even shorter hair.
21. Copper Pixie Haircut
Love the bold hair colors? Then check out this next hair idea. This choppy and textured pixie is colored in a trendy coppery shade. Colors like this are great to try if you have finer hair because your eye is focused on the color. Copper is a beautiful color to try all year round, but it will look amazing in the fall and winter.
22. Short Bob with Subtle Waves
The next hairstyle is another easy to wear bob. This one is chin length and is styled with subtle waves. The short cut will give your hair a lift and the waves will add more volume. This is a a chic and gorgeous hair idea that will never go out of style and it will suit everyone.
23. Stylish Short Haircut
Last on our list of must-have short hairstyles for fine hair is this stylish short cut. The hair is very short and it is choppy. This is a great style for the ladies with finer hair and it is perfect for those who want to try a very short style. This can be recreated in any color, it would look so cool in a vibrant color like red.
We hope you have been inspired by these short hairstyles for fine hair!