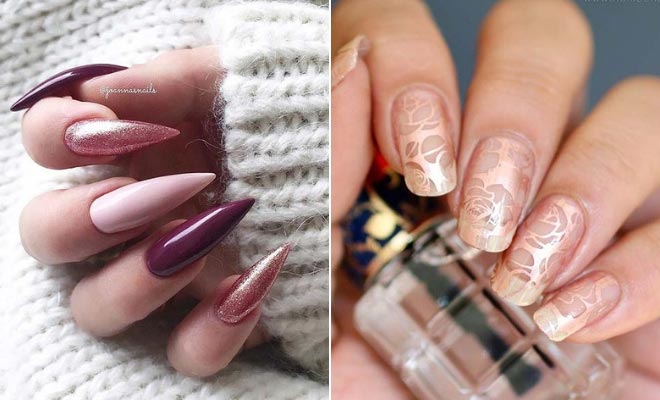 Instagram
Beauty
23 Must-Try Rose Gold Nail Art Designs
By
|
11. Nude and Rose Gold Nails
Our next idea is elegant and glam. The nails are a nude shade with with rose gold glitter tips. This design looks stylish because the glitter tip is a diagonal line instead of going along the top. So, it is perfect for the trendy ladies. However, if you prefer more classic nails you can have a glitter tip that goes all the way along.
12. White and Rose Gold Nails
When creating nail art, you should definitely think about using nail stencils if you don't already. Here have a stylish idea to get you inspired. These nails are white with rose gold tips that go all the way long. There is also a trendy geometric rose gold accent nail. You can create this look with a honeycomb stencil. It would look amazing with any nail colors.
13. Pretty Matte Pink Nails with Rose Gold Glitters
Next, we have a pretty pink nail idea. The nails are light pink with two accent nails. One accent nail is glittery rose gold and the other has an elegant pink, white and rose gold design. This is a beautiful nail idea and it shows how gorgeous patterns can look on shorter nails too!
14. Rose Gold Chrome Nails
Love chrome nails? Then this design is for you! These nails feature rose gold chrome, glitter and a nude nail with rose gold glitter. This is a stylish nail idea that will glam up your look. Nails like these would be perfect for a night out, date night and for the holiday season.
15. Black and Rose Gold Nails
Speaking of the holiday season, our next rose gold nails would be great for New Year's Eve! Here we have very glamorous black and gold nails. Each nail has a different design some of which include stripes, triangles and glitter. You can have a go at recreating the whole look or try a couple or one of the styles you like.
16. Rose Gold Glitter Ombre
Looking for colorful nails? Then these are for you. Here we have a design where each nail has been painted in a different color. The range of shades is dark to light. Each nail is finished off with rose gold glitter. This look was created with Floss Gloss nail polishes including "Pink Nugget" which is the glittery rose gold. You can use any color combo for your own version of this.
17. Rose Gold Chrome and Peachy Nails
Be bold in pink with a manicure like this one! Most of the nails are a light and bright pink with one rose gold accent nail. On the pink nails there is also different gold designs as well as iridescent shards. This is a stylish and fun nail idea that will add a splash of color to your look.
18. Rose Gold Nails with a Creative Design
Next, we have a trendy and creative idea to share with you. The manicure features one nail that is a dark grey shade, another is rose gold glitter and the rest have a funky black and multicolor design. We love this look because it reminds us of butterflies with all the pretty colors and black pattern. Nails like this are perfect for the ladies who like to be unique.
19. Rose Gold and Burgundy Nails
Love the burgundy nail ideas? Then here is another beautiful way to wear the gorgeous color. These nails feature dark, glossy burgundy with two shimmery rose gold accent nails. The two colors compliment each other perfectly. A design like this is simple and stylish. It will suit all nail lengths and shapes.
20. Trendy Rose Gold Nails
Our next idea is trendy way to wear rose gold! The nails feature rose gold chrome with two accent nails. The accent nails are a nude color with a white pattern and rose gold glitter. We love these nails because they are glam and super stylish. Recreate these patterns or create your own.
21. Glittery Rose Gold Nails
If you love unique nails, then you have to check these out. Here we have nails that are half rose gold glitter and half clear. The back of each nail has been painted in a beautiful dark red. Painting the back of your nails is a cool and stylish idea. Recreate the red look or try a different trendy color like black.
22. Simple, Metallic Rose Gold Nails
Next, we have a simple and chic nail idea. These nails are painted in one color. That color is a stunning metallic rose gold that you can buy from UR Sugar. This manicure is easy to recreate but it will look elegant and beautiful. One color like this will suit all nail lengths and shapes and can be worn for any occasion.
23. Sparkly, Rose Gold Glitter Nails
Last on our list are these sparkly rose gold nails. The long nails start clear and gradually get more glittery towards the top. This is a stunning rose gold nail idea. It is perfect for the ladies who like their nails to make a statement. A glittery design like this will look amazing for parties and the holiday season!
We hope you have found some beautiful nail ideas to try!