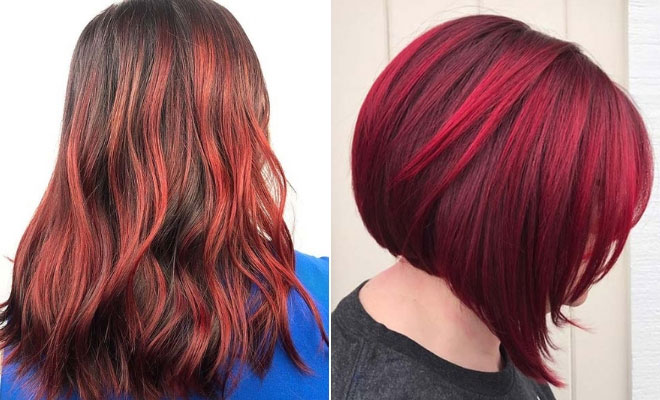 Instagram
Beauty
23 Best Red Highlights Ideas for 2019
By
|
11. Bold Red Highlights Idea
Fed up of your boring hair and want to add a pop of color to your look? If so, this next idea could be perfect for you. Here we have red wine hair with added bold red highlights. We love the dark red hair with light red highlights. It gives the hair a multi tone look and hair like this will definitely make you stand out from the crowd. Recreate this look or try the light red with a different hair color.
12. Short Haircut with Red Highlights
Want a complete hair makeover? Then try a cut and color like this! Here we have a short stacked haircut with added red highlights. As you can see, the cut and color look amazing together and they create one trendy hairstyle. You can, of course, try similar highlights on a longer cut if you do not want to try this shorter style. It would be a great look for the summer though.
13. Coppery Red Highlights
Next, we have another vibrant hair idea to show you. The actual hair is a stunning red color with coppery highlights. We love the copper and bright red combination, it is so stylish and bold. Hair like this will suit everyone and you can recreate this look or try a different red combination with two different shades.
14. Warm Red Hairstyle
Our next idea features more warm and spicy highlights. Here we have hair with dark root color and red highlights. The red color used reminds us of cayenne pepper so these highlights will definitely spice up your look. This red is rich and bold and it will look gorgeous on anyone. You can recreate this or try less red for a subtler look.
15. Pastel Red Highlights
If you want to try red in a subtler way, then this next idea could be perfect. This hair is black with added light red highlights. The red is toned down and it is not as bright as some of the others. It almost looks like a pastel shade. This is a stylish idea and it would be perfect if you are trying red for the first time as it will easily grow out. It would be even subtler with less highlights too.
16. Trendy Red Highlights Idea
The next hair idea is trendy and vibrant. For this look, the hair has dark root color with bright red highlights. These highlights start at the root and end at the tip which creates the illusion of more color. It would be great for those who want to try full head color but are a bit nervous of such a dramatic change. This way you can try the color but it will grow out easily if you decide it is not for you.
17. Subtle Red Highlights
You don't have to choose very statement making highlights. Maybe you could go for subtle highlights like these. The hair is black with dark red highlights. Not much of the hair has been colored so it is a very low-key look. It is a beautiful hair idea and it will look amazing on anyone. Recreate this or try a different red shade.
18. Fiery Highlights
Next, we have a fiery hair idea to show you. The hair is colored in a dark and rich shade and the highlights are a spicy red color. It is a bright and stylish hairstyle and we love the subtle copper tones too. Highlights like these will look gorgeous on any root color. This is another highlight idea that is quite subtle.
19. Vibrant Red and Orange Highlights
Another cool color combination you could try is red and orange. Don't just take our word for it, check out this hair idea. Here we have a gorgeous hairstyle with red and orange highlights. The red is bright and the orange is quite light. There are a few purple highlights too. It is an amazing hairstyle that will show off your unique sense of style.
20. Soft Red Highlights
Our next hair idea features soft red highlights. The hair has brown root color with added beautiful highlights. We love these highlights because the red does have a brown tone which compliments the root color perfectly. It is a super stylish hairstyle and it will look gorgeous on anyone. You could try highlights like these with different root color too.
21. Rich Wine Highlights
One of our favorite red shades is wine. The next hairstyle shows how gorgeous wine highlights can be. For this look, the hair is dark at the root with vivid wine colored highlights. We love this color because it has red and purple tones which creates a vibrant and trendy look. You can recreate this or try a wine color in a darker or lighter shade.
22. Vivid Red Hair Idea
Next, we have one of our most bright hair ideas. For this look, the hair is dark red with vivid red highlights. The color used is amazing and it will make you stand out from the crowd in style. You can recreate both the red colors or try the vibrant strawberry red on a different root color.
23. Light Strawberry Rose Highlights
The last idea we have to share with you is chic and glam. Here we have beautiful red highlights with a color that has been described as light strawberry rose. The color is subtle and it does have very light red and pink tones. It is a stunning color and it will look amazing on everyone. A color like this will be perfect for the spring and summer.
We hope you have been inspired by these highlighted hairstyles.