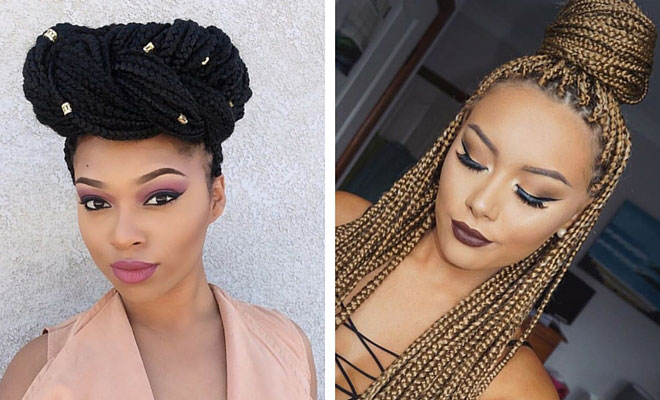 51 Hot Poetic Justice Braids Styles
A trend-setting look, these box braided styles can be twisted and turned into the most stylish updo's, perfect for sassy women just like Janet Jackson. She might not have known that hairstyle would have started such a trend but it did, right through the 90's and into the 2000's. Just as fashions do, they've come back around – these hot Poetic Justice braids styles.
What are Poetic Justice Braids?
They were first give their name after Janet Jackson and one particular movie she starred in – Poetic Justice. The movie showed her with sassy thick box-braids (another name they are also known by), and were lusted after by women all over the world ever since. It was the movie (and the sassy star obviously) that made this look as iconic as it is, and if you're looking for inspiration to rock the look for yourself, you've definitely come to the right place.
Pros of Poetic Justice Braids:
They are a great protective hairstyle. Your own natural hair is protected when covered and braided into these beautiful Poetic Justice braids, and gives your hair a rest from sun and element damage, as well as overstepping and using heated styling tools.
The styling options are endless.There's no end to the way you can style them – thinner braids can basically be styled in exactly the same way as your own hair except it offers much more in the way of staying power.
They are low-maintenance. Once they're in, they're in and you don't need to worry about them until your next appointment. There are the odd tweaks you'll need to make to your hair and beauty regime (wearing a scarf to bed, using different vitamin-infused moisturisers, etc.) but apart from that, these Poetic Justice braids styles are a very low-maintenance 'do.
They can last for months.If you take care of your hair, your hair will take good care of you. When you keep up with the suggested upkeep and maintenance, your Poetic Justice braids styles could last for potentially months. Imagine how much easier life could be!
You can try a new hair color without damaging your hair. And one of the biggest benefits from wearing these fabulous box-style braids is that you can achieve a wide range of styles, shades, colours and looks, just with the addition of different coloured hair. You don't need to lighten your own hair in order to go blonde, or a much brighter shade, which means even less damage to your hair once again. I think it's safe to say we have found ourselves a winner.
Cons of Poetic Justice Braids:
The braiding process may cause some discomfort. If your hairstylist (or you) adds to much tension when adding these Poetic Justice braids, you may find that your scalp hurts in response. You must also remember that these won't just happen in a couple of hours, they are something that can take a long time to achieve, and you may find that you become bored, stiff and uncomfortable as you're sat there for too long.
It can take 5-8 hours to get them done. As we've mentioned, these Poetic Justice braids can take many hours to complete and this will mean time away from work, your family and friends, or other things you could better be spending your day. We don't all have the luxury of sparing eight hours to go and have our hair done.
They can be expensive. Prices will vary depending on the kind of stylist or salon you go to, and obviously buying the hair and applying your own braids at home will choose to be cheaper but more hassle-filled, but generally you'll be paying around $150-$300. Usually you can expect to pay around $200.
1. Long Braids with a Pop of Purple
When you can have a brighter, lighter colour, why wouldn't you? That's what these hot Poetic Justice braids offer, the chance to play around a bit more with something you may not have worn before.
How about this bright pop of purple? Or perhaps pink is your thing? Pick your colour and have one, two, three or even hundreds of strands in your alternative bright colour.
2. Black & Red Ombre Braids
Black and red together could be a signature for passion, and if you're passionate about hair, what better way than to mix black and red together in your Poetic Justice braids for a look that is sizzling hot.
The ombre look is the easiest way to wear bright colours but without having them around your face. Keep the length long and natural looking if you want to recreate the look you have here, and have a natural blend from your dark brown or black right through to a dark red to a brighter shade.
3. Cute Updo
This is another look favoured by Solange Knowles, the entire head of Poetic Justice braids is piled high on the head but instead of the pony rocked by JJ herself, worn in a woven bun, all twisted around and held into place with pins.
This is a great way to wear your box braids during the summer. The hair is away from your face and you could even use a headscarf to cover it from the hot sun.
4. Half-Up Bun
This look is a very popular one and is one of the very first ones you should definitely try to get the hang of if you want Poetic Justice braids.
It's often the start of many intricate and more complicated designs, but the basics make it an essential every day hairstyle too.
5. Braided Updo
Just because you're not a princess doesn't mean you don't get to wear a crown. We love this box braid crown, cleverly created from a twist of these Poetic Justice braids.
Go on, be the Angel you are and wear your crown with pride. Isn't that what every princess (or Queen) would do?
6. Blonde Braids
You could wear yours blonde like the 2001 version of Beyonce, another look that has come back around more than a few times proving that it never goes out of style.
If it's good enough for Beyonce, it's good enough for us.
7. Long, Light Brown Braids
Alicia Keys is always a big fan of braids of all styles, and we've seen her rock some pretty impressive looks over the years. She wore hers long, free, and just with the addition of a hat and some coloured yarn braids to complete the look for the 2002 concert.
See – a hat makes everything better! (Especially on a bad box-braid day.)
8. Small, Medium Length Braids
It's like pig tails but not, pig tail twists. Or twirls. Either way, we love them – a super cute way of wearing your short Poetic Justice braids.
Opt for a side or centre parting, it's up to you. It's no muss, no fuss but still looks pretty damn fabulous, especially with thinner box braids.
9. Cool Bow Updo
There are literally hundreds of ways you could wear your new Poetic Justice braids, and just one of the looks we fell in love with was this super adorable bow look, channel your inner diva just like Lady Gaga.
The bow is actually super simple to do once you've had some practice. It's like throwing it into a pony tail but not pulling it all the way through. Instead, you pull it half through, separate that section in two, use the remaining half of the hair to create the centre section of the bow, and away you go.
(There are YouTube tutorials too!)
10. Twisted Half Updo
The twisted braid is a relatively new type of braid to hit the hair scene but it's a beautiful one nevertheless and very easy to do with your box braids.
There are plenty of YouTube tutorials to watch, and you too could channel your inner mermaid with a long and luscious braided look like this one.
11. Silver Grey Braids
Silver was a very big trend for 2015, and you can rock the biggest trend that's moving into 2016 too easily with the addition of different shades of braids.
Opt for a dark gun metal grey, or a lighter and brighter silvery grey like you can see here – the choice is yours.
12. Black Braids with a Pop of Red
Even celebrity kids are jumping in on the action with these fabulous Poetic Justice braids, or box-style braids. Angelina Jolie and Brad Pitt's adopted child, Zahara Jolie-Pitt rocked some pretty magnificent box braids recently, and hers had a blue flash running through them too!
We like the addition of different coloured braids here but instead of blue, red is the colour of choice. You can pick and choose your colours and shades so why not think a little outside the box? It would be a waste to not make the most of the options open to you.
13. Jumbo Poetic Justice Braids
Keri Hilson recently sported a look very similar to this one, long and simple Poetic Justice braids, worn loose and long for the most part on the red carpet of the special T.I. hosting of 'Keanu'.
The two side sections have been pulled back and tied in place for an easy way to pull it back off the face – just one of the simple yet effective ways of wearing these jumbo box-style braids.
14. Caramel Blonde Braids
Blondes and box braids or Poetic Justice braids go hand in hand. There we said it. It's a look that Beyonce would whole-heartedly rock and if she's rocking it, we want to rock it too.
Have different tones and shades of blondes and caramel browns for a more natural finish. Alternatively, go platinum blonde just because you can. The choice is yours.
15. Burgundy Braids
Red is the colour of passion and fire so when you're hair is on fire, you might as well show it off by rocking a bold shade. You don't need to go all-out, even muted tones of red can create a great hair impact.
Live outside the box a little and opt for something different, perhaps a shade you've not tried before.
16. Short Poetic Justice Braids
Beyonce wore them long and free. That doesn't mean you need to though. Keep things short and sweet like these adorable short Poetic Justice braids, perfect for this beautiful hot summer weather!
The length can weigh down on your scalp so for a break every now and again, opting for shorter length is a really good idea.
17. Poetic Justice Braids with Shaved Sides
Jada Pinkett Smith went for a rockier and edgier way of wearing her hot Poetic Justice braids at the 2010 BET Awards, a half-up and half-down look with the top half twisted and turned into a sort of faux mohawk. We loved the way it looked, and this is a slightly simpler way of wearing it.
You don't need to opt for the side-shave if that's too brave a move for you but you must admit, it sure does look super sassy!
18. Long, Pink Ombre Braids
What's the saying? Pink to make the boys wink? Who cares who's winking, pink is definitely in. Plus it's edgy, modern, and super feminine too. What more could you possibly ask for?
Have the same styles you'd normally have but spice things up by introducing a new shade to the mix. This black to pink ombre Poetic Justice braids style is crazy beautiful.
19. Big Poetic Justice Braids with Beads
Christina Milian shared a tight braided look with her daughter, Violet whilst on vacation. Hers were ended with super fabulous coloured beads in true holiday style.
You can easily add hair jewellery, cuffs and beads to your look to make it your own. We love the cuffs used in this thicker Poetic Justice braids design, but there really are so many ways you could play these up. We told you they were super versatile!
20. Purple Braids
Purple has been known to be a luxurious and elegant shade for centuries so why not have the beauty of luxurious purple hair like this amazing Poetic Justice braid look?
It's bold, brilliant and beautiful. The perfect combination for killer summer hair that'll get everyone talking for all the right reasons.
21. High Ponytail Hairstyle
Miss Janet Jackson herself re-did these fabulous braids in 2013 during the Milan Fashion Week, wearing them sky-high on her head in one simple yet incredibly effective sassy ponytail.
There's no easier way to wear them to tie them all back, and you must admit, the look is super-sassy and powerful!
22. Super Long Braids
Solange Knowles, the controversial and very sassy younger sister of Beyonce, opted for her Poetic Justice braids super long, down to her thighs.
You must remember that longer braids such as these will take much longer to be inserted into the hair, and will also require a little more maintenance, ensuring the lengths are well cared for and well protected. Don't forget though – you can always just tie your braids up for a different look, or for when you need your hair away from your face.
23. Simple Half Updo
Before applying your Poetic Justice braids (if you have ordered them yourself), you may want to use the same trick as another hair blogger used to get rid of any excess chemicals that may have been used in the creation of the extensions.
Soak the hair in a solution of hot water and white wine vinegar, making sure to rinse them well afterwards to make sure you can longer smell it. Hang on hangers to dry naturally with the air and they'll be good to use without the worry of them irritating your scalp.
24. Braided Updo with Beads
The warmer months are the best time to pay homage to this fabulous Janet Jackson style and rock the Poetic Justice braids yourself.
Of course, choosing the perfect hot Poetic Justice braids is just part of the hard work, you need to learn how to prep your hair before the braids are added, and also maintain them whilst their on your head too.
25. Small, Bob Braids
By avoiding the maintenance procedures, all you're doing is speeding up the damage process, leaving them tatty and needed touch-ups more often.
Before your box braids are added, make sure you've done a complete and thorough conditioning treatment on your existing hair. You'll want to make sure it's in tip-top condition before the braids are attached, not only to prevent further damage but also to ensure the protective styles work their magic as they are meant to. Too-tight styles will often result in damaged hair at the scalp which can even lead to temporary or permanent hair loss.
26. Black & Grey Style
You get to be a bit of an artist when you have box braids, seemingly complicated and intricate looks achieved with relative ease. You just need to have the tools of the trade first so make sure you've done your research, asked your fabulous-haired friends, and done a little shopping.
Buy cuffs and bottles of vitamin-pumping conditioning sprays and oils by all means but don't forget about the other little things. Head scarf for night time protection, for example.
27. Black & Caramel Braids
If your extensions are a little too blunt-edged cut, either use scissors to feather the edges before attempting to box braid, or pull them slightly out of the bundle (but not too much that they fall out) to make the ends look a little more natural.
Just in case you don't want your box braids to go right the way to the end of your hair or you're looking for a more natural finish.
28. Pop Of Grey
This pop of grey look (grey box braids optional obviously) may take a couple of attempts but the top-high bun is surprisingly easy once you get the hang of it.
The trick is learning how to get everything 'tucked-in' tightly and neatly but the smaller your box braids or Poetic Justice braids, the easier the high-bun will be until you're a dab hand at it.
29. Another Cool Blonde Style
The hard part about going platinum blonde is the dyeing process – one that involves a whole bunch of lightening sessions with a harsh peroxide bleach on your hair and head.
The best part about choosing platinum blonde Poetic Justice braids? You don't need to sit through any of that at all! You can simply use hair that is already blonde, or dye existing hair, with caution of course.
30. Pinkish Red Braids
Another classic example of how ordering the 'wrong' shade of hair can actually work in your favour, we love this pinkish red box braids, almost natural but still bright nevertheless.
Seriously, it really does pay to think outside the colour box so why not have a look at the colour spectrum and see which new shades you could experiment with?
31. Long Braids with Golden Cuffs
We've said it before and we'll say it again, hair jewellery is a really big thing. Like really big. Whether it's hair cuffs like you can see on these beautiful long braids, or a head-dress, scarf, band, whatever you like, it must be accessorised as part of your outfit.
You can get hair cuffs in all sorts of designs and styles now – silver, gold, rose gold, bronze, and for those who want something even more stand-out, you can even get charms that hang decoratively from the hair. Excellent accessorising!
32. Blue Ombre Braids
Blue hair, just like many of the other brighter and more colourful styles, have been all the rage over the last few years and if you want to get on the mermaid hair bandwagon, you need to look at multi-tones like these stunning blue ombre braids, a clever mix of shades that are to 'dye' for!
It's simply a matter of asking your hairstylist to cleverly braid in a few different shades of blue together to achieve a look as super cool as this. Are you brave enough to give it a try?
33. Grey Poetic Justice Braids into a Braided Updo
For those days when you need to make a great impression, what about a chic updo, just like this amazing braided style?
It's easy and saves a bunch of prep time in the morning, and the even better news is that you can change the updo completely just by amending the way you braid, twist or hold in place the long lengths.
34. Golden Caramel Braids
A look that never goes out of style, golden caramel braids are the perfect way to go lighter for summer, without going too light.
There are plenty of shades in the blonde and 'bronde' spectrum to pick from, it's not all about platinum and super-bright or white blondes.
35. Half-Up Ponytail
For those days you can't decide if you want to wear your hair up or down, the half-up and half-down hairstyle is just perfect… As the name would suggest obviously.
Just pull the top half back and do whatever you want to it for a look that appears you've spent more time on it than you actually have. Bun it, twist it, add it into a pony tail… The choice is yours. Spice things today and wear it like this. You'll get compliments, we promise!
36. Braids with an Undercut
This look is what some might describe as a 'disconnected' look – the two main features of the style don't necessarily go together, but still work perfectly nevertheless.
The longer, uncut sections have been braided into those beautiful Poetic Justice braids, while the bottom sections have been shaved into what is commonly referred to as an 'undercut', giving you a look that is edgy, punky, and can still be hidden for the times you need to go and see the grandparents who you know full well won't approve.
37. Pretty Half Updo
Twists are one of the easiest and most versatile ways of wearing your Poetic Justice braids, with a massive range of designs, styles and effects achieved with literally the flick of your hands. Or the hands of your stylist of course.
You could twist just the front sections to get those front facing braids away from your face, or you could twist your pony tail or the entire bill of your hair. That's the best thing – twists and box braids are amazing together. Just get twisting and you'll see.
38. Braided Updo
Sculptural styling and Poetic Justice braids (or box braids) are an amazing combination, and one very easily achieved. Bigger heights are easily achieved with thicker braids but you can still create some impressive height with thinner braids and the right combo of twists and turns.
Thinner braids are often considered the cuter option, and these thin box braids are no exception. You have a little more flexibility when it comes to styles with the thinner braids, but that's not to say thicker ones won't work as well. Different thicknesses of braids offer a different set of styling options.
39. Caramel Brown Style
When your makeup is on point, on fleek, just perfection, why would you need an intricate look?
Sometimes just worn long and loose is the way path, letting the Poetic Justice braids speak for themselves.
40. Bold, Black and White Ombre Braids
One way to spice up a simple box braid ponytail is to flick it to the side, another look commonly seen by Solange Knowles.
We can't help but thing these amazing white, black and grey Poetic Justice braids would look amazing in a side swept pony, the perfect hair 'do to show off every strand of your multi-toned hair.
41. Long, Dark Brown Braids
Although you have the option to have different colours and tones in your Poetic Justice braids, there's nothing wrong with going back to basics and sticking with a colour that's not far of your own natural shade.
Keep your braids sleek and shiny to make this look amazing, and ask your stylist for long, dark brown braids. Let your face (and your amazing eyebrows) do the talking.
42. Half Up, Half Down
If you're doing your Poetic Justice braids at home, make sure you keep an eye on the tension you're adding to the braids as you do them.
One slight change in tension and the braids won't be the same size, shape or style, and it'll really stand out when you want a look like this – super sharp and super awesome.
43. Small But Long Green Braids
Green hair might not be for everyone but we guarantee they'll all be green with envy when they see you rocking these stunning small but long green braids.
The trick is to keep the braids thinner to make them slightly less in-your-face, but add some length too – bring out your inner hulk!
44. Combine Two Colors!
Who said all your Poetic Justice braids had to be the same colour? We love this look – a combination of two colours mixed together to create a real multi-dimensional style that will look just as good twisted into an intricate updo as it does worn long and loose like you can see here.
Make it random or more structured than that (such as dark underneath and light on top, for example), or just let your stylist have free reign to be a little creative. There are so many options open to you, it would be a shame to let them go to waste.
45. 50 Shades of Brown…
A side parting is such an effortless and simple change from the norm, yet that simple change is often overlooked by those with braids. Especially those with multi-dimensional braids like these amazing 50 shades of brown braids.
Go back to basics, flick it over. Sometimes it's all about that side part!
Try first with long and loose hair to see how that changed parting looks, and then incorporate different twists, turns and other updo's into the mix as you get braver. If it doesn't work, you can just take it down and wear it loose or in a pony tail.
46. Cute & Girly Style
Channel your inner 90's kid with this fabulous blast from the past cute and girlie Poetic Justice braids style. The nineties are back, didn't you know?
It's time to pull out the old photo albums and think about how you can spice up those old do's for something modern and spunky for the 21st century woman.
47. Big, Medium Sized Braids
When opting for larger Poetic Justice braids, make sure you chat to your stylist about the kind of tension he or she is adding.
This is meant to be a protective style so breakage is not the desired effect. That's exactly what too much tension will cause. Obviously making sure your stylist knows it's too tight is a good idea.
48. Black & Red Half Updo
We love the way that the black and red hair has been mixed together in the braids here, rather than having just black Poetic Justice braids with a few red ones thrown in for good measure.
Braiding is the perfect way to show off the wide array of tones you have in your hair so why not blend the different ones together and get showy?
49. Big Braids into a Half Updo
We love these Poetic Justice braids in their smaller, thinner designs but you can't deny that the bigger, boxier looking ones are pretty damn fabulous too. In fact, these bigger ones are a massive throwback making a big comeback.
Don't say we didn't warn you the style was coming!
50. Purple Braids with a Shaved Side
We love a good side shaved look but one of the hardest things to deal with is the grow-back phase – that awkward bit where you have short hair that isn't really strong or long enough to be braided into the rest of your hair.
This chick has the right idea, incorporating the 'baby hairs' into her look, purple braids with that slightly grown out shaved side. Use your fingers and a comb to shape the hairs into a swirl just like you can see here and you have a completed look. It doesn't always need to be super complicated.
51. Small and Long Caramel Braids
Last but certainly not least, small and long caramel braids – a great way to protect your hair and make the most of summer all at the same time.
There are so many ways to wear these Poetic Justice braids styles, you'll kick yourself for not experimenting sooner. We hope we've given you plenty of inspiration but remember to be creative and come up with your own brilliant and bold designs too! We can't wait to see what creations you come up with.