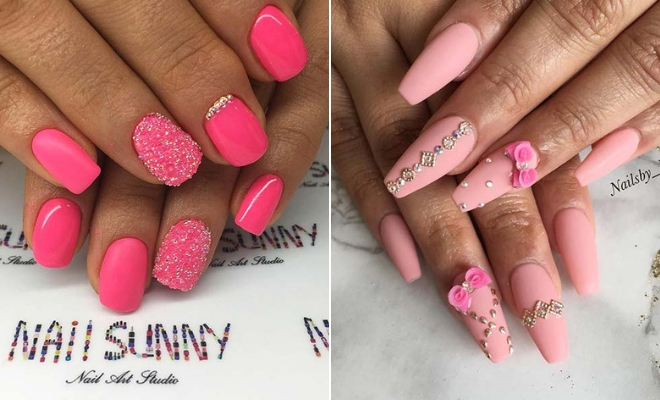 21 Ridiculously Pretty Ways to Wear Pink Nails
Pink is one of the most popular colors in fashion and beauty and many of you use it on your nails. That is no surprise as so many stunning designs can be created. We love these nails and want to share with you 21 ways you can wear pink nails. You will find beautiful ideas including elegant nail art, designs that feature vibrant pinks and more. Whether you love to be pretty in pink or you're deciding on whether to give it a try, you will find an idea to suit you.
1. Pink and White Ombre Nails
First up we have these cute ombre nails. The nails are a pink and white ombre with a light accent nail. You can recreate with or without the accent nail, either way, the mani will look super stylish. If you like creating your own nail art, there are tutorials available online so you can see how to achieve the ombre look yourself at home.
2. Matte Pink Nails
Next, we have a bold pink nail idea with beautiful accent nails. One accent nail has a stunning floral design and the other has sparkling crystals. You can take inspiration from this and create similar nail art or maybe just choose the flowers or gems, you don't have to choose both. Lighter pinks will look lovely too.
3. Light Pink Nails
Light pink nails look chic and pretty. Don't just take our word for it, check out these nails. The nails are long and pale pink with a shimmering accent nail. You can buy beautiful pink shimmer nail polishes to help you recreate a similar look with ease.
4. Cute Pink Nail Design
Our next idea has a cute polka dots and stripes design. The nails feature pink polka dots, glitter stripes with a pink nail and glitter nail. This look was created with Gelish white nail polish, Nina polish in Fuchsia Rage and finally China Glaze Glistening Snow.
5. Elegant Light Pink Nails
Looking for chic and elegant nails? Then this mani is for you! Here we have light pink nails with accent nails that feature pearls along the cuticle line. We love the combination of pink and pearls, it is so pretty. Nails like these would be perfect for special occasions like weddings.
6. Cute Pink Watermelon Nails
Next, we have a cute and fun nail idea. These nails are pink with watermelon accent nails. Watermelon nail art can be created at home, there are plenty of tutorials online. These would be amazing for the summer, vacations or the days when you miss the sunshine and want to feel summery!
7. Pink Glitter Nails
Love glitter? Then these nails are perfect for you. The nails are light pink with two glitter accent nails. One accent nail is pink glitter while the other one is silver glitter. You can achieve this look with different glitter polishes easily and maybe you can try other glitter colors like gold.
8. Pink Chrome Nails
Chrome is stylish and has become a favorite design for nails. You can wear chrome nails as they are or add them to nail art themes like unicorns and mermaids. Here we have pink chrome nails with a gem accent nail. Recreate a similar design on any nail length and shape.
9. Pink Acrylic Nails
When using pink polishes, it can be hard to choose what beautiful shade to use. With this nail idea, you don't have to! Here we have a manicure that features three different pink shades and a gold glitter accent nail. The use of three colors creates a stylish and unique nail design. Create this look or use your favorite pinks.
10. Matte Light Pink Coffin Nails
Our next idea features light pink nails with bows. Two nails have bows while the other accent nails are embellished with gems. If you like creating your own nail looks, you can purchase bows online that you can apply at home. So, you can recreate this or use pink and bows to create your own pretty design.
11. Ombre Hot Pink Nails
If you loved the ombre design featured earlier, then you may like these nails too. These nails use two shades of pink to create the ombre look. By using pink you get a beautifully blended ombre that looks bright and pretty. You can use any two pink shades when creating nails like these.
12. Pink and Silver Glitter Nails
Looking for bolder nails? Then this idea is for you. The nails are a vibrant pink shade with a few different designs. There is one glitter nail, one embellished nail and one has a dark pink line pattern. You can recreate the whole look or pick one design. The bright pink would look nice on it's own too.
13. Cute Pink Nail Design
Purple and pink compliment each other beautifully. Here we have a gorgeous example. These nails feature different shades of pink and purple with one accent nail. Create a similar design to this one or use any combo of pink and purple you like. Choose more vivid colors for a statement making look.
14. Pink and Gold Nails
Next, we have a glam pink design. Some of the nails are a light pink, while each hand has two accent nails that feature gold stripes and gold glitter. The glitter, gold and pink is such a stunning combination. To recreate the look, you can use any light pink polish, gold glitter polish and you can buy gold tape online to give you the gold stripe.
15. Baby Pink Coffin Nails
We have another multi pink idea for you. These nails use a combination of pastel and bold pinks with the addition of glitter. By adding glitter, you instantly get a glamorous look. Use a different shade on each nail like these or maybe just choose two you like. All pinks go together nicely so experiment to find your unique color combo.
16. Hot Pink Nails
Brighten up your look with bold hot pink nails like these. The nail design is made up of glossy and matte nails with different embellishments. You can recreate with a combination of matte and glossy or just choose your favorite, as you can with the embellishments. This hot pink color is great to have in your collection because it suits any nail length, shape and any occasion.
17. Pink Glitter Coffin Nails
Want nails that will wow? Then this next idea is for you! Here we have long nails with a stunning pink glitter ombre. The nails start off light and then end with a vibrant pink tone. Any pink color would work as a glitter ombre, so you can choose your own or recreate these. To get the look paint the ombre and then add a coat of glitter polish over the top.
18. Nude Pink Nails with Rhinestones
Rhinestones and crystals will jazz up any nail color. Here we have a nail idea that features different shades of pink with a crystal accent nail. For a bold look create a similar look to this one, or if that is not for you, use one color with a gem design. You can buy gems online so you can try art like this at home.
19. Matte Light Pink Coffin Nails
Our next idea is pretty, chic and elegant. All of the nails are a soft pink with a silver embellished accent nail. The silver gems and pink compliment each other beautifully. Pink nails like these would look amazing for a special date night, prom or even a wedding.
20. Summery Pink Nails
Love colorful nails? Then this idea is for you! These nails feature a combination of orange, pink, blue and more with glitter over the top. We think these nails are awesome and they are perfect for the ladies who like to have vibrant manicures. A design like this will work on any nail length and shape.
21. Light Pink Acrylic Nails
Last on our list is are these light pink and glitter acrylic nails. Some of the nails have a very subtle ombre, while others feature glitter and one is just a pink color. These are stunning nails and will look pretty on anyone. Recreate the whole look or maybe just the pink and glitter.
We hope you have found some gorgeous pink nails to try! We know we did.