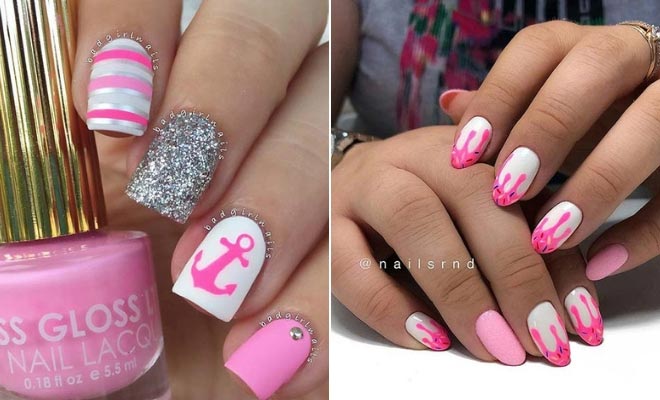 Instagram
Beauty
23 Creative Ways to Wear Pink and White Nails
By
|
Pink and white are beautiful colors that compliment each other perfectly. This color combo can be used in fashion, beauty and more. We love these two colors together and think they are perfect for nail art. So, we have found 23 creative ways on how to wear pink and white nails. There is a design for everyone whether you like glitzy rhinestones, trendy patterns, delicate flowers and more.
1. Pink and White Ombre Nails
Let's begin our top picks with these pink and white ombre nails! These nails feature a soft pink and white ombre that has a French manicure look with two glitter accent nails. The pink glitter really jazzes up the nails and will make you sparkle in style. You can recreate this accent design or choose glitter and white on all nails.
2. Pink and White Nail Design for Short Nails
Looking for cute and stylish nails? Then these are for you. Here we have vibrant pink nails with one white accent nail. The accent nail features a beautiful pink heart. Nails like these would be amazing for Valentine's day and for the occasions where you want a fun and bold look. Try this idea or use all white nails with a similar heart design.
3. Matte Pink and White Nails
Next, we have a glam set of nails to show you. For this look some of the nails are light pink while the rest have gorgeous designs. The art used includes polka dots, a beautiful flower and two nails have rhinestones. This is a cute and creative way to use white and pink. Recreate the whole look or try one or two of the designs.
4. Cute Anchor Nails
The nautical trend is here to stay and these nails are perfect if you love the nautical style. These nails feature stripes, glitter, an anchor and different shades of pink. We love this idea because it is a vibrant version of nautical nails which usually use blue and white. You can check out a tutorial on how to create the stripes and all the products used on the artist's page below.
5. Light Pink and White Heart Nails
Our next idea is another heart look. These nails are a beautiful soft pink. Some of the nails feature silver embellishments while two of the nails are half white with silver. This is a pretty and feminine idea and the nails are perfect for date nights, Valentine's day and special occasions.
6. Fun Watermelon Nail Design
Love fun and vibrant nails? Then these could be perfect for you. This nail idea features cute watermelon art. Watermelons are such a creative way to use pink and white. A design like this would be a great choice for vacations, summer and the days where you to brighten up your look. You can use the design on all nails or have pink or white nails with one watermelon accent nail.
7. Creative Patterned Nails
Next, we have a unique and stylish nail idea. These pink ombre nails feature a trendy pattern. There are different striped patterns on each nail which creates a statement look. You can create stripes like these in the same way you would with horizontal or vertical stripes. Just instead of having them in rows put the tape in any pattern you like. You can check out the nail polishes used on the page below.
8. Stylish Half Pink Nails
Another creative way to use white and pink is by choosing a half design like this one. One half of the nail is light pink while the other is nude. There is a white line separating the two. This is a chic and elegant manicure that will look stylish for any occasion. Try this design or have half pink and half white with a different colored line.
9. Pink and White Acrylic Nails
Be bold with these next nails! Here we have a gorgeous manicure that features vibrant pink with two white accent nails. The accent nails are also sparkly and there are a few rhinestones added to the pink nails too. This is a glam look that will make your nails stand out from the rest. It is perfect for the ladies who like to make a statement and will suit any nail length and shape.
10. Cute Stiletto Nails
Our next idea is unique and stylish. The nails feature a variety of different designs including glitter, love hearts, flowers and more. It is the perfect manicure for the occasions where you want to steal the limelight and look amazing. You can go all out and create a similar look or just choose a couple of the designs that you like.