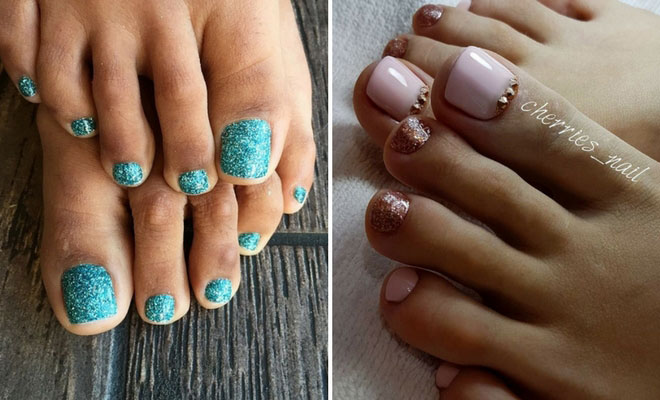 Instagram
Beauty
25 Eye-Catching Pedicure Ideas for Spring
By
|
21. Matte Navy Blue Design with Rhinestones
Speaking of matte, how about these eye-catching pedicure ideas for spring? Add some rhinestones – shiny – to a matte base and you'll see it creates quite the stunning design. Did you know that you can buy a matte top coat to help create these fab designs. It means that any gloss shade you already have can be given the matte-finish effect, without the need to buy even more bottles of nail polish. Winning idea, right?
22. Glitter + Rhinestones
Similar to the previous look, but rather than focusing on a really dark, almost royal-blue shade, you're focusing on a much lighter one. It's almost white, but a shimmering and glitter has been added over the top, and we think these designs would look perfect for a spring wedding day pedicure!
23. Colorful Flowers
They're almost a watercolour effect, and that's just one of the reasons we fell in love with these pretty spring nails – colourful flowers. With the flick of your paintbrush, you have a petal for your flower, and you could even add a touch of water for a more watercolour finish to it. Just make sure you've taken care of your actual nail first, if you're planning on letting parts of it poke through nude and neutral. Lots of TLC, take your old polish off, and give your nails some oil and massage love every once in a while. They'll thank you for it, and so will your manicure and pedicure.
24. Cool Cactus Design
A cactus for spring? We would never have thought of adding the two together, but against that white base nail, you can't help but agree that cactus plant does look pretty cool. When the weather gets warmer, we think glittery cacti are the perfect pedi.
25. Easy yet Eye-Catching
Khaki nails don't need to be as "unfeminine" as you first may have thought, and with the gold embellishments and nude contrast colour, these look not only fabulous, but really grown-up and sophisticated also. Nail foils or tape can help with that gold line across the middle, but just made sure you have spares for those gold balls – they'll fall off and drive you mad after a while.
We know that spring won't last for long, but you might as well rock through it in style with these eye-catching pedicure ideas for spring. It's almost time to get your summer and warmer weather shoes out, and that means getting your feet summer-ready. These designs seem like the perfect way to get things kick-started, and we can't wait to see which ones you decide to choose! Let us know, leave your favourites in the comments below!