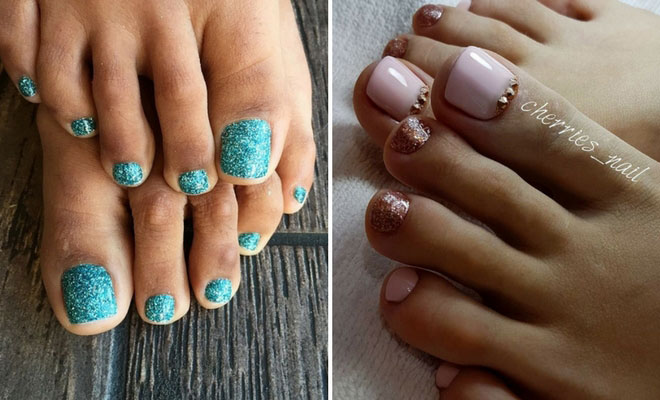 Instagram
Beauty
25 Eye-Catching Pedicure Ideas for Spring
By
|
11. Sparkly Lady Bug Design
Spring is the time that bugs come out to play, and if you don't mind them (rather than us – flapping and running away), you might like to check out these adorable ladybug designs, perfect for when you have white, red and black nail polish. It's a simple design, and one that everyone will be interested in. Do you feel like having bugs on your toes today?
12. Glittery Star Design
What about for when you want to take things darker? What about these beautiful star-design blue and silver nails instead? Mix and match them up, or alternate them, and just use stencils or decals to add the stars into your look. What do you think? Are you reading for the stars this spring? Are these eye-catching pedicure ideas for spring out of the world for you? Okay, okay, we'll stop with the puns now.
13. Classy Design
If out of the world isn't right for you, how about classy and muted instead? They're muted and nude, but can still be considered eye-catching pedicure ideas for spring. The glitter and shimmer effect in them brings the look to life enough to make them bold, but still muted enough to keep things classy.
14. Pink Blossoms
And for when you want to celebrate the spring coming in style, what about pastel floral designs instead? They're feminine and girlie – everything we love about our springtime closet. In fact, we've got a beautiful floral handbag that would go perfectly well with these nails – have you got a floral handbag you could take some inspiration from for your next mani / pedi?
15. Matte Pink & Glitter Design
What a really cool design! There's a half-moon effect done right at the base of these toenails, but a black has been added right at the bottom, with a bright and bold glitter used over the top. Then there's a layer of negative space, which we think adds something really cool to the look, finishing off with that beautiful bright and matte pink. It's definitely different, but is it right for you?
16. Tropical Leaves Toe Nail Design
Are you wishing for tropical climates? A beautiful white sandy beach, and perhaps some crystal clear and blue waters to enjoy? Well, if the dream is about as close as you're going to get, bring the tropical to you with these stunning eye-catching pedicure ideas for spring.
17. Perfect Spring Pedi
Do you like butterflies but fancy something different from the traditional butterfly nail designs you see? How about something like this instead, making use of the larger surface area on the big toe nail to create that stunning look? It gives you the perfect chance to add some glitter and sparkle, and we think it's really pretty. And, of course, everything looks much better when it's added against that white backdrop – it really helps to bring the other colours to life.
18. Colorful Toes
We're wishing for a Tiffany ring, but we'll settle for Tiffany-blue inspired eye-catching pedicure ideas for spring instead. We love the way the black and the silver glitter has been used alongside it, similar to the negative space mani idea we gave you earlier on, but without the negative space, and finishing with a gloss effect rather than a matte one.
19. Simple & Elegant
What a really simple and beautiful look! You'd think about having black tips with a nude nail, so why not turn things around? You're adding the same amount of polish as you would with black tips, but you're placing it around the base of the nail instead. It's a very different look, and you can even help to draw more attention to your interesting and unique design with the help of those gold embellishments.
20. Blue and Pink Ombre Design
This is a really cool design, don't you think? We mentioned ombre before, but this is a different style of ombre, working from purple to blue on the one nail, rather than spreading the colour range across the board. You could add clear gems to help bring some sparkle to the look, and you could use a matte or a glossy finish. We think this would look great with both – how about you?