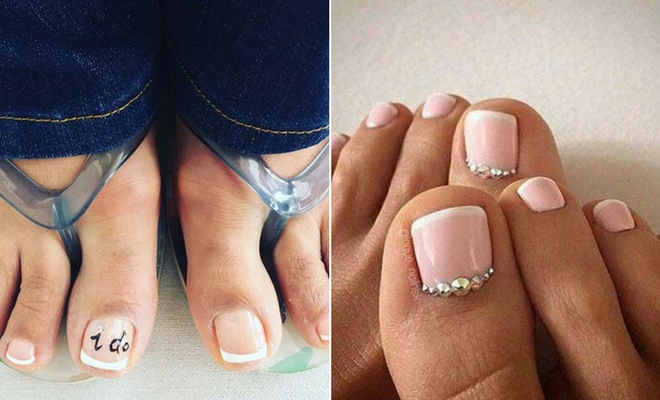 Instagram
Beauty
21 Beautiful Wedding Pedicure Ideas for Brides
By
|
11. Accent Nail Pedi
Pedicures for weddings don't always have to be white and classic. You could choose something funky and fun like this design. The nails have a beautiful light blue polish with an accent nail of shimmering shades. Something like this would be perfect for a beach or summer wedding, you could re-create it with any color.
12. Sparkly Silver Pedicure
Love glitzy glitter? Then this pedicure is for you. These nails feature a silver glitter that makes the nails shimmer. The finished pedicure is just stunning and would go with any shoe and dress. Silver, open toe heels would be a great choice or maybe barefoot for a beach wedding.
13. Cute Bride and Groom Nail Art
Our next pick is quirky and cute. It is a French pedicure with two accent nails. The accent nails feature a wedding dress design and on the other a groom's suit design. Something like this is fun, unique and perfect for a wedding. You could re-create this in many ways to make it personal to you. Maybe a different dress and nail colors, you could even add in an I do nail.
14. White Pedi with Gems
A white pedi will instantly make you look wedding ready. It is the traditional color for the bride to wear. A great way to jazz up white for the special occasion is with gems. As you can see gems like these just give the nails an extra special touch. Perfect for a bride who wants to look glam!
15. Stylish Pink Pedicure
If you prefer simple pedicures then just try wearing one color like this. These toes look gorgeous and ready to party, without the gems and fancy designs. As you can see light pink is a beautiful choice, it is pretty and feminine. A pedicure like this is perfect for a summer wedding.
16. Summer Wedding Nail Art
Here is another stunning floral design that would be perfect for a beach or summer wedding. These nails feature beautiful white and orange ombre with an orange floral accent nail. The color palette of vibrant orange and white give the pedi a tropical vibe. You could re-create art like this with any color and flower.
17. Pink and Glitter Design
If you like glitter but don't want it on every nail, then try a design like this. This pedi has only two nails on each foot with silver glitter. It is a gorgeous pedicure that will give a subtle sparkle. You could create your design with any polish and glitter color. The silver and pink used here are a beautiful combination.
18. Lilac Nail Art
Prefer something trendier? Then take a look at this nail art. This pedi features bold lilac nails, a silver strip and crystal design. The overall look is glamorous and stylish. The traditional white and soft shades might not be for you. If so, this is a great way to wear a vibrant color for the big day.
19. Glitter French Manicure
Our next pick has a few glitzy features that are perfect for a bride. The classic French finish with a sweep of glitter, a glitter accent nail and some sparkly gems. It is a stunning design that will make any bride look glam on her big day. You could re-create this design or just one style for all nails.
20. Trendy Bridal Pedicure
The next wedding pedi is for the trendsetters who want to make a statement. This metallic design is very chic and trendy. You could have bold colors like these or go for something softer. Take colors out of your bouquet to give you a co-ordinated look. Whatever colors you choose, this technique will make any bride look amazing.
21. White Floral Pedi
Last on our list is this elegant floral design. The accent nail looks gorgeous with the cute little gems. You could have this design created in any color. A soft pink or purple would be a beautiful choice. Nails like these will suit any dress, shoe and wedding theme.
We hope you have found the perfect pedicure for the big day.