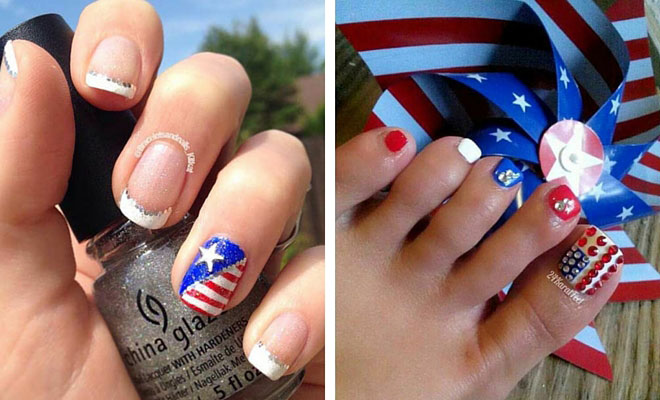 Instagram
Beauty
31 Patriotic Nail Ideas for the 4th of July
By
|
11. Stars and Stripes Toe Nail Design
If you can't fit the stars and stripes on one nail, for example – your toenails, why not separate them, different bits for different nails? We love that some are plain colored nails and some have stars or stripes, and we also love the way that this could be completely customized to make them more unique for you. Big win for these – you could easily use a stencil to get those big white stars.
12. Polka Dot Nails
Dotticure is a great new mani-method that gives you a brand new way to achieve some pretty fantastic effects. We love the way that the tiny dots have been used here to recreate the American flag – red, white and blue. It's easy to recreate this look – you could use anything to create those dots. Make them all the same size, or different sizes, by using different tools. You can buy nail dotting tools, or you could even use the edge of a large seeing needle, a kirby grip, and more.
13. Glittery Nails
The oldest 4th July celebration started in 1785 in Rhode Island, Bristol to be exact. If you want to celebrate in style (and show off your patriotic nails for the 4th July), you should head here to see the parades, marching bands, and more, all traditional in celebrating Independence Day. Another hot tradition for 4th July is a BBQ, so why not invite the entire family around to give you the perfect opportunity to show off your brand new nails?
14. Stripes and Stars with a Pop of Glitter
We love these ones, in perfect patriotic keeping with the occasion. It almost makes us want to walk around singing "My, my Miss American Pie"! This is a great and simple way to work in some red, white and blue for your Independence Day celebrations. We especially like the silver glitter feature nail – a great way to add some sparkle to the occasion.
15. Simple Design for Short Nails
Just because you have short nails doesn't mean you can't rock some super sassy 4th July patriotic ones. We also love the fact that these nails haven't gone with the traditional deep, royal blue color. It just goes to show that you don't need to opt for the traditional colors and shades to have the same effect. We love the light blue used in this design, and it's definitely one we'd recreate for ourselves.
16. Red & White French Tip + Flag Accent Nails
These patriotic nail ideas for the 4th July are super sassy and super fabulous, a great way of having the good old American flag on your nails without making it too much. The nails have been kept relatively neutral but with white and red tips, and on the featured nails, more detail has been used to recreate the stars and stripes. Use nail tape to mark off the areas you don't want to paint for nails like this, or head to a salon where they do airbrushing. The design is often neater and easier with airbrushing techniques.
17. Eye-Catching Pedicure Design
We've said it before and we'll say it again – don't forget about your toes. One way to get a beautiful look like this with minimal muss and fuss is to use nail wraps – a very clever way of decorating your nails without all the hassle involved. With a wrap, you simple stretch it over your nail, make sure it's secured in place, clean up and cut off any rough edges and once you're done, give a once-over with some glossy top coat to make sure it doesn't get bashed or chipped.
18. Cute Disney Nails
If you're looking for more cute than serious, we'd highly recommend these adorable Donald Duck nails, combining two design ideas together – patriotism with the American flag, and Disney with that cute little duck. Who said your nails had to be super serious anyway? We love a bit of Disney!
19. Cool Ombre Design
What a cool wear to wear your nails for the 4th July? We love the blue ombre look on these nails, completed with those patriotic stars over the top. If you want to recreate a look like this, we'd recommend looking for a star stencil but before you do that, create your ombre by using different blue tones painted in stripes on a sponge. When the sponge is pressed to your nail, it should leave an ombre, graduated design which you can then add glitter or shimmer over the top, or leave as it is.
20. Easy DIY Design
For an easy DIY design, one that you won't need to wait for an appointment, why not look at these patriotic nail color ideas for the 4th July? The idea is very simple – one-color nails but with a few little additions to make it a little more Independence Day themed. For that matte blue nail, you could use a matte top coat over the same blue as the pinkie finger nail. There's that Dotticure design we mentioned before too. We're predicting this style is going to be a big one. It's time to go dotty!