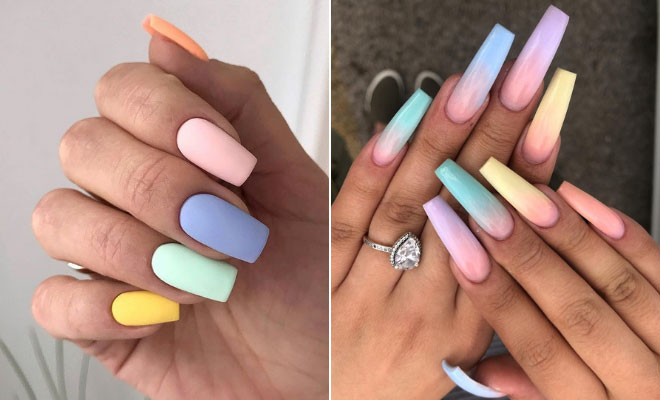 Instagram
Beauty
23 Beautiful Pastel Nails for Spring 2021
By
|
11. Cute Pastel Yellow Nails
If you like pastel yellow, then you need to check out this idea. For this look, most of the nails are nude with pastel yellow ombre. One nail is also completely yellow and glittery. This is a fun and pretty look that will suit everyone. There are tutorials online for this type of ombre effect. This design will look amazing in any pastel color.
12. Magical Mani
We love this next nail design! Here we have shorter nails and each one is decorated with a variety of different pastel colors. Each nail is also adorned with gold stars and the moon which give the mani a magical and mystical look. This is a gorgeous and fun design. You can buy gold nail embellishments like these online. You can use them on plain pastel colors if the bolder background is not for you.
13. Pink and Green Coffin Nails
Looking for a statement making idea? If so, check this out. This mani use pastel pink and green shades! One nail is pink, the next has pink and green gradient, then sparkly green and finally there is a green nail with rhinestones. The other hand uses similar art but the colors go the other way. It is a gorgeous nail design and it shows how to wear a bright color combo in a stylish and glitzy way.
14. Pastel Kisses
The next idea is bright, bold and perfect for Valentine's Day! For this look, each nail is nude and each one is decorated with either a V tip or pastel kisses. Lip nail designs have become a must-have, especially around Valentine's Day, so this pastel nail design will be amazing for the spring and summer. You can buy kiss stencils online so you can try a similar look yourself.
15. Simple Matte Pastel Nails
Earlier in the post we shared a few pastel nail designs with a matte finish. If you loved those ideas, then check this one out too. The nail design was created using five pastel colors – orange, light pink, blue, light green and yellow. This is a cute and pretty look that is actually easy to create but still eye-catching. You can recreate this look for Easter, too.
16. Pastel Gradient Coffin Nails
Give your nails a fun and girly makeover with a design like this one. Here we have pastel pink and blue gradient nails with a matte finish. It is such a bold and statement making look. This is perfect for those who love matte nails. You can recreate this look or use any pastel colors for the gradient. You will find nail gradient tutorials online.
17. Cute Spring Nails with Butterflies
Next, we have another ombre look but this one has a spring vibe. The nails are nude and light blue ombre with two accent nails that feature pretty butterflies. This is a unique way to use pastel colors and we love it. You can buy butterfly stickers online or you can hand-paint them with a thin brush.
18. Pastel Gradient Almond Nails
If you love more unique nail art, then you need to check this out! This mani features two gradient designs – pink and green and purple and blue one. Purple and blue is a classic color combo and with nails like this, we can see why! Recreate the look or opt for any other pastel color combo. This design will work on any nail shape and length.
19. Glam Purple and Pink Nails
We love this next nail idea, it is so pretty and glam! Most of the nails are a coffin shape but one is a stiletto shape. Some are pastel pink and some a light purple. There is even a little sparkle too. The colors are stunning and the different nail shapes look so trendy. This is a beautiful and statement making pastel nail design.
20. Matte Short Nails
This next nail idea is so simple and cute! The nails are matte and medium length. Each nail is a different pastel color – light purple, light pink, coral and yellow. It is such a fun and cute look and it reminds us of ice cream and cakes. If you want nails that are cute, simple and summery, then this is for you.
21. Colorful Pastel Coffin Nails
Next, we have a simple, bold and colorful idea. So for this, each nail is painted in a different pastel shade. From blue to yellow and finally pink. It is cute look that is easy to create and wear. This mani will suit everyone and it can be created on any nail length and shape. Recreate this or you can jazz it up with glitter or rhinestones.
22. Blue and Light Yellow Ombre
Love pastel blue? If so, check this out. Here we have nails with blue and light yellow ombre art. The color combo is stunning and pastel blue compliments yellow perfectly. This is a stylish design that is perfect for the summer. Try a similar design or you can use any pastel color with yellow.
23. Pastel Chrome Nails
The last pastel nail design that we have to show you is a trendy chrome look. The pastels used are a stunning choice and it is such a pretty way to wear a more unique nail finish like chrome. Recreate the whole look or use one or two designs on all nails.
We hope you love all of these pastel nails and have found a stylish design to try.