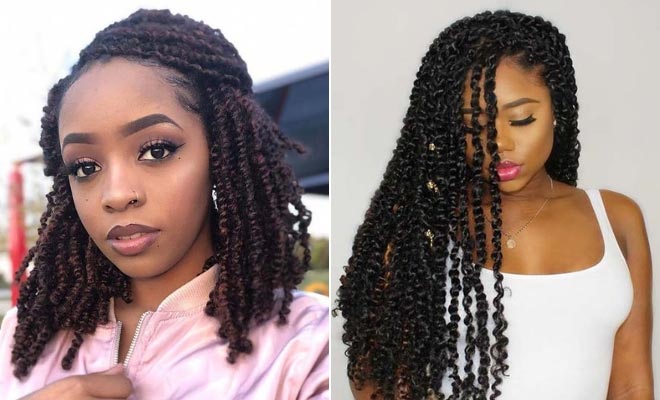 Instagram
Beauty
25 Gorgeous Passion Twists Hairstyles
By
|
11. Cute Side Passion Twists
Our next idea is another cute and easy to wear look. The passion twists are mid length and have been parted on the side. This is a hairstyle that looks effortlessly cool and stylish. You can wear a hairstyle like this anywhere as it is chic for work but glam for a night out too. It is great for the women who want no fuss hair.
12. Passion Twist Updo
Next, we have a gorgeous updo. The hair has been styled high and the twists are left loose on the top of the head. It is like a high ponytail. This is a super cute hairstyle that will keep you looking relaxed and casual but chic too. Hair like this will suit everyone and will look amazing for the spring and summer.
13. Long and Elegant Twists
Long twists look very elegant. Don't just take our word for it, check out these passion twists. The twists are very long and the length sits just after the waist. Hair like this will wow everyone who sees it and you will look glam every day. For a simple and stylish look, try twists like the ones featured or go for a different color if you want a bolder hairstyle.
14. Stylish Passion Twists in Medium Length
Another length you should try is shoulder length. Here we have passion twists that are shoulder length and as you can see, these look so beautiful. Hair like this is versatile and can be worn for any occasion, you can also easily style into buns and other looks. We love the color too, the lighter color running through the hair gives it a stylish lift.
15. Chic and Casual Hair Idea
Earlier in the post we featured a half-up style. If you loved that one, then you need to see this one too. This version is a little more casual to the previous one. The longer passion twists have been put into a low half-up style. It is just an easy to wear and chic look. The multi tones are amazing too. This is one of our favorites.
16. Glam Passion Twists
Add some glamour to your look with passion twists like these! The hair has been parted on the side and features super long passion twists. It is a simple but stunning hairstyle. Passion twists like these would look gorgeous for a night out or special occasion. You can even add accessories like hair cuffs!
17. Mid Length Side Twists
Next, we have another mid length look. These passion twists have been parted on the side and are full of volume. This is a versatile hair idea that will suit everyone. Keep it simple and subtle like featured or jazz it up with some color. Either way, your hair will look gorgeous.
18. Chunky Twists into a Half-Up Bun
Looking for a trendy hairstyle? Then this is for you! Here we have chunky passion twists that are very long and chunky. The twists have been styled into a high, large bun giving the hair a half-up, half-down look. This is a cool and edgy style that is perfect for the ladies who like to stand out from the crowd.
19. Statement Making Passion Twists
Our next idea is a statement maker! The hair has been styled into long twists and features warm and light blonde twists throughout the hair. There are not many of the different color twists which really makes the shades stand out. Try this look or use two different colors.
20. Long, Side Part Twists
Next, we have another long look to show you. These are long twists which have been parted on the side. We love these twists because they are quite chunky and you can really see the twist effect. Passion twists like these will glam up your every day look. These twists would be amazing in a burgundy shade too.
21. Simple and Stylish Passion Twists
If you are searching for a simple but stylish hairstyle, then this could be for you. These passion twists are mid length and are parted on the side. There are lighter tones running through the hair too. This is a beautiful and easy to wear look that will suit everyone. A YouTube tutorial for this look is here.
22. Super Long Passion Twist Idea
Love the long twists? Then check out this next style. These twists are super long and look very glam. Passion twists like these are a must-have for the ladies who like to look stylish and be noticed when they walk in a room. You can have similar twists created in different colors but we think just the simple black color and style looks amazing!
23. Chunky & Textured Passion Twists
An easy way to make your twists stand out from the rest is by choosing chunky ones. The larger twists are bolder than the thinner ones and create an impact. You can really see the twist technique too. Here is a beautiful example of chunky twists. These are gorgeous and will suit everyone. You can choose twists like these in any length.
24. Long Twists with Warm Blonde
Next, we have chunky twists to show you. These twists are long and have a warm blonde tone added throughout the hair. We love this look because it has a boho, beachy vibe. This hairstyle would look amazing for the summer. You can try long twists like featured or choose shorter ones. Hair used: FreeTress Water Wave Bulk 12in 7 packs – Colors TT27 + 2. Make sure to check out Bebe Michelle's YouTube tutorial where she shows you how you can achieve this look at home.
25. Accessorized Passion Twists
The last passion twist hairstyle we have to show you is this accessorized look. The twists are long and chunky, they have been finished off with two silver accessories. As you can see, silver looks amazing in your hair, so if you usually have gold accessories, give the silver a try. You can recreate this look or add more.
We hope you have found a beautiful passion twist hairstyle to try!