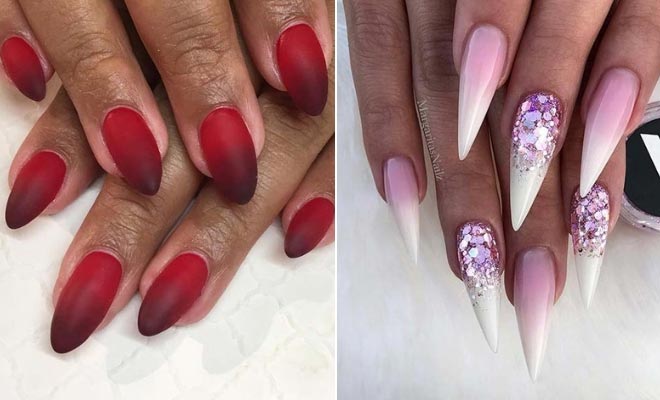 Instagram
Beauty
23 Cute and Simple Ideas for Ombre Nails
By
|
11. French Ombre and Gems
Next, we have a stunning ombre and gem idea. These nails feature a nude and white blend with a beautiful accent nail. The accent nail has been decorated with gems and pearls. Pearl embellishments will give your manicure a very elegant look. You can buy small pearls like these and recreate a similar design at home.
12. Blue to Purple Ombre Nails
Our next idea is another purple look. This ombre has two different shades of purple, one being lilac. There is also a sparkly shimmer over the top. Nails like these are cute and fun. Recreate the look or use this design as an accent nail. It would be perfect for a unicorn inspired manicure!
13. Lime Green Ombre Nails
Steal the limelight with this ombre look! The nails are long with a nude and lime green blend. Lime green is such a stylish statement color. Ombre like this will look amazing on all nail lengths shapes. Create your own version of this mani or use the lime green as an accent nail.
14. Pink and White Ombre Nails
Nails with knitted designs are so cute! Here we have a pretty ombre idea that uses this creative nail art. The nails are a beautiful pink ombre blend with a knit accent nail. Ombre like this will be perfect for the winter and holiday season. You can recreate the look in any color.
15. Bold Blue Ombre Stiletto Nails
Be bold in blue with our next nail idea. These nails feature subtle blue ombre. Each ombre nail has a different design. One is chrome, the next has gems, then simple ombre and finally glitter. This is a beautiful nail idea. Try the whole look or just try a couple of the designs you like.
16. Ombre Gel Nails
Next, we have a chic ombre look. The nails are a white and nude blend with subtle shimmer over the top. There is also an accent nail with gems. It is a stunning idea that will suit special occasions. These would look amazing for a wedding, you can use any nail length and shape with this design.
17. Red and Black Ombre Nails
Love the red nail designs? Then you need to check this idea. Here we have nails that are a beautiful dark red which then blend to black. This is a trendy and stylish look. It would be perfect for the fall and winter. You can create glossy nails like this but matte would look amazing too.
18. Purple Ombre Acrylic Nails
Our next idea is a gorgeous purple ombre. The nails are a dark purple shade at the tip and blend into light purple. We love these nails as they are bright and stylish. You can recreate short nails like these or add this ombre to longer nails too, any shape will work.
19. Black Glitter Ombre Idea
Black and glitter is such a chic combination. Here is how you can use the two to create an amazing ombre look. For this idea, some of the nails are black but the others have trendy designs. One is black with silver glitter, another has creative silver art and the manicure is finished off with glitter ombre. Nails like these are stunning and would be great for a party. Create the whole look or just the ombre glitter.
20. Pink Ombre Nails with Gold Tips
Next, we have a pretty pink idea. These ombre nails feature a light and dark pink blend. Each nail has been jazzed up with a stylish gold tip. We love this creative design as it adds glamour to the manicure. Try the pink and gold or try the gold with a different color ombre.
21. Yellow Ombre Coffin Nails
If the long nails and bold designs are for you, you can try a manicure like this one. The nails are long and coffin shaped with a stylish yellow ombre. There are also some sparkly rhinestones. This is a cute look that is easy to wear. It shows that ombre looks especially good on long nails. You can also try this ombre design on short nails.
22. Light Purple Ombre
Our next look features an elegant purple ombre. The nails are a soft lilac shade at the tips and then blend to a light tone. This is a beautiful idea and it would look amazing for the spring, summer and special occasions.
23. Nude to White Nails with Rhinestones
The last ombre idea we have to show you are these nude and white nails. The white and nude is a stunning color combination and for this look the ombre has been paired with silver glitter. We love the glitter because it adds style and elegance to the finished manicure. Nails like these will look beautiful on everyone!
We hope you have found a stylish ombre nail idea to try!