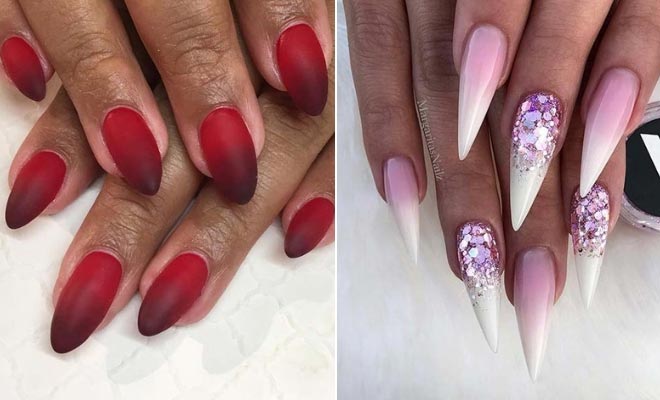 Instagram
Beauty
23 Cute and Simple Ideas for Ombre Nails
By
|
Nail trends are always changing and the possible designs you can create are endless. One nail look that never goes out of style is ombre. Ombre nails feature a beautiful blend of colors and there is a color combination that will suit everyone. We love ombre nails and have put together 23 of the best designs. There is ombre art for you no matter if you love bold shades, subtle manicures, nails with gems and more. Take a look to get some inspiration!
1. Pink Ombre Nails
First up we have these bright pink ombre nails. The nails are light pink and then blend to a vibrant pink shade towards the tips. There is a beautiful shimmering accent nail too. This is a gorgeous nail idea and it is perfect for the ladies who like bold manicures. Ombre like this will work on any nail length and shape.
2. Matte Ombre Nails
Red is a very popular choice for nails and with the ombre technique, you can jazz up the classic color. Here we have a stunning example of red ombre nails! The nails are a beautiful red shade and then blend to dark oxblood. This stylish idea will look amazing all year round but it would be a great choice for the fall and winter.
3. Glitter Ombre Nails
Glam up your look with our next nail idea. The nails feature pink and white ombre with two sparkly accent nails. This is a beautiful idea and it is perfect for special occasions. You can recreate the pink and white or use this design with different colors like purple and white.
4. Matte Purple Ombre Nails
If you like bold nails, this next idea is for you. Here we have long nails with a blend of vibrant and dark purple. We love these purple tones and the gold gems finish off the manicure beautifully. There are a few ways to wear this look. You can create a similar design to this, try the blend without the gems or even try lighter purple shades too.
5. Elegant, French Ombre Nails
Maybe the statement nails are not your thing or you are looking for an elegant design, if so, these nails could be perfect! These nails feature a beautiful nude tone that blends into white. This is a gorgeous color combination and it looks so chic. French ombre nails like these will suit anyone and any nail shape and length.
6. Blue to White Ombre Glitter
Next, we have a sparkly nail idea! These nails feature a bright blue and white blend with glitter over the top. We love this idea because it is so pretty and bold. Recreate this blue look or try the design with other shades like pink or purple. You can even use the glitter ombre as an accent nail too.
7. Black to Nude Ombre Nails
Let out your inner rock chick with nails like these! For this ombre look, the nails are black at the tips and then blend to nude. These nails are so trendy and will make you stand out from the crowd. When recreating the look, try to keep the sharp stiletto shape as this really suits the dark ombre!
8. Orange Ombre Stiletto Nails
Looking for unique nails that will wow? Then you need to check out our next idea! Here we have bright orange ombre nails with two accent nails. On one accent nail, there is a trendy, black snake print and on the other nail there are sparkling gems. We love this idea, it is perfect for the ladies who like to be bold.
9. Nude to Pink, Matte Ombre Nails
Our next idea is another pink ombre look. This one features a beautiful pink to nude ombre blend. Nails like this are a great choice for anyone who wants to try a vibrant shade without being too bold. The nude tones will work with other shades too. It is a cute idea that will suit all nail lengths and shapes.
10. Ombre Coffin Nails
Ombre does not always have to look very bold. You can choose a subtler blend like this one. Here we have a soft purple shade that blends to a light nude color. As you can see, the blend is subtle but super stylish. There are also stunning glitter accent nails featured in the design too. Nails like this would be a beautiful choice for a special occasion.