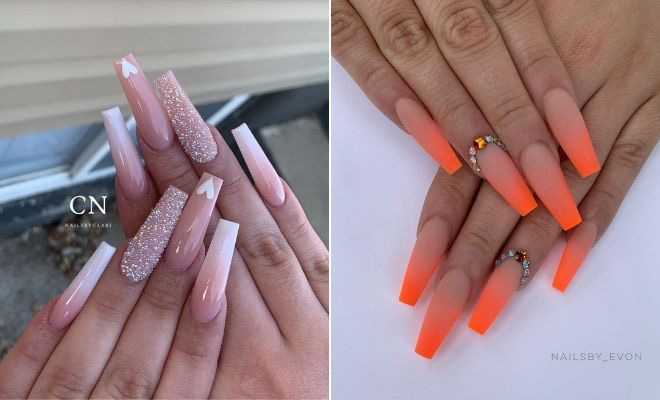 Instagram
Beauty
21 Nude Ombre Nails We're Loving for 2021
By
|
Ombre is still one of the most popular nail designs. It is stylish, easy to wear and you can use any color combination. One color that is easy to use in your ombre art is nude. Nude is chic, compliments any color and it can be a subtle or as bold as you like. So, if you love ombre art, then you are in the right place. Today we have 21 gorgeous nude ombre nails to show you. We have low-key color combos, vibrant manis and more. Take a look to get some new ideas. You can even try recreating some of these yourself as there are lots of easy to follow ombre nail tutorials online.
1. Elegant Nude Ombre Nails
First up we have this simple and chic ombre idea. So for this mani, the nails start with a soft nude color and then the nails blend into white. This creates a beautiful French ombre look. Nails like these are so elegant and they can be worn every day or for a special occasion. Any nude shade can be used with the white.
2. Matte Snake Print Coffin Nails
You can create so many amazing designs with nude ombre and this next one is just amazing. Here we have light nude nails with snake print ombre. So, the nails are matte and nude and then the color changes into a multi tone textured snake print. This is a such and trendy and unique design. It is perfect for the ladies who like to make a statement.
3. Glittery Ombre Stiletto Nails
The next nail idea is glittery and stylish. This mani features long stiletto nails that start with a light nude color and then the nails turn clear with a sweep of sparkle over the top. It is a beautiful nail idea and it would be great for parties. You can recreate this or you can use any glitter color with the nude.
4. Nude Ombre Design with Flame Art
If you like to wear bold nail art, then this idea is for you! Each nail is different and features nude and white ombre as well as glitter ombre. Two nails also have trendy flame nail art. The flames look so cool and they really jazz up the ombre. You can find tutorials online for flame nail art.
5. Neon Orange and Nude Ombre
Next, we have a pretty orange ombre idea. For this look, the nails are long and coffin shaped. The nail starts nude and then blend into a beautiful neon orange color. This is a cute and fun design that is perfect for the spring and summer. You can recreate these nails or you can use a brighter or darker orange shade as any will suit nude.
6. Elegant Ombre with Rhinestones
The next nail idea features another way to wear the elegant French ombre. This time the nails are a soft base color with white ombre. One nail on each hand is also decorated with rhinestones. The added crystals really glam up the design. You can buy rhinestones online and stick them on with nail glue. Create accent nails like these or put gems on all of your nails.
7. Nude and Mint Green Ombre
Like to wear bright and trendy nail colors? If so, check this out. Here we have long coffin nails that have a nude and mint green ombre. This stylish pastel green will look so cute during the spring and summer. You can recreate a similar mani or you can add more of the green color. The design can be adapted for the fall and winter by using a darker green shade.
8. Chic Yellow and Nude Nails
Another color that looks amazing with nude is yellow. This next design shows how to wear it in style. This mani features long coffin nails and most of them has different nail art. One nail is glittery ombre, the next is glossy yellow ombre and the next is nude and yellow glitter ombre. As you can see, the light yellow shade looks stunning with the nude. This is a modern and chic mani that will suit everyone. Recreate this or put the ombre on all nails.
9. Cute Ombre Design for Coffin Nails
There are so many different shades of nude, so you can create a different ombre look every time. Here we have another white ombre version but this one uses  a darker nude shade. As you can see, this one has less of a pink tone which really makes the mani cute and subtle. This stunning design would be perfect for weddings and brides.
10. Pastel Ombre Nails for Spring
This next idea is one of our favorites! The mani features very long coffin nails that are glossy nude at the base and then the color blends into a different pastel color. Each nail is also covered in beautiful 3D flowers. We love the pastel shade with the nude and the flowers are a glam finishing touch. This nail design is perfect for the spring. Recreate these nails or use a different nail shape and color combo.