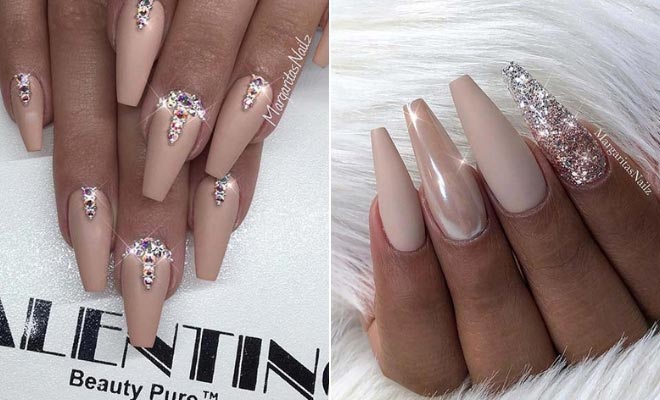 Instagram
Beauty
21 Pretty Nude Coffin Nails That Anyone Can Pull Off
By
|
11. Coffin Nails with Rhinestones and Glitter
Next, we have another glam look. The coffin nails featured here have two accent nails. One accent nail has a sparkly rhinestone design while the other has gold glitter. We love this design it would be perfect for the holiday season and other special occasions.
12. Nude Ombre Nails with Crystals
Our next idea is another ombre look. This time nude has been paired with white. As you can see, the blend of nude and white is so chic and classy. It has a French manicure look to it. A design like this is perfect for ladies who like the classic manicures but who want to try something slightly different. Recreate with or without the rhinestones.
13. Shimmery Nude Coffin Nails
Going to a party or celebrating a special occasion? Maybe you want to try sparkly nails without being too bold? If so, these nails could be perfect. Here we have light nude, coffin nails with a shimmery accent nail. As you can see, you get the sparkle in a subtle way. We love these nails!
14. Nude and Glitter Ombre Nails
If you do want the sparkle to make more of a statement, then check out these nails. The nails featured here are a light nude tone with silver glitter going half way up the nail, creating an ombre effect. You can recreate this look in any glitter color but try gold or silver to keep it chic. Nails like these will be great for the holiday season.
15. Sparkling Nude Coffin Nail Idea
Love glitz, glamour and bling? Then these nails are for you. Here we have gorgeous nude coffin nails with two accent nails. One is glitter and one is covered in gems. Recreate the whole look or try just the gems without the glitter. You can also use different colored crystals to create a stylish manicure that is unique to you.
16. Nude Coffin Nails with White Tips
Next, we have another modern and trendy take on the classic French Manicure. Here we have nude nails with white tips. Instead of sticking to the classic French tips, apply them in a triangular shape to show off your creative side. This is a cool, unique and creative idea. Go for a design like this if you like the French manicure look but want to jazz it up a bit.
17. Embellished Nude Coffin Nails
Here is a great example of how you can use different crystals and embellishments to create a stylish look. These coffin nails are in a shiny nude shade. The accent nails feature crystals that go up the nail in a line. This is a trendy and sparkly idea. Recreate this look or try just one of the crystal designs.
18. Nude and Glitter
Our next idea features glossy nude nails with glitter. We love this design because it is pretty, elegant and sparkly. You can create a similar look to this or use matte nude instead of glossy, you can also use any glitter color. Nails like these would be perfect for a special occasion.
19. Glam Coffin Nails
Next, we have another super glam crystal and nude nail idea. The nails are a light nude shade and two of the nails are embellished with tiny rhinestones. You can buy embellishments like these online, try to recreate this look or use different colored gems. Either way, this elegant look will make you stand out from the crowd.
20. Matte Coffin Nails with Crystals
Looking for unique sparkly nails? Then these might be perfect! These nude nails feature two accent designs. Both have a beautiful line of crystals that goes along the cuticle and up along the side of the nail. It is a creative and trendy way to wear rhinestones.
21. Nude Coffin Nails with Glitter Accent Nail
The last design we have to share with you are these pretty nails. The nails are a light nude shade with one glitter accent nail. It is a simple, elegant and glam look that will suit anyone. You can recreate this look or use a different glitter color.
We hope you have found a beautiful nude nail look to try.