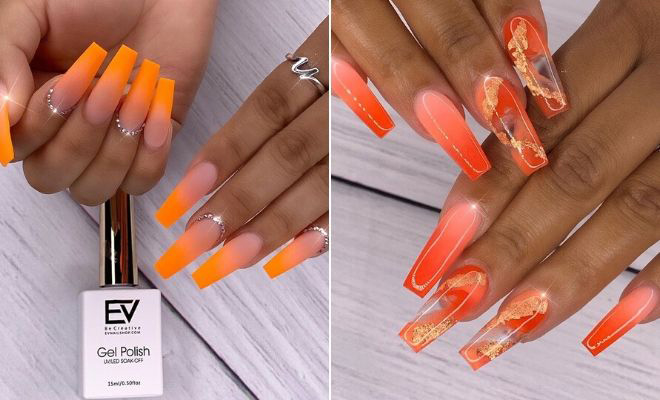 Instagram
Beauty
21 Neon Orange Nails and Ideas for Summer
By
|
11. Nude and Neon Ombre Nails
Love the neon orange ombre? If so, you need to see this next idea. This mani features nude coffin shaped nails with a neon orange ombre design. It shows how the orange ombre looks different when different shades and nail shapes are used. This is another pretty, stylish and vibrant mani that will look amazing on everyone.
12. Glam Orange Nails with Gold Foil
If you like your mani to be glam, then this idea is perfect for you. Two nails are ombre while the other two are clear with watercolor effect and trendy gold foils. The gold and neon add glitz and glamour to the mani. It is a fun and chic design. Recreate the whole look or just one of the designs. Gold foils can be bought online and there are tutorials for the foils as well.
13. Pastel Neon Orange
As with any color, there are different shades of neon orange. This next color is one of our favorites! Here we have pastel neon orange. As you can see, even though it is bold and neon it still has a pastel tone. This is such a trendy idea and a mani like this will be perfect for the spring and summer. You can buy neon pastel orange nail polishes online.
14. Stunning Matte Orange Mani
This next mani is stunning and statement making! Here we have long and beautiful nails that are a vivid, matte neon orange. We love this shade because it is a little darker with that neon look. Nails like this are so easy to wear. You can keep the mani glitzy like this or opt for a simpler version without the rhinestones. Either way, your nails will look fabulous.
15. Short Neon Orange Nails
Next, we have a super cute nail idea to show you. For this look, the nails are short and neon orange. Two nails on each hand are sparkly silver glitter. This neon design is so stylish and unique. You can try recreating this look yourself because it is very simple and easy to recreate. Any nail shape and length will work.
16. Stylish Orange Nails with a Clear Accent Nail
We love this next idea! Here we have matte neon orange coffin nails. There is also one accent nail that is clear with stylish gold and white art. Clear nails like these are a must-have look so when you pair that with neon, you get one trendy mani. This design is perfect for the summer as it hits the nail trends and it looks so cute and glam! You can try a similar mani or you can use a clear but orange nail which will give you the jelly nail look.
17. Bold Orange Nails with Rhinestones
Prefer more fun and bold nail art? If so, you need to check this out! Here we have long neon ombre nails that adorned with colorful rhinestones. Neon orange and dark nude is such a cool color combination and the rhinestones make such a statement. This nail art was created with these products: Valentino Beauty Pure #110 Bodacious and Victoria's Collection #6.
18. Sparkly Neon Nails
If you like your nails to have plenty of sparkle, then this next idea is perfect. This mani features coffin nails that are decorated with glittery neon colors. Some nails are one block color and some have ombre art. We love the use of three neon colors, they suit each other beautifully. A fun and glittery mani like this will be great for the summer season. The mani also has a tropical look.
19. Trendy Neon Orange Mani
Earlier in the post we shared a mani with trendy tips. If you liked the neon tip idea, then take a look at this next idea. For this look, two nails are simply neon and the rest are nude with neon orange tips. As you can see, the different shaped tips look so stylish. This mani shows how to wear neon on shorter nails in style. Recreate the whole look or put the nude and neon design on all nails.
20. Matte Neon Orange
This next nail idea is simple but very statement making. Here we have coffin shaped nails and each one is painted in very vivid and vibrant neon orange shade. It is such a bright and beautiful mani and the orange is so striking when next to dark colors like black. A mani like this is vivid but easy to wear and it will suit everyone. A similar color can be worn on any nail length and shape.
21. Orange, Glitter and Rhinestones
The last neon nail look that we have to show you features trendy tips, neon orange color, rhinestones and glitter. It is a beautiful mani and it is very statement making. This design is perfect those who like bling, sparkle and bold colors. This is another nail design that will be perfect for the summer season.
We hope you have found a trendy neon orange nail design to try!