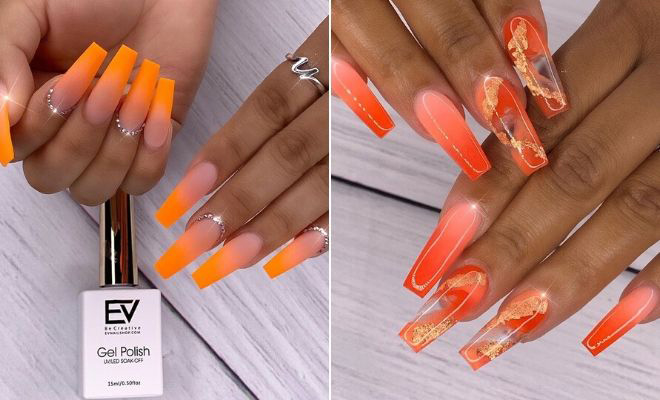 Instagram
Beauty
21 Neon Orange Nails and Ideas for Summer
By
|
At Stay Glam, we love neon nail colors. Neon is bold, fun and super stylish. We have already featured gorgeous neon yellow nails and now it is time for neon orange! Orange is a beautiful color that is perfect for the spring and summer. Not only that, but is vibrant, statement making and it looks amazing with other nail art from glitter to animal print. If you loved the neon yellow and want to give another color a try or love orange and want to add a flash of color to your nails, then you need to see our 21 neon orange nail ideas. We have something for everyone from simple to glitzy and glam. So, read on to find a trendy neon orange nail design, you won't be able to decide which one is your favorite because you will love them all!
1. Neon Coffin Nails
First up we have these neon coffin nails. The nails are long and are colored in matte orange. This is a fun and vibrant design that will suit everyone. Nails like these will be perfect for the summer and the matte orange can be used on any nail length and shape. You can recreate this with either a matte orange color or with glossy orange and a matte top coat.
2. Trendy Nail Design with Rhinestones
Next we have a trendy neon look to show you. Three of the nails are simply orange, one nail is dark nude with rhinestones and one nail is dark nude with orange v tips. The v tips looks so stylish and they have become a must-have look. You can create these tips with nail tape and you will find tutorials online. Recreate the whole mani or put tips on all nails.
3. Striking Stiletto Nails
If you like your nails to make a statement, then this design is for you. Here we have sharp stiletto nails that start nude and then blend into a bright neon orange. Nails like these will wow. You can try a similar mani or use a different neon orange shade. You could even jazz up the mani with some rhinestones or glitter, that would look amazing.
4. Bright Neon Orange
Like simple yet eye-catching nail designs? If so, you need to see this idea. For this look, some nails are matte neon orange, one is chrome and one is glitter orange. All these trendy designs create a stunning combination. You can find easy to follow nail art tutorials online for designs like this one. You can even add an animal print, that would look fabulous!
5. Snake Print Mani
Next, we have a wild animal print to show you. This time we have a combination of neon orange and snake print! The nails are either matte orange, nude with orange tips or they have a stylish snake skin design. This is such a trendy and fierce mani. You can recreate this look or try the snake skin art in any color. Snake skin nail stickers are available online, so you could create a version of this mani yourself at home.
6. Bright and Fun Nail Design with Flames
This next nail idea is fun, bright and unique. Each nail has different art and different designs have been used on each hand too. Some of the art includes flames, neon colors and even zesty oranges. Flame nail art is so trendy right now and you can buy nail stencils or stickers to recreate the flames. A mani like this will be perfect for the summer. Recreate the whole look or just one or two designs.
7. Glam Orange Nails with Sparkling Rhinestones
Neon orange is a vibrant and stylish color but it can also look glam and elegant. This design is the perfect way to wear glitz with orange. All nails are simply matte and have an ombre design. Two of the nails on each hand have a row of tiny rhinestones. As you can see, the sparkly rhinestones really jazz up the simple mani. You can buy rhinestones in different shapes and sizes online and then stick them on your nails with nail glue.
8. Ombre and Glitter
Next, we have another ombre design to show you. This time the nails are nude with a vivid and vibrant neon orange. There is also an accent nail which features glitter ombre. We love the added glitter because it is pretty and glam. Nails like these will be perfect for parties, nights out or just on the days where you want your mani to make a sparkling statement.
9. Simple and Stylish Nail Idea
If all the jazzy, bold and sparkly nails are not for you, then you can try something simpler. For this look, the nails are short and are simply painted matte neon orange. It is just a stylish and easy to wear version of the neon mani. You can recreate this look or try a similar color on any nail length and shape. Nails like the ones below will suit everyone.
10. Neon Glitter Tips
This next nail idea is another one of our favorites! Here we have two nude nails and each one has a neon orange tip. We love these because the tips aren't like the classic French or the trendy v shaped ones. These are curved and follow the nail. It is a unique, modern and trendsetting look. You can recreate a similar design with nail tape or a stencil. Any neon orange shade can be used.