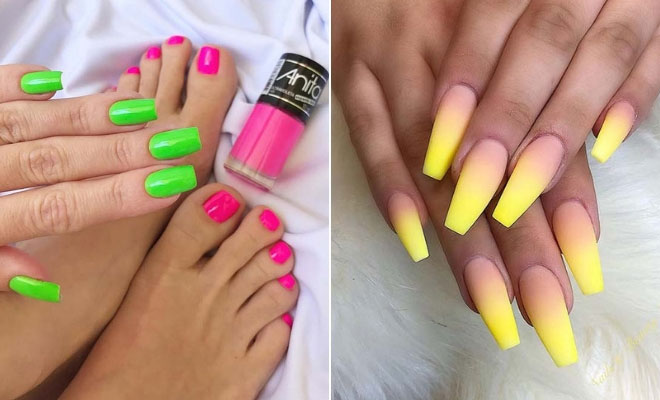 Instagram
Beauty
43 Neon Nail Designs That Are Perfect for Summer
By
|
31. Bright Neon Colors
There are so many cool colors to wear, so it can be difficult to choose the shade you want to wear next. Well, maybe you don't have to. You could choose a multi-color manicure like this. Four different colors have been used and the different shades create a bold and fun look. It is the perfect design for the summer and you can recreate this or try using four of five other colors.
32. Pink, Orange and Glitter
Our next idea is pretty and easy to wear. Two nails are pink, two nails are orange and one nail is covered in silver glitter. The pink and orange compliment each other perfectly and the glitter just adds a little glamour. You could paint the thumb nail with any of the three colors. A manicure like this will suit any nail length and shape.
33. Glitzy and Glam Neon Nails
Love nails with lots of glitz and glamour? If so, you need to see this next idea! Here we have neon yellow nails and each nail has a different design. Some of the nail art created includes ombre, glitter, gems and more. It is an amazing nail design and it is perfect for the ladies who want to make a statement in style.
34. Neon Pink and Yellow with Rhinestones
The next nail idea features one of our favorite color combinations of neon yellow and pink! We love these colors together because they are so bright and fun. For this look, some nails are simply one color, some are ombre and the others have a rhinestone design. It is a bold and beautiful nail idea that is perfect for the summer. Recreate this look or just one or two of the designs that you like.
35. Stylish Neon Green Nails
If you like your nails to stand out from the crowd, then this next look is for you. Here we have neon green nails. Some are just neon green, one nail is nude with a neon tip and the other nail is covered in rhinestones. It is such a stylish and bold design. Nails like these would be perfect for parties, vacations and more.
36. Nude and Neon Pink Ombre
Next, we have a chic and trendy nail idea. These nails feature a pretty pink and nude ombre design. The nude and neon pink is such a stunning color combination. A manicure like this would be perfect for the ladies who want a subtler neon look. You can recreate this or you can try the ombre with any nail shape and any neon color.
37. Neon Green and Rhinestones
Love neon green? Then take a look at these nails. All of the nails except for one are painted in a bold neon green shade while the accent nail is covered in rhinestones. It is such a cool and stylish design, it is easy to wear too. A mani like this will suit anyone and it will be perfect for any summer event.
38. Simple Neon Nail Design
Earlier in the post we featured a pink, orange and glitter nail design. If you loved that, then you may like this one too. For this design, the silver is more sparkly and the pink is more neon and vivid. The orange is more like a pastel tone. It just shows how you can take inspiration from an idea and create a whole new look. This is another manicure that would be stunning for a summer vacation.
39. Yellow Ombre Nails with a Palm Tree Design
Nothing says summer like palm trees and this next nail idea shows how to wear palm trees in style. The nails are a trendy coffin shape with yellow and nude ombre. One nail on each hand also has a black palm tree design. This is such a stylish and summery look. You can hand-paint palm trees or use a stencil if creating a similar look yourself.
40. Trendy Neon Coral Nails
Brighten up your look this summer with a trendy coral manicure like this. All of the nails are matte neon pink and there is one accent nail on each hand too. The accent nail is decorated beautifully. You can by nail embellishments like these online. Recreate this or try your own stylish accent design.
41. Fun Flower Nail Idea
The next nail idea is one of our favorites! Each nail is nude with a different colored neon tip and there is one accent nail too. The accent nail features three pretty neon flowers. It is such a cute and unique nail idea. The flowers and colors are perfect for the summer season. You can buy 3D flowers for your nails online.
42. Neon Ombre Nails with Gems
Next, we have another ombre look. These nails feature a three color ombre. Two nails are yellow, orange and nude while the others have two different shades of pink and nude. Some of the nails are decorated with gems too. It is a beautiful, unique and stylish set of nails. Recreate this or try three different colors for your ombre.
43. Pink Nails with Glitter Accent Nails
If you love the pink nail designs, then you need to see this next look. Most of the nails are vivid and bold pink while two nails are covered in pink glitter. It is a pretty and glam look that will suit everyone. You can also recreate something similar on any nail length and shape.
We hope you have found a trendy neon nail look to try!