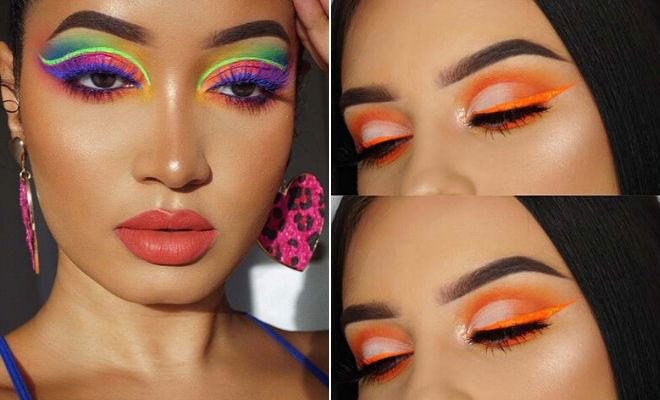 Instagram
Beauty
21 Neon Makeup Ideas to Try This Summer
By
|
11. Neon Rainbow Eyeshadow Look
Next, we have a neon rainbow makeup look. So, the makeup has been created with a beautiful and bold variety of neon colors. This is a stunning makeup idea and it is perfect for festivals and other events where you want your makeup to stand out! Any lip color can be worn with this makeup and something like this is a must-have for statement making ladies!
Products used: Morphe X James Charles Palette, Peaches Makeup Pool Party Pigment, Lit Cosmetics Champagne Wishes Size 2, Anastasia Beverly Hills Dipbrow Pomade Dark Brown, Huda Beauty Over Achiever Concealer in Nougat, Sigma Beauty Sinuosity Mascara, Charlotte Tilbury, Magic foundation in Medium 05, NYX Cosmetics Jumbo Pencil in Peacock and Lash Me Quick Cosmetics Honey I'm home Lashes.
12. Glam Neon Blue Eyes
Neon colors can be super glam and this next idea is a gorgeous example. Here we have neon green and blue eye makeup that is paired with nude lip color. The eyes are gorgeous and are perfect for special events like parties and nights on the town. You can find the products used for the eyes below, but make sure you check out the makeup artist's page for skin and lip products.
Products used: Anastasia Beverly Hills x Norvina Palette Vol.2, 'Keep Palm' Glitter, Glitter Adhesive, Eyeshadow Base & Liquid Liner.
13. Neon Pink Eyes with Green and Yellow
If you love neon pink, then you need to see this idea! For this look, the eyes feature green, yellow and neon pink eyeshadows. It is such a fun and vibrant idea. This makeup gives us a retro 80's vibe. Pair eye makeup like this with pink or nude lip color for a trendy and summery look.
Products used: Nabla Cosmetics Close Up Concealer, Anastasia Beverly Hills Riviera (summer & Bahamas), Cosmyfy Iconic Madness (Las Vegas & Rio de Janeiro)and House Of Lashes Iconic.
14. Nude Eyes with a Flash of Neon
Maybe you don't want to go all out with your neon makeup and you want something subtler? If so, this idea is for you. Here we have nude eyes with a neon blue cut crease. Even though you have that bright pop of color, it is more low-key than most of the others. Recreate this or use a different neon color other than blue for the crease.
Products used: Gade Cosmetics 52 Fall-Oh-Me palette, Huda Beauty Matte Metal Melted Eyeshadow in Minted, Benefit Cosmetics Precisely My Brow Pencil in Shade 6, Urban Decay Perversion Liner, Lotus Lashes Yariszbeth and Doll 10 HydraLux Smoothing Concealer in Light Medium.
15. Neon Green and Yellow Blend
If you want to be bold, fun and statement making, then give this makeup a try. Here we have a yellow and green neon eyeshadow blend. So, the eyes on the outer corner are dark, then green and finally neon yellow. The look is complete with dark lip color and eyeliner. It is a vibrant and trendy makeup look and you can recreate this or try light nude lip color.
16. Pink Eye Makeup with Neon Lashes
For those who do want to go all out, this makeup idea is for you! For this look, the eyes are neon pink and so are the lashes! While the lips are nude and glossy. We love the idea of using neon lashes as well as eyeshadows, it is such a unique and bold idea. You can try the pink version or try another neon look such as blue. This makeup look is perfect for festivals.
Products used: Morphe x Jaclyn Hill Volume 2 Palette, P. Louise Makeup Academy Blank Canvas Acid Reign, Star Gazer Neon Pink Pigment, Fenty Beauty Glass Slipper Gloss, Revlon Photoready Candid Foundation and ABH Fawn Contour Stick & Powder Contour Kit.
17. Neon Sunset Eyes
This next makeup idea is one of our favorites. Here we have an eyeshadow blend that reminds us of a neon sunset! The eyes are purple on the inside and then the colors gradually get lighter until the outer areas are yellow. It is a stunning makeup look and it is perfect for the summer and vacations. Pair with nude, pink or purple lip color.
Products used: Morphe x Jaclyn Hill and P. Louise Makeup Academy Blank Canvas Acid Reign & Base 02.
18. Statement Making Neon Eyes
We love this next idea! This time we have bold rainbow eyeshadows that are worn with neon green eyeliner on the crease and neon blue lashes. The colors are amazing and the makeup is like a work of art. This is another makeup look that uses vivid lash colors. It will also be perfect for festival season.
Products used: Morphe Artist Pass Palette, NYX Cosmetics Vivid Bright Liner Sapphire, Melt Cosmetics Mixtape Liner and OPV Beauty Pigments in Rapture and Nephrite.
19. Neon Pink and Yellow
Next, we have another pink look to show you. The eyes have a bright pink eyeshadow blend with flashes of yellow color on the lower lash line and on the inner corners of the eye. It is a fun and pretty makeup design and it will look amazing with pink lip color. If you love candy colors and fun makeup, then this is perfect for you.
Products used: Glam Shop Natural Glam Palette, Miyo Makeup Five Points Palette, PigmentoveLove Pigment, Anastasia Beverly Hills Glitter Adhesive, Affect Cosmetics Pure Passion and Eveline Cosmetics Big Volume Bang.
20. Bold Yellow and Blue Eyes
Another popular neon color combo is blue and yellow and here is how to wear it in style! The eyes are nude with a thick blue eyeliner flick and a yellow one on the top. We love this double eyeliner look and it is fun and trendy way to wear neon shades. Recreate this look or you can try two other neon colors. This is another one that has a retro vibe.
Products used: Anastasia Beverly Hills Norvina Vol 2 Palette & Dark Brown Brow Wiz, Milk Makeup Flex Foundation Stick Shade Golden Sand, Laura Mercier La Palette Naturelle Face, Narsissist Honolulu Honey lipstick and Tatti Lashes TL4 lashes.
21. Neon Pink Lips
The last makeup idea features a neon lip color. As you can see, the lips are a vivid and bold pink shade. You can wear this with subtle eyes or with any neon look that we have featured today. Lip colors are an easy way to wear neon and a color like this can be dressed up or down to suit any occasion.
Products used: Anastasia Beverly Hills x Norvina Mini Matte Lipstick 'ORCHID'
We hope you love these neon makeup looks as much as we do!