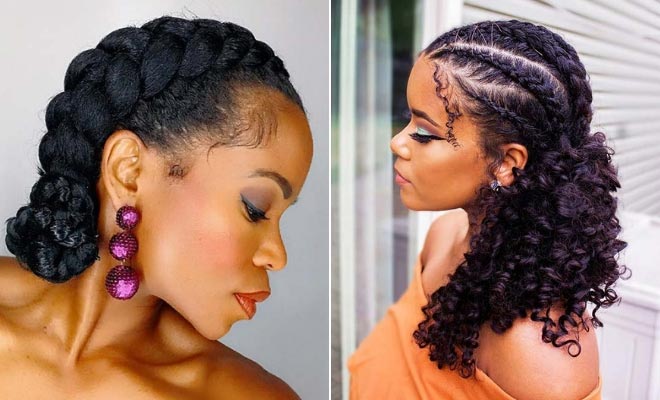 Instagram
Beauty
21 Easy Ways to Wear Natural Hair Braids
By
|
11. Accessorized Thick and Thin Braids
Next, we have a gorgeous braided look that is unique and super stylish. The hairstyle features two thick braids that meet at the back. There are also two small braids added too. The hair is completed with accessories like gold cord and stunning shells. We love the addition of shells to the hair, they look beautiful. A hairstyle like this is perfect for trendsetting ladies.
12. Small Cornrows into a High Bun
Love bun hairstyles? Then this is for you. Here we have a very high, curly bun. The rest of the hair has been braided into a funky pattern with two loose beaded braids at the front. This is a gorgeous hairstyle and it will look amazing on anyone. Make the bun unique by using different beads, maybe in your favorite color.
13. Butterfly Braid
If you want a simple but stunning hairstyle, then this is for you. Here we have butterfly braids. The hair has two braids at the front of the head that meet at the back to create a beautiful ponytail. This is an easy to wear natural hair braid that will suit any occasion!
14. Goddess Braids on Natural Hair
Next, we have another stylish hair idea where the hair is loose at the back and braided at the front. We love the braids at the front because of the funky pattern. This is a gorgeous hairstyle that is perfect for the ladies who want to try something new, modern and trendy.
15. Braided Bun with Upside Down Braids
Earlier in the post we featured a hair idea with upside down braids. If you loved that hairstyle then you might like this one too. This braided look features upside down braids at the back. Then the hair is styled into a very high bun with a few braids. This is a stunning idea that will look gorgeous for a special event. You will definitely steal the limelight with hair like this.
16. Natural Hair Cornrows
Our next natural hair braid idea is another ponytail. This one features small braids on the head that end in a curly side ponytail. It is a gorgeous ponytail and we love it! The hair has also been accessorized with a gold cord. Hair like this will suit anyone and it will give you a stylish and elegant look.
17. 2 Cornrow Braids on Natural Hair
Looking for an elegant hairstyle? Then this could be perfect. Here we have decorative braids with beads. This look features two cornrow braids down the sides, one braid in the center and all the braids meet at the back to create a bun. The hair has been finished off with silver cuffs. This is a stunning natural hair braid style and it would be perfect for an occasion where you want to impress.
18. Double Cornrows for Short Natural Hair
Next, we have a super stylish braided look to share with you. Here we have two cornrow braids on each side of the head. This creates a double braided look. It is perfect for the ladies who like the classic two braids but would like to try something different. We love this idea! If you love it too, here is a quick YouTube tutorial.
19. Accessorized Braided Bun
The amount of different looks that you can create with braids is endless and here is another cute idea! This look features multiple braids that meet in a low bun. The hair is accessorized with hair cuffs too. It is a trendy hair idea and it will jazz up your look for any occasion, and keep your hair off your face.
20. Trendy Cornrows
Our next natural hair braid idea features trendy cornrows. The hair has a center part with braids on each side, then the two braids meet to create cute pigtails. This hair is cool and stylish and it will suit everyone. You can add accessories and try different braid patterns to create a similar hairstyle.
21. Simple Braided Updo
The last hairstyle we have to show you is this stunning bun. For this look the hair has been styled into a high curly bun with pretty braids. There are also loose curls and curly edges too. This is a super glam and stylish hair idea. A hairstyle like this can be dressed up or down.
We hope you have found a stylish natural hair braid to try!