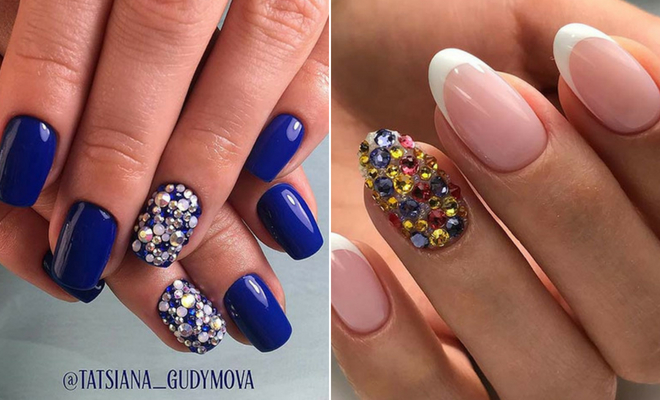 Instagram
Beauty
41 Elegant Nail Designs with Rhinestones
By
|
11. Ombre Nails with Clear Rhinestone Accent Nail
Next, we have an idea that features clear acrylic nails. We love the clear nails because they look modern, trendy and unique. These coffin shape nails below are a soft ombre with a clear accent nail. The clear nail also has a stunning rhinestone design. Nails like these are gorgeous and the design will suit any long nail shape. You can recreate the look or use different colors for the ombre.
12. Grey Nail Design with Rhinestones
Earlier in the post we featured a bold blue nail design where some rhinestones color matched the blue. Here is another example of how to use that technique but in a different color. These nails use purple grey instead of blue and have an accent nail with beautiful purple and clear rhinestones. We love this pretty look and it will suit both long and short nails.
13. Matte Coffin Nails with Rhinestones
Chevron nails are very popular. Usually you will use two colors to create the pattern however on these nails rhinestones have been used. The nail artist has created the trendy look with shimmering gems on a light polish color. We love how a mix of two and one chevron has been used. This is a creative look and it would suit any color. You can even use different colored rhinestones.
14. Bold and Colorful Rhinestone Nails
Want a manicure that will wow? Then this next pick is for you. Here we have nails that have been completely covered in rhinestones. Each one has different colors at different angles and the stones are in different shapes and sizes. This is perfect for the ladies who want a sparkling, attention-grabbing look.
15. Elegant Burgundy Nails
We have featured a few ideas that use rhinestones and light colors, this next idea is for anyone who prefers dark nail colors. These nails have been painted in a beautiful burgundy tone and have a rhinestone accent nail. The rhinestones compliment the color perfectly. You can recreate a similar look or try other tones like navy, dark purple and even black.
16. Elegant White Nails with Crystal Accent Nail
Next, we have an elegant nail idea. These nails are painted white with a pink and rhinestone accent nail. The rhinestones are small and have been placed on the nail in polka dot style. We love how sparkly and pretty the gems look. Nails like these would be perfect for a wedding or other special occasion.
17. Stylish Light Pink Nails with Rhinestones
You can choose rhinestones that are in different shapes and sizes. These nails use a few different rhinestones to create a stunning accent nail. If you are trying out nail designs at home you can have a selection of rhinestones in different shapes, sizes and colors to create your very own unique look. The nails below are a gorgeous example of how to use rhinestones in a creative way. You can even recreate these or maybe try a different nail color.
18. Super Long Stiletto Nails
Want to make a statement with your nails? Then this next idea is for you. These stiletto shape nails have been painted two different bold colors with a sparkly rhinestone accent nail. Nails like these will get you noticed! You can recreate the look or try different colors and rhinestone designs. With long nails like these you can really experiment with different patterns.
19. Acrylic Nail Design with Rhinestones
If you are looking for elegant and pretty nails, this next idea is for you. The nails are painted in soft colors with two rhinestone nails. One nail has one rhinestone while the other nail is covered. You can recreate the whole look or maybe try just the design with one rhinestone for a subtle and sparkly manicure.
20. Sparkly Coffin Nail Design
We featured a manicure similar to this one earlier in the post. This one shows how you can use similar techniques to create different looks. This one has two glitter nails, added rhinestones and uses a different shade. Just by adding little extras you can give yourself a different design to what you had before.