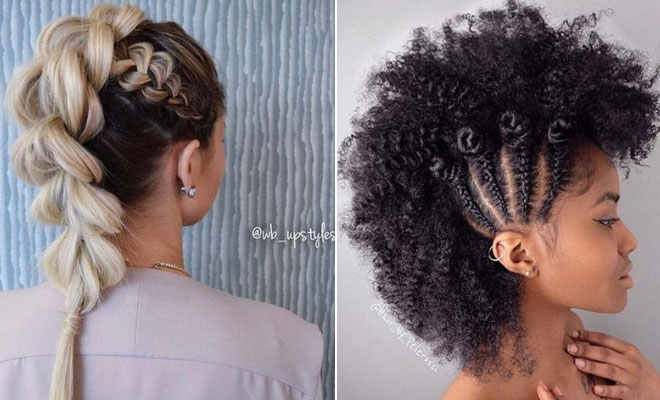 Instagram
Beauty
23 Mohawk Braid Styles That Will Get You Noticed
By
|
11. Braided Mohawk with Curly Weave
Next, we have a mohawk that features beautiful braided buns. The hair has been parted into three sections and the braids have been styled into three buns that create the mohawk look. We love this hairstyle because it is a unique and trendy way to wear a mohawk. You can recreate this or try using more buns with smaller sections. Make sure to check out Joana's YouTube tutorial down below.
12. Formal Mohawk Idea
Our next mohawk is stylish and elegant. The hair is loosely braided at the top of the head and turns into a low curled ponytail. Hair like this is easy to wear and will make you look chic for any occasion. This is a beautiful and subtler way to wear a mohawk. Try this hairstyle or you can try a tighter braid too.
13. Curly Fro Hawk on Natural Hair
A mohawk really shows off curls at their best. Don't just take our word for it, check out this hairstyle. Here we have a mohawk where the hair is put into simple sections with beautiful tight curls. It is a cute look that will make you stand out from the crowd in style! If you want to recreate the look, a YouTube tutorial is down below . It's super easy and we absolutely love it!
14. Bubble Mohawk
Bubble mohawks are so trendy! This style is a little like the bubble ponytail, but you just start the bubbles higher on the head to create that mohawk look. It is simple to do, you just have to section the hair and add elastic hair ties. There are in depth tutorials online with pictures so you can practice this style yourself. Try and recreate this or add some braids.
15. Mohawk Braid for Black Hair
Earlier in the post we featured a gorgeous accessorized hair idea. Here is another way that you can add hair cuffs to your mohawk style. For this look there are thin side braids with a beautiful curly weave. The braids also have glam gold cuffs. This is a versatile hairstyle that will look great for any occasion. You can try these side braids or try a different funky pattern.
16. Trendy Bun Mohawk
Next, we have another top knot look to show you. The hair is separated into smaller sections, resulting in more buns than the three we featured earlier. As you can see, by adding more top knots it creates a bolder and more statement making look. The process will be the same, you just use smaller sections of hair.
17. Mohawk with Side Braids
Our next mohawk style is just stunning! The hair has been styled into a bold mohawk on the top of the head and there are beautiful side braids too. We love how there is a lighter shade running through the mohawk as it just gives the hairstyle a more unique look. This is a hair idea that will make you look glam but show off your edgy style too.
18. Mohawk Braid Ponytail
If you want to try a mohawk but don't want to be too bold, this hairstyle idea is for you. The hair has been braided into a simple three stand, pull-through braid. There is a cute, side Dutch braid, too. It is an easy to wear look that will suit everyone. You can recreate with or without the side braid. Any type of a braid would look amazing with this hairstyle so be creative!
19. Braided Mohawk with Curls
Love the frohawks? Then you need to see this next idea. For this hairstyle, the hair has been braided into neat and sleek braids. The look is finished off with a bold and curly mohawk. This is perfect for the women who want a statement look that gets noticed! You can try this style or try a different braided pattern on the sides.
20. Chic Mohawk Updo
Next, we have a chic twist mohawk. The hair is split into sections and has a beautiful twist mohawk style on the top of the head. This is a gorgeous hair idea that can be worn anywhere from a day out, to a night on the town. You can add braids at the sides and try tighter twists on the top too.
21. Simple and Stylish Mohawk Braid
You do not have to choose a bold mohawk. Maybe try something subtler like this instead. The hair has simply been braided into a three strand braid. It is an easy to wear hairstyle and will suit everyone. You can find tutorials online to help you recreate this look at home.
22. Statement Mohawk Updo
If you love bubble mohawks, check out this next idea! The hair has been styled into sections with a bubble design. It is the perfect hairstyle for a special occasion. Try and recreate a similar style or add braids at the sides. Keep them small and thin though, so you don't take the limelight away from the mohawk.
23. Twist Mohawk with Side Braids
The last mohawk braid look we have to show is absolutely stunning. It is an intricate style with sleek and neat side braids with a twisted mohawk on the top of the head. Hair like this is like a work of art. If you want hair that wows, then this is for you. Recreate this look or you can try this hairstyle in a bold color, red would be a fabulous choice!
We hope you have found a cool mohawk braid hairstyle to try!