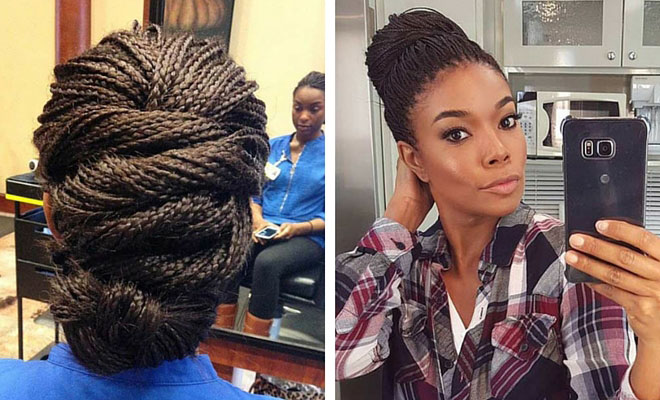 Instagram
Beauty
61 Beautiful Micro Braids Hairstyles
By
|
31. Burgundy Micro Braids
To achieve that warm glow, think about dying your hair a burgundy shade. Deep red, also known as burgundy, is an in-between a red and a purple and looks rich in colour. This will set off your stunning braids and enhance your hairstyle, whether you choose to wear your hair up or down.
32. Micro Twists Half Updo
Micro twists have their own fashionable style and they look outstanding. Try this updo hairstyle for that wow effect! You can style you hair however you wish but try this style and see how special you feel!
33. Beyonce's Super Long Micro Braids
If Beyonce can rock her super long braids, then why can't you! As mentioned, we know that long braids look remarkable but there's long hair and there's extra-long hair. If you have long hair, you'll all know what I mean when I say this. Take a look at B's hair in this photo, extra-long right? It looks fabulous, will you go that extra long mile? I'm pretty sure it'll be a conversation started at any event.
34. Micro Braids Into a Loose High Bun
Are you feeling this loose high bun? We are! Instead of wrapping your braids tightly into a high-rise bun, wrap them loosely and you'll end up with this style. Don't worry about the bun falling out, as you already have braids, this will help the hairstyle stay put. Trust me, this is a secure style that will last all day.
35. Micro Twists with Shaved Sides
When you hear the word shaving, you don't often think of shaving your hair. Majority of people don't even think about shaving their hair and when they do, it scares them because they think of shaving their entire hair not just the sides! Welcome to 2016 guys. Shaving your sides is becoming more popular. This is due to having the best of both worlds – you can have the shaven look as well as having long locks. Be creative and bold and shave your sides.
36. Amazing Braided Updo
Making braids out of micro braids is easy. Even though this style looks hard and complex, don't be fooled and scared to try it. Once you do, you'll see that it's not as hard as what it looks and you'll be so glad you did it. Look at the outcome you could have. If you practice, you'll become an expert and you'll probably be styling your friends hair too!
37. Red Micro Braids
Red hair alone looks so sexy and vibrant. Teaming red hair with braids looks super sexy and super vibrant. Having your hair up or down will draw attention to your hairstyle as this colour stands out from the crowd. Going for such a lively colour, complements your braids. Be ready for that extra attention you'll receive once you leave your hair salon! You will feel like a local celebrity.
38. Cute Mini Braids Style
Go for a cute look with these mini braids. It looks super girly and super fresh. As you can see on this photo, she's got a relaxed and casual vibe going on, but yet she looks sensational. This looks effortless and stunning.
39. Black Micro Braids
It's the gorgeous Gabs again guys, and yes, she's smashed it with her luscious locks! Look how simple and stunning she looks in this photo. Her braids are not bright or tied up in a detailed bun. She loves her braids and we can see why. Wouldn't you if you had this hair?
40. Simple yet Gorgeous.
Braids are so versatile and sometimes we can overthink them. Shall I have my micro braids tied back? What about having a high or low-rise bun? Stop for a second girl, try having your locks down and going with the flow. It looks simple yet gorgeous so get up and go!