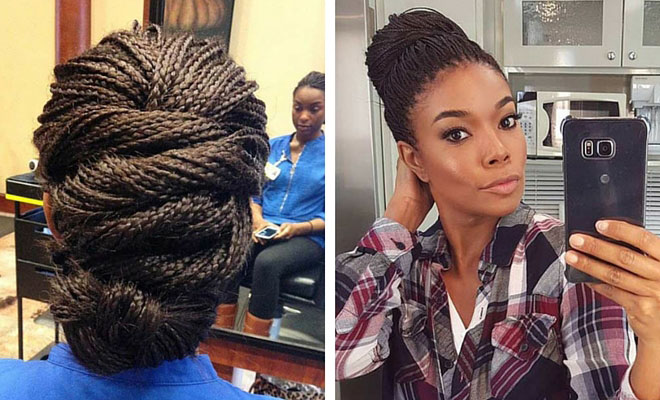 Instagram
Beauty
61 Beautiful Micro Braids Hairstyles
By
|
11. Micro Cornrows Style
Before you start micro braiding, maybe think about having micro cornrows. This is very popular with many celebrities and they look breath taking. You can always add beads to the ends for a summer vibe. This is a great look for the beach and music festivals.
12. Heart Bun Updo
This impressive micro braid updo will be the talk of the town. It's very detailed and intricate. Be aware, for this style, you may need some practice. Probably best you get your friend to style your hair. It's hard to do yourself as it's all facing the back. To generate the heart shape bun, it will be easy to grab all the braids together but the harder part will be to show it's a heart and not just a detailed bun. Good luck!
13. Two Toned Micro Twists
Go for the two-tone hairstyle with twists to show off your distinctive side. From every angle, it will look astounding. This will look great when you tie your hair back or even when you have your hair down. The distinction between the two colours will look so good.
14. Braided Updo
Having micro braids will allow you to separate the hair easier than usual, so make sure you grasp this opportunity to show off your artistic side. This will open the door to a completely new path for lots of different updos, like this one. Grab the front section of your hair and implement your own creative style. You can then tie up the back section of your hair and make your style.
15. Micro Braids into a High Bun
You can't beat the classic bun. A classic ballerina style bun is cute and feminine. This is fresh and elegant which will create a sophisticated look. Great for work, school, going out or even popping to the cinema or shops. You'll be ready for anything with this style.
16. 4 Different Ways to Style Micro Twists
Twisting your braids is fashionable and stylish. This photo shows four different ways to style your micro twists so get twisting! You have the choice of having your hair up, down or half up. Depending on your plans or event, there's a style for all.
17. Easy Half Updo Style
If you fancy having your hair in a different style but still want it down, the half updo is so easy to do. Grab a few braids from either side and tie it in a loose hairband. You could even wrap a few braids around to act as a hairband.
18. Micro Senegalese Twists Updo
We adore these twists and the photos look unbelievable. The micro Senegalese twists are the most pretty and popular twists out there. Make your hair look and feel this pretty. Having two-tone hair really sets the twists off and instantly attracts a warm glow.
19.Elegant Half Updo
Elegant, classy, stylish, chic and sophisticated. This updo hairstyle is all these things rolled into one. All you have to do is braid your front braids, and make a stunning design. The hair that is left down, you could sweep to one side.
20. Gray Ombre Micro Braids
Gray ombre micro braids are a fashionistas dream. Until a few years ago, gray was just a hair colour that was seen on mature people, but roll on 2016 and nearly everyone wants it or has it! We all know that the gray colour has been trending for a while now and it looks incredible with braids.