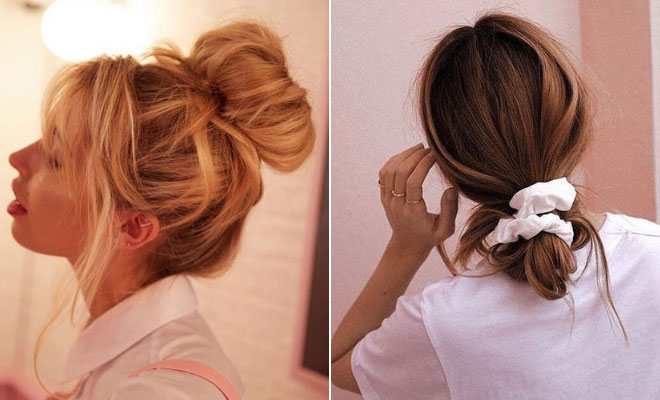 Instagram
Beauty
21 Cute and Easy Messy Bun Hairstyles
By
|
11. Pretty Messy Bun Idea with Volume
Next, we have a hair idea that looks straight out of a fairy tale. For this look, the bun is loose and messy. The hair is curled though which gives the hairstyle a look of elegance. This is a very pretty hairstyle and it can be worn for any occasion. It would be perfect for the prom, a wedding or for any event where you want to look glam and stylish.
12. Simple and Easy to Wear Low Bun
If you like the simple hairstyles, then this is perfect for you. The hair is put into a low and loose bun at the nape of neck. It also has a unique hair tie too. This is a chic hair idea and it will be perfect for relaxed days. You can use any hair tie, a scrunchie would look great. A bun like this will work best with longer hair.
13. Everyday High Bun with a Scrunchie
Some days you just want a hairstyle that looks stylish while keeping all of your hair out of the way. For days like this, you should consider a bun like this one. The hair is styled high onto the head into a messy bun. There is loose hair at the sides and the bun is accessorized with a scrunchie. It is the perfect summer hairstyle as you can keep cool and look trendy too.
14. Casual and Relaxed Bun
Our next hair idea is casual and trendy. Here we have a have a small bun that is simply tied at the nape of the neck. There is loose hair in the bun and at the sides of the head too. This bun looks effortlessly stylish and it would be perfect for busy days when you need no fuss hair that is out of the way, but you want it to look cute too.
15. Glamorous High Bun Hairstyle
The next bun we have to show you is another one of our favorites! This hairstyle features a very glamorous bun with loose hair at the sides. It is a very romantic and chic bun and it is another look that reminds us of the vintage Gibson Girl hairstyle. Hair like this would be a gorgeous choice for a special occasion – you would definitely steal the limelight!
16. Beautiful Low Bun with Loose Hair
If all the big and bold hairstyles are not for you, then you could consider a more understated look like this. Here we have a small and low bun that is styled at the nape of the neck. There is a little volume on the top and there is loose hair too. It is a chic and elegant hairstyle that looks straight from a glitzy red carpet event. This is a stunning messy bun and it will look amazing on anyone.
17. Relaxed Bun with a Braid
You don't have to choose a plain and simple bun, you can jazz up your hairstyle with an upside down French braid. Here we have a cute and messy bun with a beautiful braid that is placed on the back of the head. It is such a trendy hair idea and it would be perfect for the summer and for festivals.
18. Cute Low Bun Updo
Next, we have a cute and simple messy bun. This is a very simple style where the hair is just twisted and tied into a low bun. Hair like this would be perfect for summer weddings or prom. You can recreate this style on any hair length.
19. Messy Bun with Loose Hair
When the summer comes or you are going on vacation to the beach, you need hair that is easy to style, easy to wear and you need to keep cool too. This bun ticks all the boxes. The hair is styled high into a bun. It is not an intricate hairstyle so you can easily recreate it and it won't take long. As the hair is so high, it will keep off your neck too, so you can keep cool. Also, this style will still look cute if it gets wet. It is a glam look and is perfect for the hot summer season.
20. Chic High Bun with Relaxed Curls
If you want a more relaxed bun but do not want it to be too messy, then this hair idea could be perfect for you. Here we have a beautiful high bun with some loose hair at the front. This bun is a little messy but it is still very elegant and chic. It just an edgier way to wear a curled bun and it is perfect for those who need to look glam for an event, but want to show off their unique sense of style too.
21. Messy Low Updo
The last hairstyle we have to show you has a boho vibe. This hair idea features a messy bun that is styled very low. There is also loose hair at the sides too. It has a beachy look so this hairstyle would be perfect for the summer. This would be a gorgeous hairstyle for a beach or summer wedding.
We hope you have been inspired by these messy bun hairstyles!