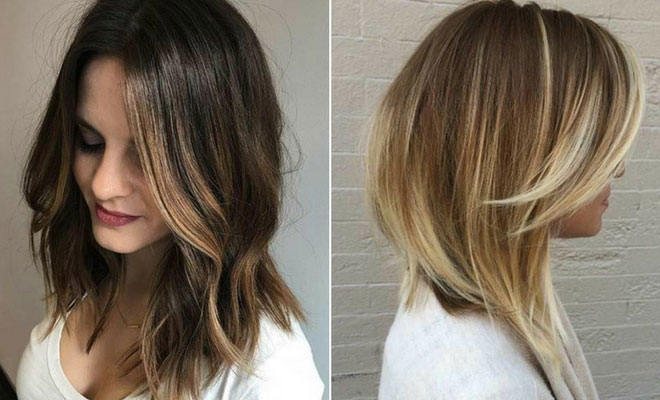 71 Cool and Trendy Medium Length Hairstyles
2019 is all about the medium length hairstyles.  Everyone nowadays seems to be going crazy for medium length haircuts because the style isn't too short and not too long.  Sometimes, we may regret cutting our hair shorter than what we anticipated but trust us when we say, you won't be regretting it with this length.  Thinking of having the chop, but are used to having the security of longer hair? Have no fear.  This is the perfect length that you will be able to style in many different ways and tie it back.
If you do want to change your hair and are keen on a medium length style, it is always a good idea to have a photo of the hairstyle you would like.  Then once you got to your hair appointment, show your hairdressers the photo.  This is the perfect way to get the hairstyle you want. We have come up with 71 of the coolest medium length hairstyles that look amazing and we are definite that you will love them too! We have Sombre, Ombre, different colours and different techniques for you to see.
1. Medium Cut + Honey Blonde Highlights
Add a little colour to your trending medium cut, without dyeing more than you are wanting to. You don't have to dye your whole head of hair to add a touch of colour.  This medium length hairstyle looks amazing with a little touch of honey blonde highlights.  To ensure you notice the difference, ask your hairdresser to add the highlights to the front sections of your hair.  This will frame your face and you will notice the colour when you look in the mirror.  This is very popular and is low maintenance.
2. Sombre Medium Style
Sombre is the new Ombre!  Instead of Ombre styled highlights, many people are opting for Sombre. As the name suggests, all Sombre is, is a subtle version of the Ombre hairstyle.  That is what the S stands for. It is a lot softer and you can achieve this look by growing your highlights gradually out. It tends to be softer colours which are slightly lighter on the ends.  The appearance of the darker roots are less obvious.
3. Rooty Blonde Lob
Girls, roots are trending! What a relief! We have been waiting so long for this to happen.  A lot of people can now start to save their money!  No need to make that urgent call to your hairdresser, wait a while and spend the money on something else!  Roots are back in fashion and are trending big time.  Of course, we love that fresh dyed hair feeling and when your roots are showing, you don't need to worry.  Many celebrities are rocking this style too so rock yours!  We are all sometimes confused to the new hair terminology's that come out and lob is quite new. In case you are wondering what a lob is, it is a long bob.
4. Grey Ombre
A few years ago, if you said grey hair was fashionable, people would probably laugh in your face. Nowadays, grey hair isn't something people try to hide, they are now embracing it.  Grey hair is beautiful and is huge right now.  Grey hair has been on-trend for many seasons now and it looks like it's staying around for a few more.  People are now opting to go grey and it looks great.  Grey Ombre hair is perfect for someone who doesn't want to dye their whole head.  If you are feeling the grey colour, but aren't sure on dyeing it entirely, go for this and see what you think.  It will suit any hair type and any skin tone.
5. Messy, Layered Mid Cut Hair
Going from long hair to shorter hair is quite a daunting process for many people. If you are feeling brave and do want to change your hair but are still wary, go for a messy, layered mid length hairstyle.  You will still have the length and texture you are used to but it will feel fresh and it will be a new style for you.  If you are used to have neat hair, have a change and mess it up a little.
6. Gold Caramel Style
Gold, caramel tones are warming and compliment you skin tone. Having gold, caramel shades will give off a warmer vibe and will look classy.  It's a low maintenance colour and looks great with any outfit.  Team with soft neutral makeup so your hair does all the talking. Make the main focal point be your fabulous hair.
7. Curly, Beige Blonde Hairstyle
Beige blonde look striking but in a soft way. Mixing curls to this hairstyle will make you look amazing and catwalk ready!  Soft curls with soft tones are ideal if you don't want to dye your hair a bright obvious colour.  Adding the curls will add the bounce and your hair will look fuller and thicker.
8. Medium Cut with with Face Framing Layers
Going for a medium cut with layers, is a way to instantly change your style. Face framing layers will boost your hair and it will feel very different to what you had before without having a radical change.
9. Copper Hair
Do you tend to go for blonde, brown or black hair tones? Do you fancy a change?  If you want a dramatic change then you can always opt for a copper colour.  This colour looks so vibrant and has a lovely summer vibe.  Next time you are thinking about your next hair colour, think about copper.  The colour has a lovely tone that will warm your skin complexion.  This is a fashion trend colour, that will release your inner Fashionista!
10. Blonde Balayage Ombre
These blonde Balayage highlights look fab! The colour adds a little touch of uniqueness and brightens your hair up.  This hairstyle is trending in all ways.  You have the Balayage and the Ombre!  Everyone will be watching you for the next trends!
11. Blowout Layered Hair
Many people don't know what a blowout hair is. You probably have this treatment every time you visit your hairdressers but use a different terminology to describe it.  It is a technique used for drying your hair.  The first step will be having your hair washed and this will be followed by a blow-dry method with powerful hairdryers and hairbrushes.  This style in the photo in particular, includes a layered cut too.
12. Medium Length Haircut with Side Bangs
Medium length hair is such a versatile style. This is a sexy medium length style with side bangs.  It looks great, it's fun and you can style your hair with bangs in many ways.  If you are used to having no fringe, this will immediately change your look and style.
13. Dark Roots + Caramel Balayage Medium Style
The great thing about having Balayage highlights, is that there are no rules. You can ask your hairdresser to add as many or as little highlights as you wish.  Take this dark roots with caramel Balayage highlights.  The highlights can start wherever you decide.  It looks fabulous!  You don't have to worry about going to the hairdressers often with this style, it is very low maintenance.
14. Messy Bronde Medium Haircut
Have you heard the new word… bronde. Bronde is quite a newish word that many people are using to describe a colour between blonde and brown.  It was only a matter of time until someone made up a new word for this colour!  Having a bronde shade with a medium messy hairstyle, looks sexy and renewed.  Messy hair has been on-trend for such a long time now and we aren't complaining.  It looks amazing and we love it!  Go for a hairstyle like this one to show you know the trends and love messy hair.
15. Beige Blonde Ombre + Soft Waves
If you are thinking of having a mid length style haircut with Ombre colouring, think about having contrasting colours. Contrasting colours are the whole point of having Ombre hair.  This look looks neat with  beige and blonde tones.  The soft waves create an elegant and sophisticated finish.  Choosing a dark colour for the roots and a lighter shade for the ends of your hair, look fantastic.  This hair trends has been around for some time now and many people are still rocking it.
16. Dark Red Hairstyle
Having a new haircut is one thing but adding a new colour is a totally different level! If you are feeling a very new makeover, go for both.  Having a gorgeous medium length haircut with a colour change, will make you feel a new vibe and different style.  Changing ones hair, makes us feel refreshed and can give people a confidence boost.  Choosing a darker colour is quite a tough decision.  Many people tend to forget about the dark red shades.  Look how good this colour can look!  Has this got you thinking about choosing this shade?  We think so!
17. Straight, Bronde Mid Style
By having a natural looking hairstyle and colour, will show off your natural beauty. If you are looking for a radical change and want a low maintenance style, then this may be the style for you.  Maybe you are bored with the light blonde or darker tones.  Opting for a bronde shade will give off a natural vibe.  No need for curls, having straight hair is underestimated these days.
18. Medium Cut Idea for Thick Hair
Medium cuts are a favourite with all types of hair. If you have thicker hair, having a medium cut will add that extra volume to the ends of your hair.  It looks healthy and alive.  It will have a natural bounce as you hair will be just below your shoulders and the thickness will show.
19. Caramel Balayage Highlights
If you are naturally dark haired, maybe think about caramel tones. Caramel shades will warm up the darker roots. Balayage is a colour technique term from France.  It's a term used for colouring your hair freehand.  The hairdressers or colourist will apply the hair dye by hand instead of using foil or a cap.
20. Layered, Blonde Cut
Layers can often give thinner hair that extra volume. This is a gorgeous layered, blonde style that looks beautiful.  These are blonde highlights with a mid length haircut.  By mixing a few different blonde tones, you will enhance the different colours shown in the layers.
21. Red Ombre Medium Style
Ombre hair can be any colour you wish. If you are looking for something a little different, red looks striking in the Ombre style.  It works so well with medium length hair.  It works so good with dark brown or black roots.  If you have naturally dark hair, this will be ideal for you.  You will only need to have the ends dyed and this will save you a lot of money.  Plus if you don't like it, it's easy to change!
22. Curly, Honey Blonde Look
Go for this sweet honey blonde shade. Honey blonde is another warm tone that will enhance your skin tone.  It will set a different vibe than other blonde shades.  If you have darker skin, this will boost your skin tone and make it look healthy and glowing.  Are you feeling the sweetness of the honey?
23. Layers + Soft Highlights
Soft highlights create a delicate and add a little colour to your hair. If you want to spruce up your hair with a few highlights, this is for you.  Adding soft shade highlights, will define the layers in your hair.  That's why this combination is perfect!
24. Medium Style for Thin Hair
Thin hair, don't care attitude going on right here. Whether you have thin or thick hair, rock your style.  This is a gorgeous hairstyle for thin hair and everyone will compliment how good you look.
25. Long A Line Bob
A-line will show off your style and your haircut. This is a gorgeous long A-line style.  It is slightly longer than a medium length haircut and this is due to the front being longer.  We think it looks great and will look fabulous for daily or evening occasions.
26. Blonde Medium Hair with Layers
Have you ever had layers in your hair? Maybe your answer is yes and you love how they add that extra volume or maybe you are new to layers and have never thought about having them.  If you have thinner hair and want to have the big, bouncing hair, we suggest you try out layers.
27. Bronde Lob Style
Lob hairstyles look good whatever colour you have. But we think this looks natural and ideal for those who leads busy lives.  The bronde lob hairstyle is a hairstyle that looks great when you first have it done and still looks great a few months later.  If you work full time or study, going to the hairdressers, is frankly impossible for you.  This is a low maintenance hairstyle that you don't need to worry about topping up your colour every month.
28. Orange Hairstyle Idea
Go for a fiery orange colour to show off your style. There are lots of different red shades out there to choose from.  This is a soft and subtle red shade, that will complement your eyes and skin completion.  It is a warm colour but still stands out from the crowd.
29. Thick, Vanilla Blonde Medium Hair
Thick, vanilla blonde looks elegant and fresh. If you are darker haired now and are looking for a fresh blonde start, look how good this colour is.  If you opt for this vanilla blonde colour and style, it will instantly transfer your look.  You will not be disappointed.
30. Straight, Caramel Brown Style
Caramel is a warmer shade that looks amazing with warm skin tones. Caramel shades are a popular choice for highlights and we can see why.  Caramel highlights on a medium brunette base will set a friendly and gorgeous tone.  They suit any hair types and are very flattering.  They will make your locks look healthy and shiny.  If you have brown or hazel eye colour, caramel highlights will enhance your eyes and make them stand out.
31. Honey Blonde Medium Cut with Long Side Bangs
Rich honey blonde tones will compliment warmer skin tones. To make sure you are choosing the best blonde to suit your skin tone, look at the veins on the inside of the wrist in natural daylight.  If you can see a blue colour, you need to choose cool blonde shades.  If you see a green tint on your wrist, you have a warmer skin tone and this golden blonde is perfect for you.  Adding the long side bangs will make you hairstyle look chic and modern, especially with shorter hair.
32. Blowout Layers
This style is full of life! If you want your hair to stay bouncy and full of life, then go for a blowout layered style.
33. Sun-Kissed Medium Length Hair
Are you getting ready for summer? Don't forget that many people tend to change their hair every summer and go lighter. With this in mind, this sun kissed style will get you in the summer mood so why don't you opt for this change too?  It looks good and imagine every time the sun hits your hair, the highlights will glow.
34. Blonde, A-Line Haircut
This is the perfect A-line photo. The A-line will stand out with this blonde shade.  The shorter back with the longer front will look stunning.  The A-line hairstyle has become increasing popular over the years and it looks great when you have it done and also when it's growing out.
35. Elegant Waves
Everyone loves to have waves. They make us feel elegant and they look fab.  Curls and waves look incredible in mid length hair, especially these gorgeous waves.  It is striking and will suit all hair types.
36. Curly, Golden Blonde Cut
Golden blonde can warm up your skin tone. Team golden blonde and a mixture of different blonde shades and you get this.  It looks classy and especially with the curls.  If you have a fair complexion, it will compliment your skin and enhance it.
37. Layered Medium Cut for Thin Hair
Adding layers to thin hair will be an advantage. Wispy layers that frame the face will give you the lift you want.  Having thin hair can be a nightmare when you want extra volume.  Your hair can look lifeless and limp.  Adding layers will change this and automatically make your hair feel thicker.  When talking to your hairstylist, ensure you say you want your hair to feel thicker because then they will know where to cut in the layers to benefit you.
38. Creamy Blonde Balayage
I want blonde hair please…  There are so many blonde hair tones to choose from. Nowadays, you can't just walk into a hairdressers and say you want blonde hair.  They will probably sit you down and show you all the different shades of blonde and then you choose.  If you are used to visiting your hair salon, you will know what we are talking about but if it's your first time, hey everyone starts somewhere right!  Go to your hairdressers prepared and know what shade you want.  This will then save you time and you will be more confident with your hairdresser.  This is a gorgeous creamy blonde which may have a different name in different salons, so bear this mind.  It is a light blonde and when it's applied the Balayage way, it looks absolutely beautiful.  If you are feeling this shade, take a picture into your hairdressers and they will be able to choose a similar hair colour for you.
39. Classy Medium Hairstyle
When we look at this, we think Kate Middleton. Are you looking for a classic, timeless and sophistication hairstyle and hair colour?  This is for you.  It is everything you need for a classy hairstyle added with a few highlights to embrace the finish.
40. Messy, Layered Beige Blonde Style
Having messy hair is a girls dream. We don't have to think about whether our hair is out of place, or whether the wind will ruin the style.  Messy hair, is messy hair!  Simple.  This messy layered, beige and blonde style looks amazing.  Messy hair looks great with layers which will add to the effect.
41. Trendy Medium Cut with Balayage Highlights
From Los Angles to London… everyone knows this style! All the hairdressers around the world will tell you that this style is trending.  A medium cut hairstyle which is in-between shoulder and long hair, is taking the hair world by storm.  To top this lovely haircut off, they have added Balayage highlights.  What more could you ask for?!
42. Medium Hair + Sombre
Who needs bright and vibrant colours when you can have hair like this? This is perfect for any occasion and will show off your face.  The length is a great length to play with and to tie back.  The Sombre is soft and pretty.
43. Medium Wavy Hair with Soft Balayage
Many girls want to tone down their hair and this is the ideal hairstyle for that situation. If you have always dyed your hair a lighter shade of blonde, dark brown or black and have decided to have a change, take a look at this.  This a medium length hair with waves and soft Balayage highlights.  The highlights are so subtle, you can just make them out when the light catches your hair.   The waves make the different tones come alive.
44. Blonde Ombre Look for Brunettes
They say blondes have more fun but what about if you have both? You get to see and experience both worlds!  This is perfect combo for colours.  If you are a brunette but want to add a touch of blonde to your hair without being a blonde, try this.  This will suit you down to a T!  It is trending with many celebrities and looks stunning.  The darker the brown on the roots, the better!
45. Blonde Balayage on Straight, Medium Length Hair
Balayage on straight hair will enhance and show off the highlights. Having lighter shade highlights will look amazing with the Balayage technique.  Here you can see the detail where the highlights start and the other colour coming through.  As they are added by freehand, there's no set line and set amount of highlights which looks natural.
46. Honey Blonde Hair with Layers
Sweets for my sweets. This is an ideal honey blonde style with layers.  It is almost like Kim Kardashian's hair colour and style when she decided to go lighter.  Are you feeling the honey?
47. Rooty Blonde Hairstyle
As we already mentioned, roots are in! We are so excited about this! Nowadays, the more root you have, the better.  No need to wear a cap every time your roots are starting to show.  Show off yours with a sexy rooty blonde hairstyle like the photo above.
48. Gold Blonde Hairstyle with Dark Roots
We are loving this contrast between the two colours. Having darker roots and lighter highlights, like the photo above will create the perfect contrast.
49. Voluminous, Soft A-Line Haircut
A-line haircuts look great from all angles. The A-line refers to the hair being shorter at the back and angled to make it longer at the front.  It generally doesn't have layers but this style has a few to give it more volume.
50. Soft Layered Style for Thin Hair
People with thinner hair often think they can't have certain hairstyles. This isn't true with mid length hair.  You can see from the photo, how good it looks and you don't need thick hair.  Having softer layers will boost your thinner hair and make it feel voluminous and thicker.
51. Beautiful Blonde Balayage Highlights
Look how gorgeous this blonde balayage highlight style looks. As mentioned, balayage is a French term for applying highlights by freehand.  This is the perfect way to have a softer highlight look and will look amazing with thick or thin hair.
52. Icy Pastel Hair
The next hairstyle we have to show you is bold and beautiful. For this look, the hair has been colored in an icy shade and there are very subtle pastel colors too. It is a stunning medium length hairstyle and it is great for the ladies that want a new look for the spring and summer. For a bolder hairstyle, you can add more vivid pastel tones.
53. Glam Hairstyle with Side Part
Want to glam up your look? If so, this is the perfect hairstyle for you. Here we have beautiful blonde hair that is wavy and parted on the side. The blonde tones are just stunning and the overall style is chic and elegant. Recreate this or you can go a little shorter. This is definitely one of our favorites, it will suit everyone!
54. Stylish Purple Grey Hair
If you want to try a trendy cut and color, then you need to see this next hairstyle. This idea features sleek medium length hair that is colored in stylish purple grey shade. It is a chic and unique hairstyle that is perfect for anyone who wants to stand out from the crowd. We love the actual hairstyle too, this cute half up style will look gorgeous on anyone.
55. Medium Length Hair with Bangs
Next, we have a cute and stylish hair idea. The hair is cut just below the shoulders and it has beautiful straight across bangs. This is a gorgeous hairstyle and it will look amazing for the summer with those beachy waves. It can be recreated in any color and you can try side swept bangs, too.
56. Vivid and Bold Red
Bored of your hair and want to change your look with a bright new color? If so, this is for you! Here we have a simple medium length cut that has been colored in vibrant red shade. The red is so vivid and stylish, it is perfect for those who want want to make a statement. Try the dark roots like featured or you can dye all of your hair red. Either way, it will look fabulous.
57. Beautiful Blonde Balayage
Our next hair idea features a gorgeous blonde style. For this look, the hair is cut to just below the shoulders. The roots are very dark and then the hair changes into a bright and stylish blonde color. Adding blonde to your hair can make it go from dull and drab to fab. You can recreate this light blonde or you can choose a warmer and darker blonde shade.
58. Brown Hair with Subtle Highlights
Next, we have a hairstyle for the brunettes! Here we have medium length hair that has subtle blonde highlights. It is a chic and easy to wear hairstyle that will suit everyone. Something like this is perfect for those who want to give their hair new life with a cut and a lift with the color. It is a nice hairstyle for the summer too.
59. Platinum Ice Blonde Hair Idea
Want a new hairstyle that will wow everyone? If so, this is for you. This medium length hairstyle has been colored in an icy platinum blonde shade. The color is so light and bright, it is stunning. It will brighten up your look for the spring and summer and it will suit the wintry weather too, so it will never go out of style.
60. Dark Hair with Soft Blonde Color
The next hair idea we have to show you is chic and stylish. This hairstyle is dark at the root and then it blends into a beautiful blonde color. It has been finished off with loose waves. The blonde color is stunning and it looks quite natural and sunkissed too. You can, of course, recreate the style with straight hair.
61. Sleek Pastel Hair
If you are looking for a trendy new hairstyle, then you need to check this out. This style features sleek medium hair that is colored in a toned down pastel shade. We love this color because it is not as vivid as some of the other pastels which makes it look unique. It is a beautiful hairstyle that is perfect for the trendsetters.
62. Rainbow Hair Color Idea
The next hairstyle we have to show you is bold and daring! For this look, the hair is dyed bright blonde with rainbow colors. This is one of those cool styles where the rainbow color is hidden unless the hair is up. It is a unique and vibrant hair idea and you can recreate it or replace the rainbow colors with something of your choice.
63. Bold Blonde Hair Idea
Looking for a chic hairstyle? If so, this could be perfect for you. Here we have a medium hairstyle that is colored in a light and bold blonde shade. The whole hairstyle is very elegant and it will wow everyone and give them hair envy. Recreate this look or you can go for a warmer blonde shade too.
64. Trendy Medium Hairstyle with Balayage
If you prefer subtler hairstyles, then check out this next look. The hair is very dark at the root and then it changes to a lighter shade. It is a low-key color change and the haircut will suit everyone. You can try the whole look or have the cut with any hair color. Light blonde would look beautiful. You can, of course, try the style with straight hair instead of wavy too.
65. Cute Blush Pink Hairstyle
Next, we have a cute color idea. This hairstyle features a stylish medium cut and the hair is colored in a soft and light pink. The hair is finished off with a pretty half up style. We love this pink color because it is trendy and it will look amazing in the spring and summer. If the pink is not for you, then try the same style in a color of your choice.
66. Chic Blonde Medium Hair
Add elegance to your look with a hairstyle like this one. Here we have light blonde hair that is dark at the root and lighter towards the tips. It is a stunning and chic hairstyle that will suit everyone. This is a versatile hair idea and it will look gorgeous curly or straight. It is timeless and will never go out of style.
67. Medium Hair with Bold Color
This next hairstyle is one of favorites! The hair starts with a gorgeous purple color, then it changes to dark purple and then finally the hair turns dark blue. This color combination is stunning and it will certainly make a statement. You can try this or just have the two purples without the blue. Either way, it will look amazing.
68. Simple and Stylish Medium Hairstyle
Maybe all the bright colors and funky cuts are not your thing. If so, then this simple and stylish hairstyle could be for you. The medium length hair has a blunt cut and is just one dark shade. It is a gorgeous hairstyle and it will suit everyone. Hair like this will keep you looking chic for any occasion.
69. Trendy Hair Color Idea
Love the unique color ideas? Then you need to check out this hairstyle. Here we have a medium cut and the hair is colored in a trendy blue shade. It is a stunning color that will make you stand out from the crowd. Recreate this or you can have a similar blue as highlights or as ombre color.
70. Summery Blonde Medium Hair
Next, we have a gorgeous hairstyle that would be great for the summer season! The hair is cut to just below the shoulders and it is colored in a stunning, bright blonde shade. It is finished off with waves and a side part. Hair like this is easy to wear and it will suit everyone. We love this summery hair idea!
71. Vibrant Highlights
Want to try bold color but don't want all of your hair dyed? If so, then why not have vibrant highlights added just like this. The hair is a beautiful blonde shade with added peach and pink highlights. You can have any color added to your hair and you can have smaller sections of hair colored to for a subtler look.