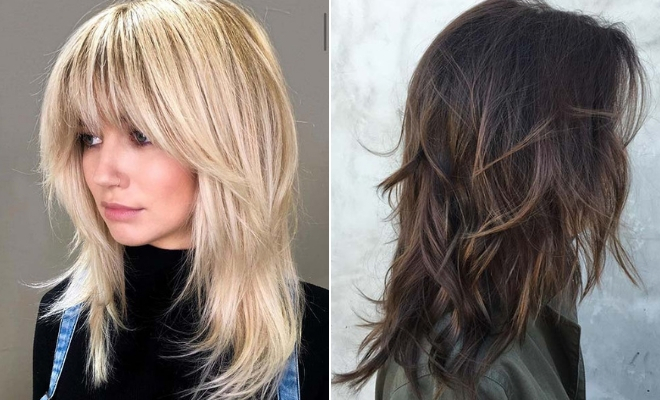 Instagram
Beauty
23 Medium Layered Hair Ideas to Copy in 2021
By
|
11. Medium Hair with Short Layers
Next, we have some short layers to show you. The longest layer is just past the shoulders and the shortest is just past the chin. As the hair is textured, that length difference really makes a statement. This is another edgy and trendy look. Recreate this or you can try a shorter hair length, just above the shoulders.
12. Chic Medium Layered Hair
The next hair idea is chic, classic and easy to wear. For this look, the hair is medium length with a mix of layer lengths. This is just a beautiful hairdo and the cut is timeless so it will never go out of style. The cut will look amazing in any hair color. Maybe you could even add some blonde highlights for a sun-kissed look.
13. Layered Beach Waves
We love this next hair idea. This medium length hair has subtle layers and ombre color. The roots are dark and then the hair changes into a beautiful blonde shade midway. This color combo is gorgeous and it is perfect for the summer. The whole style is finished off with beach waves. This is a pretty way to wear layers and it is great for the ladies who like the bohemian fashion and beauty.
14. Stylish and Classic Layered Cut
Next, we have another classic layered look. This time the hair is a natural color with beautiful cascading layers. As you can see, even though the layers are long they do make a statement. This is a versatile and timeless haircut that will suit women of all ages. If you want a bolder hairstyle, then choose a brighter hair color. Maybe be daring and choose a dark red, that would look stunning.
15. Textured Medium Layered Hair
This next haircut is so pretty and stylish! The medium length hair is dark at the root and the rest of the hair is bright blonde. While the layers are quite long and the hair is textured and beachy. This is a modern, trendy and edgy hairstyle that will take your hair from drab to fab. You can recreate this look with any blonde shade, cool or light.
16. Medium Layered Hair with Side Bangs
Layers look amazing with curly hair. Don't just take our word for it, check out this next look. As you can see, the hair has a length that just hits the shoulders. The hair is then cut and styled into beautiful layers. Layers are great for curly hair as they will take some of the weight out of it. This is a pretty hairstyle that will suit everyone.
17. Cascading Layers
The next hairstyle is gorgeous and the layers really make a statement. Here we have a simple medium length cut. The hair is also cut into different layer lengths. We love how they are styled because the cascading layers just look amazing. This is another cut that will look stunning on anyone. The actual style can be dressed up or down to suit any occasion.
18. Layered Hair with Straight Across Bangs
Earlier in the post we featured a cute hair idea with bangs. If you liked that, then you need to see this hairstyle too. The longest length of the hair is just past the shoulders while the shortest ones frame the face. There are also straight across bangs. This just shows another way to wear layers and bangs.
19. Medium Layered Hair with Blonde Ombre
Next, we have another ombre look to show you. This time the hair is dark brown with warm blonde ombre color added about midway. It is such a pretty and stylish hair idea. Recreate the waves or the haircut will look amazing straight too. The layers can also be cut a little shorter if you want a more statement making style.
20. Long Layers
This next hairstyle is so cute and bold. It is another one of our favorite looks. The length of the hair is just above the shoulders and it has long layers. What we really love about this is the color. It is a soft and gorgeous purple shade. If you want a complete hair makeover, then this is for you.
21. Layered Thick Hair with Waves
Like the chic and easy to wear styles? If so, take a look at this. Here we have medium length hair with long wavy layers. The hair is also a rich and dark brown color. It is just a very timeless and beautiful hairstyle that will look amazing on anyone. This is great for those who want to give their hair a lift in a subtle and low-key way.
22. Bold and Blunt Layered Cut
Feeling daring and want to try a bolder cut? If so, this is for you. The medium length hair is cut into all different layer lengths. At the longest, the hair is just past the shoulders while the shortest is like a pixie length. This different length look creates such a unique style. If you want to stand out from the crowd, then this is for you.
23. Layered Cut with Bangs
The last hair idea is cute and stylish. Here we have medium blonde hair with layers and lightweight bangs. It is just an easy to wear style that will give your hair a makeover ready for the summer. These bangs have a trendy center part. You can try this look or choose bangs with no part or side swept bangs.
We hope you have found a trendy medium layered hair style.