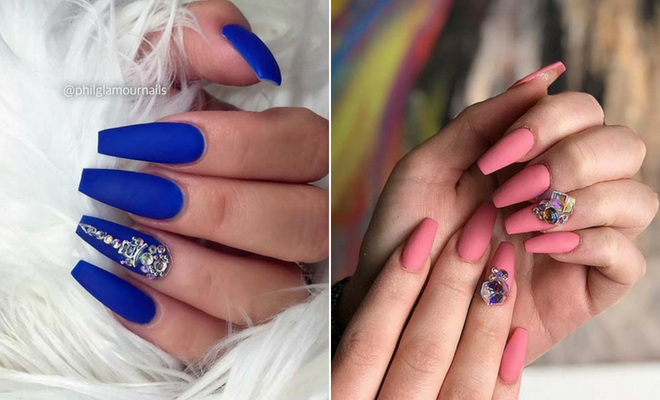 Instagram
Beauty
21 Matte Coffin Nails You Need to Try Right Now
By
|
Two big trends in nails are the coffin shape and matte. We love both these styles and so do celebrities like Rihanna. Not only do the two look stylish individually but also when worn together. By choosing matte coffin nails, you will have one trendy manicure and won't have to choose between two awesome styles. With that said, we have found 21 of the best matte coffin nails. We have something for everyone – from bold colors for fall to sparkly glitter colors for summer.
1. Matte Coffin Nails with Rhinestones
The first nail idea we have is this bold blue look. The coffin nails are in matte blue with a crystal accent nail design. You can recreate the blue and the crystals or just the matte blue. We love this color idea and it is perfect for the ladies who want to make a statement.
2. Black Matte Coffin Nails with Flower Accent Nail
Looking for a chic manicure? Then this idea could be for you. These nails are matte black with a floral accent nail. The accent nail has a white and gold flower. We love the color combo of white, gold and black but you can also have just black nails instead of the flower design.
3. Elegant, Ombre Matte Coffin Nails
Next, we have an elegant nail idea. These coffin nails have a matte, frosted ombre look. We love how subtle and stylish the design is. Nails like these will suit anyone and can be worn for any occasion from a night out to a wedding. You can even add some crystals if you want to glam it up a bit.
4. Nude Matte Nails with Gems
Our next idea features trendy neutral nails. The nails have been painted in two neutral matte colors with a gem accent nail. You can recreate the look featured or choose one neutral color with the crystals. Glitter would look beautiful on a design like this too.
5. Glam Matte Nails
Want your nails to look glam? Then you will love this next pick. The nails are matte light pink with two accent nails. One accent nail is pink glitter and the other has a silver floral design. These nails are stunning and would look amazing for a special occasion. You can take inspiration from this and just have matte pink and pink glitter, or pink and the floral design, or just recreate the whole look.
6. Statement Yellow Coffin Nails
Next, we have a statement making look that will wow anyone who sees it. These coffin nails are a vibrant yellow shade. This color is perfect for the summer and for the times when you want to add a pop of color to your look. Nails in a color similar to this would look amazing on vacation too.
7. Light Green Nails with Glitter
Our next idea shows a beautiful matte and glitter idea. Most of the nails are covered in a light green matte and one accent nail is covered in glitter. You can recreate the look with a similar green or just choose green nails without the glitter.
8. Chic Matte Brown Nails
At first thought brown may not seem like a stylish color choice, however these next nails prove that idea wrong. As you can see in the image featured, the coffin nails are a matte brown. The natural earthy tone looks so chic on the nails. We love this look and it will suit anyone.
9. Trendy Ombre Nail Idea
Love ombre nail designs? Then this next idea is for you! Here we have matte coffin nails with a subtle grey ombre. We love this design because it is so chic and stylish. You can recreate the soft grey look or choose a more vibrant ombre shade. Either way, you will have one trendy manicure.
10. Matte Coffin Nails for Summer
Matte nails and glitter is a gorgeous combination. Don't just take our word for it, check out these nails. The nails are matte pink and a neutral shade with gold glitter. Recreate the whole look or try one matte shade with the glitter. You can also experiment with different color schemes.